For the better part of 2020, many of us spent more time at home than ever before, and the ways in which we cook, entertain, work and relax in our homes changed significantly. Now, the look and function of kitchens are changing, too. We asked industry experts to share what's on the horizon for this hardworking space in 2021. Hygiene and cleanliness will be a top priority in kitchen designs while flexibility for multiple tasks and users remains important. See which finishes, fixtures, colors and appliances will be popular 2021 kitchen trends.
1. Warm Colors
While white remains the favorite kitchen color scheme, warmer shades will soon supersede the cool tones of recent years. For its 2021 palette of the year, PPG released a trio of colors grounded with a warm beige and accented by shades of orange and aqua. "Our global color stylists were drawn toward warm colors that evoke feelings of compassion and comfort," says Amy Donato, senior color marketing manager at PPG Paints. "When the world experiences events that cause unrest, we tend to naturally gravitate toward these hues. These comfort colors are similar to comfort foods—both offering a certain sense of familiarity and normalcy when facing the unknown." Donato recommends pairing the optimistic colors with greenery, natural wood tones, gold accents, and woven textures.
2. Organic Style
A new kitchen aesthetic is on the rise. In the National Kitchen and Bath Association (NKBA) annual trends report, natural, organic style skyrocketed into the top three kitchen design styles for 2021 (up from 10th in 2019). The style relies on the same clean lines as still-popular contemporary and transitional kitchens, but with a look built on the warmth and textures of natural materials.
"Select a soft, light, neutral palette to encourage the eye to scan with ease throughout the space," says Laura Muller, CEO and principal designer at Four Point Design. Minimizing paint color contrast between the trim, walls and ceilings will open up the room. She suggests matte or brushed finishes to complete the overall softness—and don't forget the biophilic accents, such as an indoor herb garden.
Muller also emphasizes that this style celebrates the versatility of materials that are organic, nature-inspired (wood-look flooring, for example), and environmentally conscious, such as energy-efficient light fixtures. "No longer is 'natural and organic' exclusively synonymous with a bohemian and earthy vibe," she says. "Today's finishes are luxurious, sleek, modern, and fit with almost any design style and budget imaginable."
3. Touchless Faucets
Installing a new faucet is a quick and easy kitchen update many homeowners will be making in 2021. "Whether it's our heightened awareness of hygiene at home or a growing demand for hands-free functionality, touchless kitchen faucets continue to grow in popularity," says Jonathan Bradley, smart home manager at Kohler.
According to the 2021 NKBA trend report, motion-control and hands-free faucets, as well as touch-tap faucets, will be more popular than a traditional lever kitchen faucet. And for the first time, voice-activated faucets made an appearance on the report. This new faucet feature is not only more hygienic, but it can also help you be more productive in the kitchen, too. "Now, through simple commands, you can turn the water on to wash your hands or dispense the exact amount you need for pasta or soup," Bradley says.
Select matte or brushed finishes for a low-maintenance upgrade that doesn't show fingerprints. If working warmer colors into your kitchen, Donato recommends matte black faucets for "a richer, warmer feel than traditional stainless steel."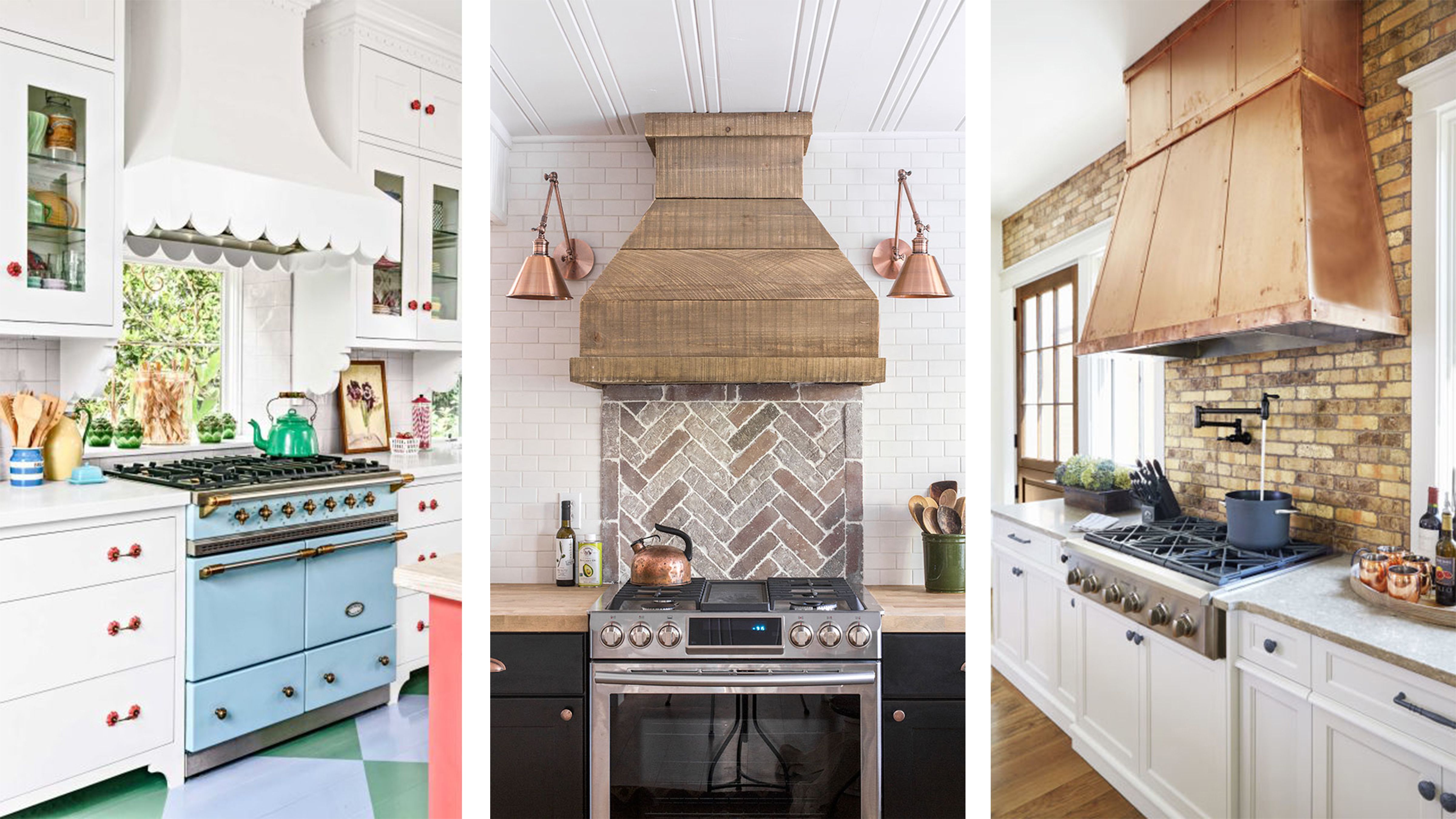 4. Decorative Range Hoods
Kitchens are moving away from hidden ventilation and turning to the range hood as a decorative focal point. But it doesn't have to be ornate to stand out. A hood that extends beyond the cabinetry profile or features an accent color can go a long way.
Ariana Lovato, owner and principal designer at Honeycomb Home Design, anticipates clean-lined designs for 2021 in response to COVID-19. "Kitchen hoods in a square shape with slab materials facing them will be very popular due to the minimalistic style but also for ease of cleaning," says Lovato.
Rather than bold details, the emphasis will be on the types of materials used on range hoods. "Expect to see slab material—like marble, thin veneer porcelain, or plaster—for the hood, making it a statement piece," she says. In particular, look for natural materials and wood tones to create these eye-catching elements.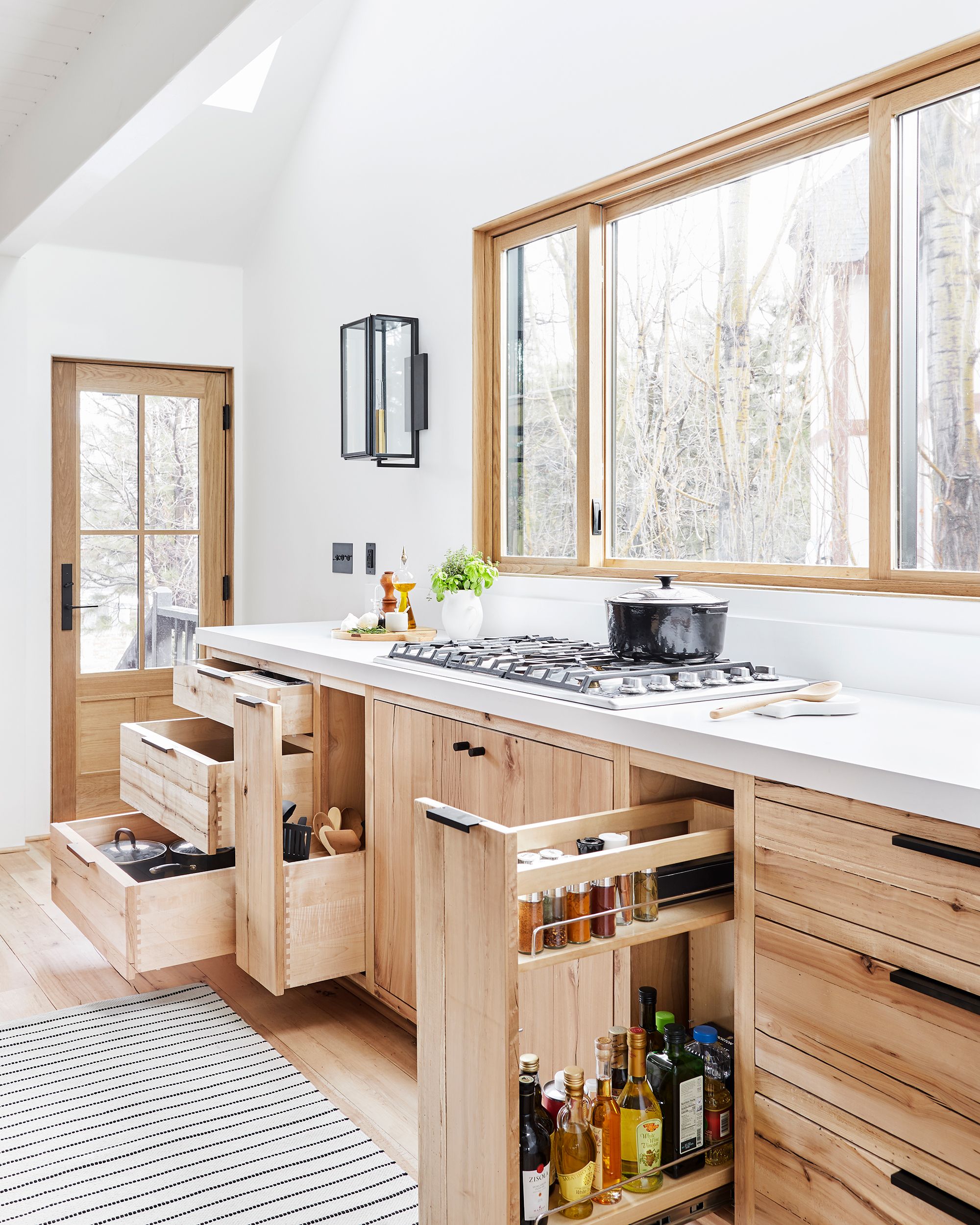 5. Increased Storage
The past year not only changed when and what we cook, but at-home chefs also purchased new small appliances, utensils, and more groceries, too. Now, kitchen storage is feeling the strain. This will manifest in different ways, depending on individual needs and the space you're working with, but there are two kitchen storage areas to consider in 2021: pantries and freezers.
"The freezer is one of the best places for long-term food storage," says Susan Serra, certified kitchen designer and president of Susan Serra Associates, Inc. "It gives an enormous sense of security in these insecure times." Expect increased sales of standalone freezers and refrigerator-freezer drawers, or homeowners simply replacing an existing refrigerator-freezer with a bigger, more accommodating unit. 
Kitchens will also work harder to accommodate higher volumes of pantry goods and small appliances, like bread makers, air fryers, and Instant Pots. "With counter space being a precious commodity in most kitchens, new homes need to be found for small appliances," Serra says. Plan for a return to dedicated pantries, enhanced cabinetry solutions like larder cupboards, and an abundance of kitchen organizers to accommodate these new tools and dry goods. Serra says we'll also be seeing freestanding furniture, wall cabinets, and rolling carts as space-savvy solutions.
6. Strong Outdoor Connections
COVID-19 encouraged many homeowners to bring the inside outdoors in 2020—and 2021 will be returning the favor. One of the key design elements in this year's kitchens will be a visual and physical connection to the outdoors. Muller specifically says bifold doors and larger windows, especially windows that almost sit on the countertop, will be used to promote a "more stylish and less obtrusive view." It's also functional: these windows and doors enable fresh air flow, a desirable trend resulting from the pandemic.
Muller admits these can be costly changes. One way to work toward the same effect without an architectural upgrade? "Trade in your heavy window treatments for organic linen or soft woven shades in a simple design," she says.
7. Large Islands
Large islands (at least 24 square feet in size) are a staple of the post-pandemic kitchen, according to the 2021 NKBA trend report. In addition to serving as a place for food prep, cooking, and storage, the kitchen island has developed to accommodate work and studies with plenty of outlets.
Islands functioning as dining tables will also be popular—a layout change that reflects a broader trend of incorporating more kitchen seating. "When there are more people in the kitchen doing multiple tasks on the island at once, additional seating is critical," says Sarah Robertson, founder and principal designer of Studio Dearborn.
Although a renovation can help create the perfect do-it-all island, Robertson says it's not a requirement. "A clever trick to expand an island is adding a vintage metal drawer unit or counter-height dresser at one end of your island. This can add drawer storage as well as a work surface," she says. "You just need to make sure the drawers are robust enough to handle some weight." A table abutting the island similarly creates a versatile workspace, casual gathering place and designated dining area.
8. Specialty Ovens
Homeowners are investing in auxiliary, specialty ovens for greater functionality as they spend more time cooking at home, according to the experts at Bertazzoni. For example, a convection speed oven can augment a traditional range with a flexible cooking solution that combines both traditional and microwave ovens into a single product. You can bake, broil, and microwave all with the same unit.
According to designer Brynn Olson, these additional ovens also reflect homeowners' increasing awareness of and desire for a more wellness-oriented lifestyle. "Functionally, we're seeing a huge trend in ditching the microwave in exchange for a steam oven as clients become more aware of the health benefits of steam cooking," says Olson.
Source: Kristina McGuirk - BHG
As usual, should you be interested in buying or selling a home, or for any further information regarding your home, please contact me, Karen Borden, your North Alabama Real Estate Professional!