The Shenandoah Valley in Virginia is known for many things, such as the volume of Civil War battles that took place in the area. The Revolutionary War heroes who lived and worked here. It was the home of Admiral Byrd, Daniel Morgan and Patsy Cline and a host of other well-known people in history. The Shenandoah Valley is a historian's dream come true, but its other exciting features are popping up all over the landscape. Some of those features include locally owned eateries, craft-breweries, vineyards, farm markets with event centers and a walking mall in Winchester with art shops and approximately 38 unique restaurants.
One of those most exciting eateries in the valley is Shaffer's BBQ. I am a bit biased with this local hotspot because I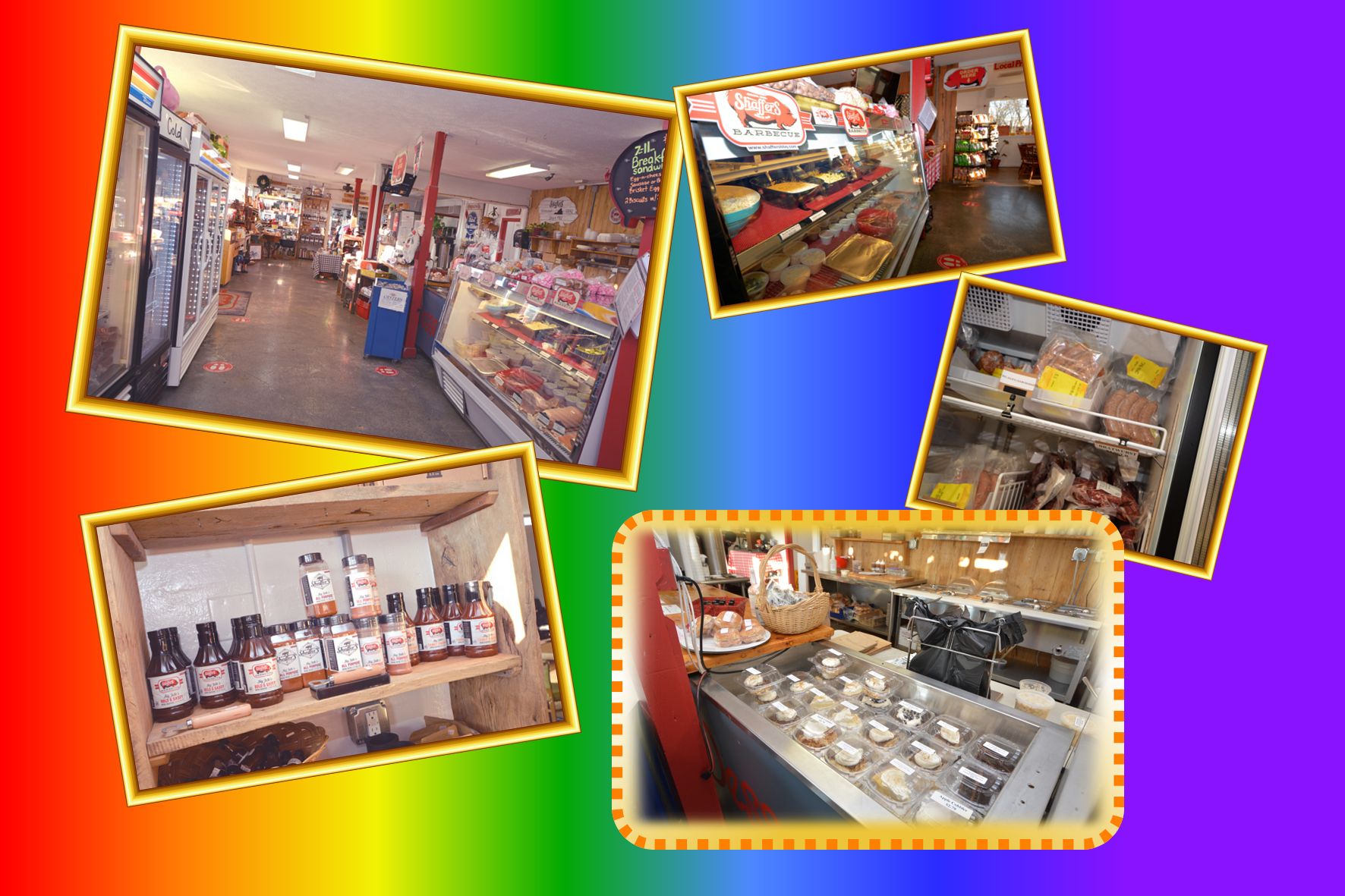 drop in there every chance I can, and it is never enough. Matt and Julie Shaffer brought their barbequing skills to Middletown, VA area in 2014. Matt left the Navy after 10 years as a helicopter pilot and several years as a defense contractor to pursue the quiet and community atmosphere of the valley. They settled in to valley life, but they still ran their food truck back and forth to the Metro area before opening it at Schenk Foods parking lot on Saturdays. Their love of great homemade foods spawned the birth of Shaffer's BBQ on Route 11 South of Middletown and just North of Strasburg. 
I first met Matt and Julie around 2014 when I had stopped by their house to look at some electrical needs in their garage. While I was walking around the garage, I noticed containers of Big Julies barbeque sauce. Of course, I had no idea who Big Julie was or if she was a part of the Shaffer clan, but I met her a few minutes into my visit. Julie, the noted "Big Julie" is about the size of a whisper, but her barbeque sauces are large on flavor, and they pack a punch. Matt and Julie's sauces are so good, they have been placed in every Food Lion in Virginia. Drop by a local Food Lion and grab some. Better yet, drop by the market and sample the food and the sauces. You will not be disappointed. 
Just about any day of the week, you can drive by the market and see Matt out front smoking meat for the day. He currently smokes about 100 pounds of brisket each week. It does not matter if you want chicken, beef or pork, Matt has it all, and it is all expertly smoked. I am particularly attached to the pork barbeque sandwich. But do not stop there when you drop in, their sides are amazing. If you have time for dessert, you cannot beat Margaret's pastries. Margaret is a highly trained pastry chef who designs amazing pies, cakes, and cookies. She recently created a special sugar free coconut cream pie for me. If I did not tell you it was sugar free you would not have guessed it. It was one of the best desserts I have ever had. I hoarded it until it was gone. I know, I am that guy.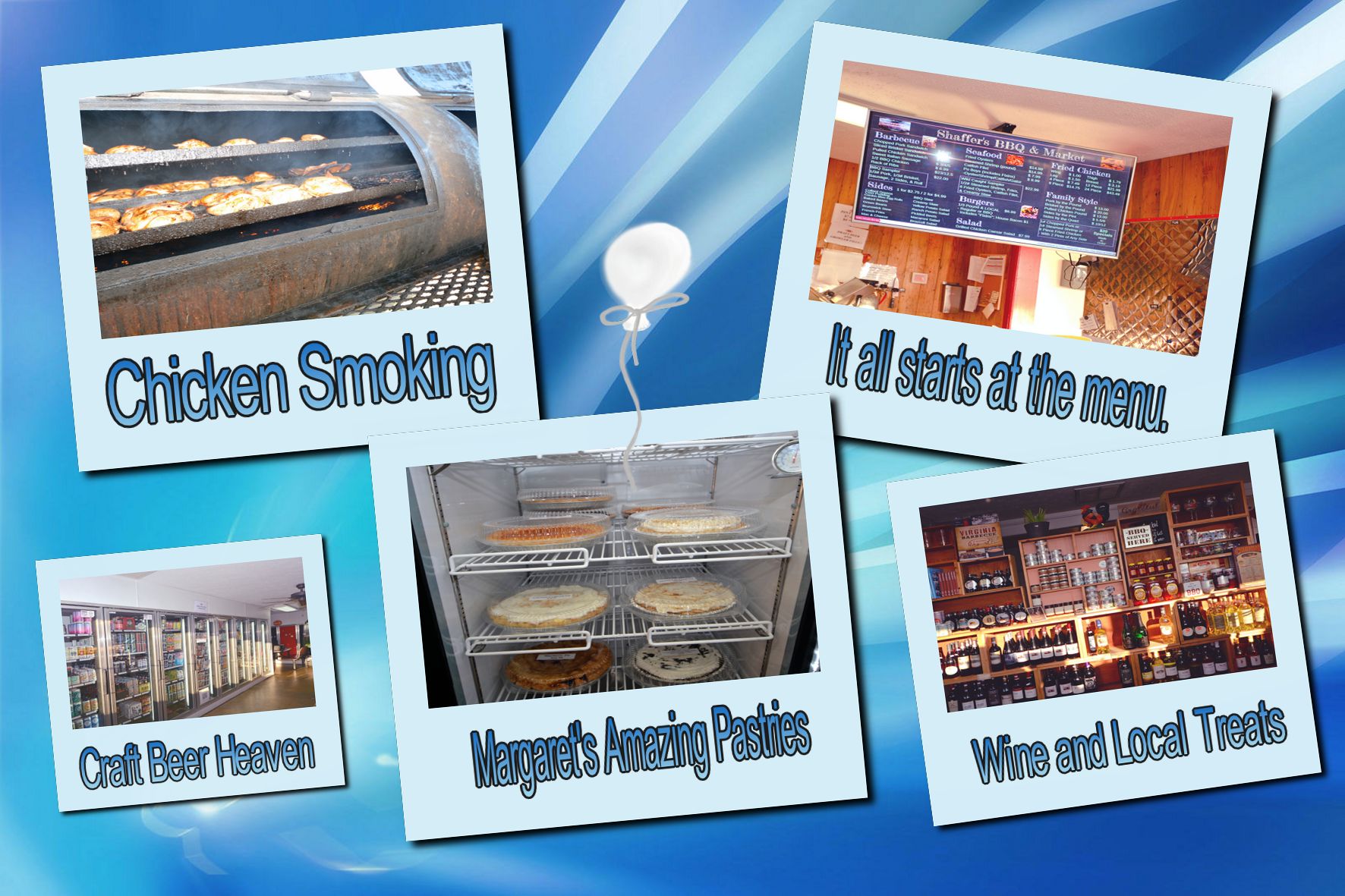 Shaffer's BBQ market is an eclectic mix of valley life. Of course, the star of the show is Matt's incredible barbeque, but you can also find local meats for sale, local craft beers, wine, side dishes, wild caught Virginia fish, and a host of locally created crafts, Shaffer swag and gifts. There is so much great stuff in the market it is hard to take it all in in one visit. Your eyes are constantly drawn to something that pulls you to the side to enjoy someone's craft, a custom-made table or just the fun and unique space itself. Matt prides himself on using local producers for many of the products you will find inside the market. He has one of the best craft beer selections in the valley and it is constantly evolving with exciting new options. 
Shaffer's BBQ is open for breakfast, lunch, and dinner. Everything is homemade and delicious. Approximately 75% of the menu is made to order. Along with the great food in the market, Matt also caters, makes made to order meals and does everything possible to make his customers excited about his food. Matt and Julie also host events throughout the year. Santa makes a stop, as does Easter Bunny. They support local charities and encourage others to be locally minded. Their pitstop along the way is a fun, friendly, and welcoming place to spend a little time while you enjoy incredible food and a delightful atmosphere. If he sees you, Matt will always greet you with a big smile and grateful attitude. Drop in and see why I think this is one of the great treasures of the Northern Shenandoah Valley. 
#ShaffersBBQ, #Cornerstonehomesales
This post was originally posted at www.cornerstonehomesales.com: Shaffers Barbeque: A Shenandoah Valley Treasure. #mikecoopersellshomes, #cornerstonemakesithappen, #shaffersbbq.