Here are 10 tips for keeping your house clean while it is for sale that are stress-free & easy to do!
Spring Cleaning + Donate & Trash
The first step to keeping your house clean is having a clean house.
Your house will naturally get dirty, messy, & cluttered on a daily basis, so you need to know what level of cleanliness is your house showing goal.
No matter what time of year it is, do a day (or weekend if need be) of spring cleaning to prepare your house for the first day it is on the market.
Go from room to room making piles & filling boxes/trash bags to be donated or thrown out (depending on the condition of the item).
This way your house will look decluttered, more spacious, & it will be easier to keep clean in the coming days or weeks while your house is on the market.
Everything Has a Place
Once you have done all the nitty gritty of spring cleaning make sure that everything has a place & that nothing is left out without a purpose.
Some things that often don't have a place & just get thrown about or left on counters include shoes, mail, coats, makeup, purses/bags, & laundry.
Once you have a place designed for every important & random object you own, like a mail organizer or a shoe rack, it will be easier to keep things in their place & they will no longer be picked up & aimlessly shuffled around your home.
This also means getting in the habit of always putting something away once you are done using it so that it doesn't just sit around on your counters or table for no reason.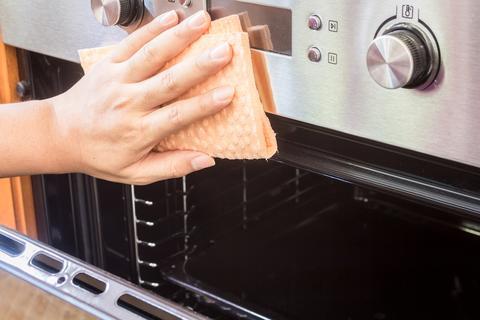 Clean While You Cook
It's nice sitting down to a meal knowing that the kitchen is already clean & all that is left are the dishes used to eat.
It may mean starting dinner a little earlier as you will need more time to clean as you cook, but it's definitely less overwhelming to clean up as you go rather than waiting until the end.
Plus you are less likely to put off doing the dishes until later (that evening or the next day) as you will only have a few remaining to clean!
And what if someone calls to see your house last minute? No worries! Your kitchen is already clean!
Do Laundry Daily
This sounds so unfun, but it is way better than letting it stack up & spending a whole day doing them.
Plus, then you won't have a mound of dirty laundry to try to hide when people unexpectedly come to see your house!
An easy way to do this is in stages.
Start a load of wash in the morning, put it in the dryer when you get home that evening, & fold/put it away before bed.
Putting away laundry always takes the most time, but since you are only doing one load a day it should take you less than 15 minutes to do this before bed.
Do Dishes After Every Meal
This is totally not the same as #3.
It can be easy to think to yourself, oh, the kitchen is clean, I can do these last few dishes anytime.
Nope! Don't let yourself think that!
Do the dishes immediately after dinner before you do anything else, or else you may never do them.
Another tip is to unload the dishwasher after, rather than before, a meal because often times you will have less to unload as you will be using things from the clean dishwasher as you cook.
Anything to save time while cleaning!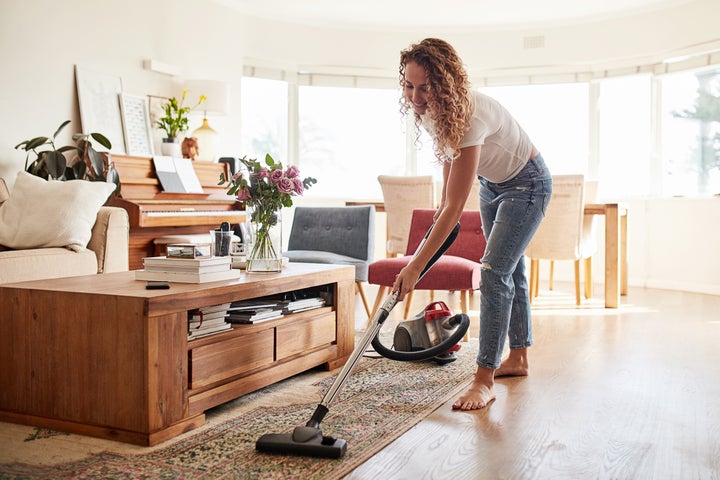 Spot Vacuum
Normally vacuuming once a week is sufficient, but that can mean a lot of vacuuming at the end of the week.
So something that helps cut down on vacuuming time is to spot vacuum as needed.
Basket on Staircase
Keep a basket at the bottom of the steps to fill with toys, clothes, or anything else that belongs upstairs.
Then at the end of the day, the basket gets taken upstairs, unloaded, the items placed where they belong, & the basket gets brought back down the stairs.
5 Minute Daily Chore
Doing a different chore daily, for 5 minutes a day, is a great way to keep the house clean all week long & not have to spend extra time doing those chores on Friday before a weekend of showings.
Here are 5 things you can do (1 a day) to help keep your house spotless for showings: Dust furniture, dust baseboards, wipe down mirrors & sinks, clean toilets, & take out all of the trash & recyclables (also walk around your house looking for anything extra that may not have found their way to the trash & recycling bins).
10 Minutes a Night
Take 10 minutes every night to walk around your house making sure everything looks clean & ready for any unexpected showing that may occur while you are at work.
This may mean folding blankets, putting away mail, hanging up extra coats, or hiding valuables.
End of Week Touch Ups
Because you will already be doing lots of mini 5-15 minute cleaning sessions throughout the week you won't have much to do come the Friday before a weekend of showings.
A few things to do to be weekend ready is to vacuum the whole house, clean the shower, put fresh sheets on the bed, & do a walkthrough of our house to make sure we didn't miss anything.
And it's super easy because the house was kept clean throughout the week!
Source: Giustina Miller - Domestically Blissful
As usual, should you be interested in buying or selling a home, or for any further information regarding your home, please contact me, Karen Borden, your North Alabama Real Estate Professional!