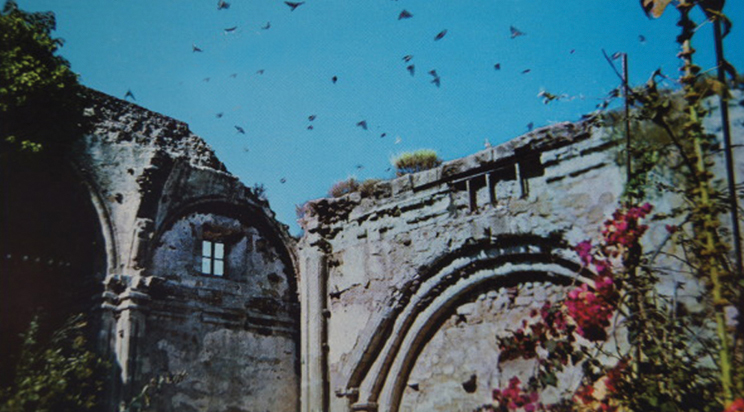 American cliff swallows annually fly 6,000 miles north from Goya, Argentina to arrive at Mission San Juan Capistrano, California, on March 19, St. Joseph's Feast Day.
But since the plague years of 2020 and 2021, people wonder if the swallows will return on time. 
The cliff swallows are noted for their distinctive mud nests they build under the Mission's eaves and archways. The flocks traditionally leave in the fall on October 23, the Feast of St. John.
A 1915 article in Overland Monthly magazine noted the birds' annual habit of nesting at Mission San Juan 
Capitstrano from spring through fall. Since then, the swallows have been considered the "signature icon" and symbol of Mission San Juan Capistrano.
Mission bell ringer Acú used to regale visitors with a romantic tale that the swallows (las golondrinas) flew over the Atlantic Ocean to Jerusalem each winter, carrying small twigs on which they could rest atop the water along the way back to Mission San Juan Capistrano.
Composer Leon René was so inspired by the annual swallows return that he penned the song "When the Swallows Come Back to Capistrano" in tribute back in 1939. The song has been recorded by such musicians as Guy Lombardo, Glenn Miller and Chritian singer Pat Boone. 
Prior to 2020, the Fiesta de las Golondrinas was held annually in the City of San Juan Capistrano. Presented by the San 
Juan Capistrano Fiesta Association, the Fiesta de las Golondrinas was a week-long celebration of this auspicious event culminating in the Swallows Day Parade and Mercado (street fair). No parade nor mercado occurred in 2020, nor is one planned  yet for 2021. The 2020 event was indefinitely postponed, and has yet to be re-scheduled.
Learn about any future parade and events at www.swallowsparade.com. Past events include Ringing of the historic bells, Live mariachi music, Community presentations, Flamenco dance performances and History of St. Joseph's Day and Swallows Legend.
Tradition has it that the main flock arrives on Saint Joseph's Day March 19,
 and flies south on Saint John's Day, October 23.
When the swallows come back to Capistrano
That's the day you promised to come back to me
When you whispered, "Farewell," in Capistrano
'twas the day the swallows flew out to sea

— excerpt from "When the Swallows Come Back to Capistrano" by Leon René.
Sadly, even prior to the plague years, decreasingly smaller flocks returned to the Mission in the 1990s
and 2000s. The reduction in swallow flocks has been connected to increased development in the area.
Mission San Juan Capistrano was founded on November 1, 1776. It is the seventh of the nine missions established by Saint "Father" Serra. A total of twenty-one California missions were built.
Images courtesy of Mission San Juan Capistrano, Wikipedia and pubic domain.
Thanks for reading "Will Swallows Return to San Juan Capistrano March 19?"