In September of 2020 the CDC issued an eviction moratorium to protect at risk families from eviction during the pandemic. Unlike many state and city moratoriums, the CDC moratorium did not require tenants to have a COVID related reason. They simply had to have had their income substantially reduced. Additionally, with the CDC moratorium, tenants are required to arrange to pay as much of the rent as possible. Otherwise, tenants are required to arrange a payment plan with the landlord. These moratoriums have been especially difficult for small landlords. Some have had large losses due to tenants refusing to make even partial payments. Other tenants have simply failed to honor the agreed upon payment plan.
Moratorium hindering legitimate evictions
Meet Jennifer Ward, owner of House Buying Mamas and manages the Facebook group Long Distance Real Estate Investors. She along with her husband, are mom and pop landlords who own a rental property a C+ neighborhood of Indianapolis. In December of 2020, their property manager skipped town, right after collecting a new tenant's rent and security deposit. The property manager kept the money and the Ward's were unable to receive the rents they were owed. To add to the problem, the tenant claimed they had paid two months rent to the property manager when they moved in. However, the tenant didn't have any receipts showing the money was paid. Furthermore, the Ward's were unable to provide the court with any proof the tenants hadn't paid the rent, since their property manager skipped town. The result was the Ward's were unable to evict the tenant for unpaid rents. Related reading: How to hire a property manager for your out of town rental
Moratorium stops tenant eviction
But the story gets worse. In March of 2020 due to COVID, evictions moratoriums were put in place to protect tenants who were impacted by COVID. Unfortunately, the Ward's tenant, chose to hide behind the eviction moratorium and not pay rent, even though Ms. Ward believes they were gainfully employed. Their tenants made no attempt to make partial payments or even setup a payment plan. In March of 2021, after missing 14 months of not receiving any rent payments, the Ward's were owed more than $12,700 in lost rents. The only way they were able to keep their rental property's mortgage payments paid, was by tapping into their personal savings. The Ward's ultimately had to pursue their case in the higher Superior Court. When their tenant was perjure themselves and swear that they were unable to pay due to COVID, (via CDC Declaration Page), the judge ordered the tenant be evicted. After all of the lost rents and legal fees, the Ward's were owed approximately $17,000.
How many families really are at risk of eviction due to COVID?
The media has continually been reporting that 30-40 million families are at risk of eviction due to COVID. This large number was first published by the Aspen Institute. However, the report seems to push the facts and and other measurements seem to argue for much lower numbers.
Apartment landlords are collecting 95% of rents due
The National Multifamily Housing Council (NHMC) tracks rents collected by large, corporate landlords and apartments. According to NHMC, landlords have consistently collected 94% to 96% of rents due by the end of the month. Even during the pandemic. If you look at the pre pandemic, versus the pandemic years, the rents collected by the end of the month are within 2% of each other. [caption id="attachment_6492" align="aligncenter" width="799"]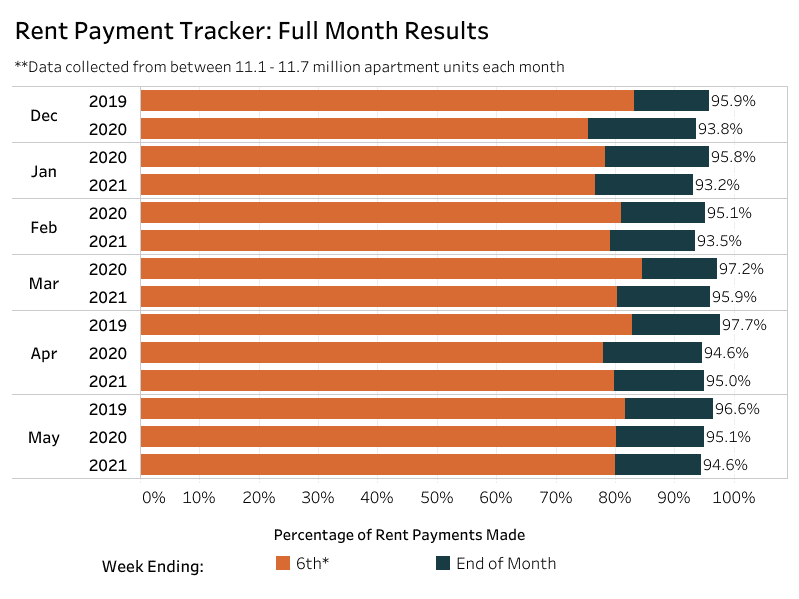 Source NHMC
Tenants Having Problems Paying Rent on Time
That doesn't mean that tenants haven't had a difficult time paying rents during the pandemic. It also doesn't mean that rent payments have been paid on time. The same NMHC report shows rents paid by the 6th day on the month. Rental property contracts typically state that rent is due by the 1st, and late on the 6th. Note the chart below. The number of rental units where the rent is paid on time, is only down by 2%-3% from pre pandemic levels. And that is across almost 12 million rental units. A little bit of quick math multiplying 12 million times 3% is roughly 360,000 rental units. That means 360,000 families are paying later in the month, or not paying rents at all, compared to before COVID. That's a big difference from the 30 to 40 million people the media is reporting.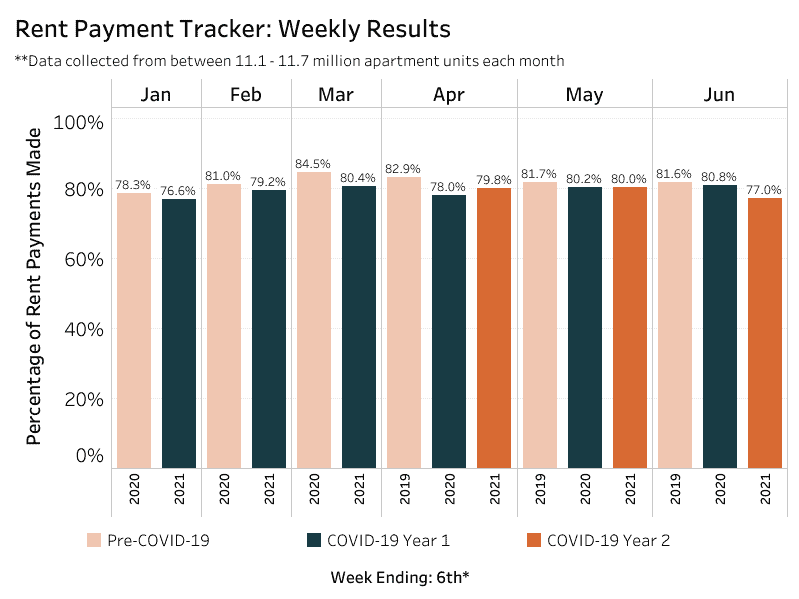 Source NHMC
How many families are actually renting and at risk?
To be fair, the NMHC data doesn't cover single family rentals, only multifamily properties. However, according to Statista, there are 14.45 million families renting, or 44 million individuals, occupying single family rentals in the United States. So, if the Aspen report were to be believed, nearly every single person who is a tenant in America is at risk of being evicted due to COVID. That just seems a little unbelievable to me, but it makes good headlines. If we use the numbers from Statisa and use the two percent difference between pre and post pandemic levels as reported by NHMC, we arrive at a far different picture. Using these numbers, there are approximately 28,900 families or 88,000 individuals who are are risk of eviction due to COVID. We understand that this isn't a scientific approach, but it certainly demonstrates the media's assertion of 30 to 40 million individuals is far from accurate.
Eviction moratorium hurting small landlords
While the majority of tenants are paying rents, some are legitimately behind in rents. A smaller group still is simply taking advantage of the moratorium to save money and not pay their landlords. Unfortunately, the landlords most at risk are the small mom and pop landlords. Those whose primary source of retirement income is rental property income. Grant Anderson, is owned several thousand dollars in unpaid rents caused by the moratorium and tenants who are taking advantage of him. Anderson manages 17 rental properties in the Indianapolis area. He states, "Throughout the pandemic and eviction moratorium we have had most of our tenants struggled to pay rent. We tried to work with all our tenants arranging payment plans with them. In Indianapolis we had Indy Rent Assistance funded by the Cares Act. The Rent Assistance paid three months rent to tenants that qualified."
Tenants taking advantage of landlords and eviction moratorium
Anderson had one tenant take advantage of the eviction moratorium. The tenant paid rent only once in May 2020. In August of 2020, Anderson attempted to evict the tenant when governor did not renew the eviction moratorium and received a court date. However, just prior to Anderson's court date, the CDC issued the moratorium on evictions. At the unlawful detainer (eviction) hearing, the judge provided the opportunity for the tenant to sign the new CDC Declaration. Additionally, the tenant paid for one months rent, and agreed to a payment plan. But that was the last payment Anderson received.
Judge reverses eviction order
In March of 2021, a full year later and owed about $12,000 in back rent, and $5,000 in legal fees, the judge gave Anderson another eviction date. After the eviction notice, the tenant contacted the court and contested the eviction. At this hearing, the judge reversed his previous order and gave the tenant voluntary move out date.
Tenant doesn't pay rent so he can buy a house
With the threat of eviction eminent, the tenant contacted Anderson and asked to stop the eviction. The tenant didn't want an eviction on his credit report. Why? Because he was buying a house! Anderson was out full year of rent because instead of paying his landlord, the tenant was saving money to buy a house! Anderson says the tenant, "has paid us $6,500, but still owes $10,500 in back rent and legal fees. I am hoping to collect $8,500 by April bringing his total owed below the $8,000 maximum we can get a judgement for in small claims court."
This story was condensed from CDC Moratorium Hurting Small Landlords.