Mail Means MONEY in Your Pocket!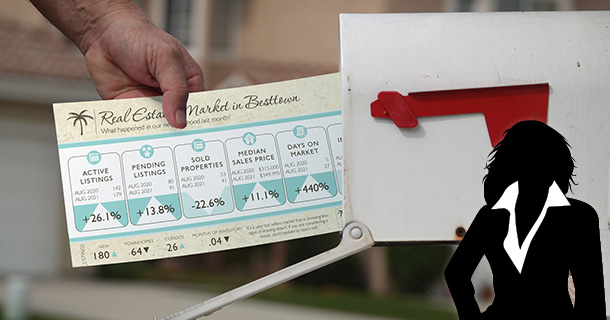 One of our favorite clients recently challenged us on social media about the importance of mail and I thought it was worth addressing in a Zebra Report:
"Where I am from I don't see many people reading their mail when they have social media. When I ask if they received my letter after a week or two most say they haven't picked up their mail because they are too busy."
Although I am a big proponent of mail, I also hear what she is saying as there may be a few factors at play in her particular farm area. Let's look at some things that generally may affect how a whole area handles mail:
Proximity to Mailbox
Some neighborhoods and areas use clustered and secured mailboxes. Since people may not pick up the mail every day, a mailbox would probably be stuffed within a week necessitating its pickup. If you are targeting a farm area in which this is a factor, that may affect how quickly mail is picked up and read. If you are sending information that needs to be acted upon quickly, such as an upcoming open house or neighborhood event, this might affect your attendance.
Snowbirds or Summer Beach Dwellers
Some farm areas seem to have folks who flock to different locales on a seasonal basis and have their mail held or forwarded. However, if this is just a seasonal phenomenon, then you can adjust your campaign accordingly and embrace this pattern.
Generational Perspective
Many Millennials (born 1980-2000) are tech savvy, may be receiving and paying their bills automatically, and one might assume they may not have much of a need to look at their mail more than once a week. However, it might surprise you that a 2016 study by Infotrends indicated that Millennials are the most likely generation of all to read direct mail and 25% of them considered it a "leisurely activity".
If you are getting the sense that your mail recipients are not responding to your mail, I encourage you to dig a bit deeper to see if there are any of these factors at play before making a change or discarding your farm. Some of the agents in my coaching group who have been really focused on the power of mail over the last year+ and some have already realized an additional six figures just based on a dozen or so pieces of mail. I have an agent who doubled her business just based on sending letters when she listed a property and another who got 14 listings from leveraging his listing with letters.
Despite the evidence that mail works over the long term, in my experience, once an agent starts a farm or a marketing campaign, they do a great job of talking themselves out of continuing it when they don't have an immediate result.
Since concerns about the impact of mail is a common perception for mail non-believers, I have listed six reasons below that are compelling reasons to not only start a mailing campaign but stick to it. Sending physical mail to mailboxes has several advantages that work to your favor:
It's different. Many agents have abandoned mailing campaigns and talked themselves out of investing in marketing all the time when they don't get an immediate response. Your mailer has less to compete with and stands out as a point of difference. This is contrarian marketing at its finest. Contrarian marketing works due to it being different than what everyone else is doing.
It's more than a subject line. In email, you are being judged by your subject line before anything else. Mail has the opportunity to connect with the recipient with more than a brief sentence, but with color, pictures, graphs, your portrait, and more - giving you the opportunity to connect with more personalities.
It's something touchable. It's tactile. It exists in your prospects' physical world and not in the abstract of the internet. That adds value and it places your advertising directing within the physical setting of your prospect's home.
It's more reliable. Did your email even make it into the inbox? Was it filtered to a junk mail box or as a "promotional" in your email platform or did it just never arrive from some internet spam filter along the way? Your post office mail arrives and is seen.
It's more customizable. You have more color options, finish options, type options than just a subject line. You can choose what kind of paper your mailer is on, the page size, and how it is bound. Your mailer can express your brand and arrange your information in ways that email or social media never will.
It is more readable. Not only do many people dislike email, but many age groups struggle with comfortably reading email. When it comes to your marketing, you want your audience to be able to easily consume it. In fact, email is perceived as work while mail is perceived as leisure with excitement over getting organized.
We're not saying email has no place in marketing, but paper mailers can be an incredible part of your business marketing and puts your marketing right in your prospects' hands.
One key factor to keep in mind is that all recipients will discount and discard mail that they deem too generic or that has a message that doesn't apply to them. That is why it is critical to make sure that when you create a piece of direct mail for any recipient, it is relevant to their real estate needs and situation.
Don't discount the power of mail! If your audience has specialty needs like the ones outlined above, then consider a campaign adjustment.
By Denise Lones CSP, M.I.R.M., CDEI - The founding partner of The Lones Group, Denise Lones, brings nearly three decades of experience in the real estate industry. With agent/broker coaching, expertise in branding, lead generation, strategic marketing, business analysis, new home project planning, product development, Denise is nationally recognized as the source for all things real estate. With a passion for improvement, Denise has helped thousands of real estate agents, brokers, and managers build their business to unprecedented levels of success, while helping them maintain balance and quality of life.