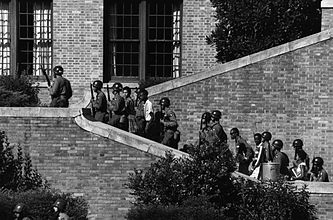 Who else enjoys learning new facts? Here are 6 events from Sept. 24th.
Three dramatically different yet significant television programs influencing pop culture debuted on September 24 during the 1960's.
The cartoon, "Rocky and Bullwinkle", about a smart squirrel named Rocky and his pal, an obtuse moose named Bullwinkle, first aired in 1961.
Two seminal television shows premiered on this date 7 years later in 1968:
1) the real-life in-depth news program, "60 Minutes" and
2) the stereotype-shattering police drama with a street-savvy multi-ethnic co-ed undercover team, "The Mod Squad." 
Three other firsts from September 24 include
. The first transatlantic telephone cable was completed in 1956.
. In 1957, President Dwight D. Eisenhower sends the 101st Airborne Division to Little Rock, Arkansas, to enforce desegregation and escort nine African- American students (later known as the "Little Rock 9"), safely into and out of Central High School daily.
The "Little Rock Nine", were Ernest Green (b. 1941), Elizabeth Eckford (b. 1941), Jefferson Thomas (1942–2010), Terrence Roberts (b. 1941), Carlotta Walls LaNier (b. 1942), Minnijean Brown (b. 1941), Gloria Ray Karlmark (b. 1942), Thelma Mothershed (b. 1940), and Melba Pattillo Beals (b. 1941). Ernest Green became the first African American to graduate from Central High School.
The book Warriors Don't Cry was partly based on diaries Melba Beals kept during this time. She also wrote White is a State of Mind, which begins where Warriors left off.
The first nuclear aircraft carrier, the USS Enterprise, launched in 1960. (This vessel is not to be confused with the Star Trek space ship of the same name).
Thanks for reading "6 Odd But True Facts From September 24".