You are new to Arizona you say? Well it is October 2021 and Halloween month. You can only go to so many Trunk or Treats or pumpkin patches. Here in Arizona,  We AIN'T AFRAID OF NO GHOSTS! Want to visit a place with very view to NO Living People? Try visiting the Ghost Towns in Arizona...the land of Sunny skies and wide open spaces. Don't want to live in a ghost town? Well I can help you there also...read on! (People have been searching for the Lost Dutchman Gold mine in the Superstition Mountains east of Phoenix for 100+ years).
Tombstone, Arizona 1881
Tombstone, the location of the OK Corral and Wyatt Earp and Doc Holiday (Archive Photo: Wikepedia)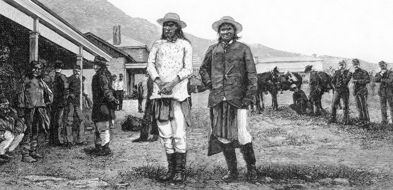 Visit our State Parks for the remnants of the old Calvary Forts like Fort Bowie
Visiting Arizona or ready for an adventure? Take a drive and a hike and explore Arizona Ghosts Towns and Ghost Forts such as Fort Bowie where Geronimo surrendered in 1886 (above). There are hundreds to choose from. Starting in Central Arizona from Phoenix many are just 1 to 3 hours away by car. 
                                   Gold King Mine Ghost Town


Ghost Towns In Arizona
Many were former mining sites that were abandoned after their boom years. See this picture of the old Gold King Mine ghost town. Some like Tombstone hung on based on their tourist appeal. Other ghost towns lost prominence after the railroads came through. Still other were set up to support US Army and Calvary posts that were no longer active after there was peace in the Arizona Territory. If you are interested in ghost forts in Arizona check here also. The old route 66 was once a major east to west thoroughfare. After Interstate 40 was completed, the towns along Route 66 fell into oblivion. Some still hang on.  Other towns were built along the Arizona rivers and creeks. The series of dams throughout the state caused some of these towns to vanish.
The remants of these towns are still available for the explorer to hike, study and take a step back to a time that once was.
Come to Arizona, with the blues skies, warm weather and expore the ghost towns, Grand Canyon, White mountains, red rock country of Sedona, Colorado River, Tombstone, our modern cities, sports teams and universities and of course....the ghost towns.
Here is an alphabetical list of ghost towns in Arizona (and county) as reported by the source along with more information and location on each.
79 MINE-gila 
ADAIR-navajo 
ADAMANA-apache 
ADAMSVILLE-pinal 
AGUA CALIENTE-maricopa 
ALAMO CROSSING-mohave 
ALEXANDRA-yavapai 
ALGERT-yavapai 
ALLAH-maricopa 
ALLEN-pima 
ALMA-pinal 
ALTO-santa cruz 
AMERICAN FLAG-mohave 
AMERICAN FLAG-pinal 
ARIZONA RANCH-yavapai 
ANGEL CAMP-maricopa 
APEX-coconino 
ARAVAIPA-graham 
ARIZONA CITY-yavapai 
ARIPINE-navajo 
ARIVACA-pima 
AZTEC-yuma 
AZURITE-pima 
BANNON-apache 
BEARDSLEY-maricopa 
BELLEMONT-coconino 
BELLEVUE-gila 
BIG BUG-yavapai 
We aint' afraid of No Ghosts in Arizona

BISBEE-cochise 
BISBEE JUNCTION -cochise 
BLACK DIAMOND-cochise 
BLUEBELL-yavapai 
BOQUILLAS-cochise 
BOSTON MILL -cochise 
BOUSE-la paz 
BOYLES-greenlee 
BRADSHAW CITY-yavapai 
BRAYTON-la paz 
BRENDA-la paz 
BRIGGS-yavapai 
BROOKLYN BASIN-yavapai 
BROWNELL-pima 
BRUNCKOW'S CABIN-cochise 
BUENA VISTA-graham 
BUENO-yavapai 
BUMBLE BEE-yavapai 
BUNDYVILLE -mohave 
BURKE'S STATION -maricopa 
CASCABEL-cochise 
CALABASAS-santa cruz 
CAMP BEALE SPRINGS-mohave 
CAMP BOUSE -la paz 
CAMP COLORADO-la paz 
CAMP DATE CREEK-yavapai 
CAMP HUALPAI -yavapai 
CAMP MCDOWELL -maricopa 
CAMP RENO-gila 
CAMP RIVERS-pinal 
CAMP RUCKER-cochise 
CANELO-santa cruz 
CANYON-yavapai 
CANYON DIABLO-coconino 
CASA BLANCA-santa cruz 
CASTLE DOME -yuma 
CASTLE DOMEÂ  LANDING-yuma 
CASTLE HOT SPRINGS -yavapai 
CASH CAMP-yavapai 
CATOCTIN-yavapai 
CEDAR-mohave 
CEDAR SPRING -navajo 
CERBAT-mohave 
CERRO COLORADO-pima 
CHAPARRAL-yavapai 
CHARLESTON-cochise 
CHARMINGDALE-yavapai 
CHERRY-yavapai 
CHILITO-gila 
CHLORIDE-mohave 
CHRISTMAS-gila 
CHRYSOTILE-gila 
CIBOLA-la paz 
CLARKDALE-yavapai 
CLARKSTON-pima 
CLEATOR-yavapai 
CLEMENCEAU-yavapai 
CLIFTON-greenlee 
COAL MINE MESA-coconino 
COCHISE-cochise 
COCHRAN-pinal 
COLDWATER-maricopa 
COLUMBIA-yavapai 
CONCHO-apache 
CONGRESS-yavapai 
CONGRESS -JUNCTION-yavapai 
CONSTELLATION-yavapai 
CONTENTION CITY-cochise 
CONTINENTAL-pima 
COPPER BASIN-yavapai 
COPPER CANYON MINE CAMP -la paz 
COPPER CREEK-pinal 
COPPER HILL-gila 
COPPER MINE-apache 
COPPEROPOLIS-yavapai 
CORDES-yavapai 
COTTONWOOD-cochise 
COURTLAND-cochise 
COX-yavapai 
CRAIG-yavapai 
CRITTENDEN-santa cruz 
CROOK CITY-yavapai 
CROWN KING-yavapai
CROWN POINT-yavapai 
CULLEN'S WELL-maricopa 
CURTISS-yavapai 
CYCLOPIC-mohave 
DE NOON-pinal 
DE SOTO-yavapai 
DEL PASCO-yavapai 
DOKE-gila 
DOME-yuma 
DOS CABEZAS-cochise 
DRAGOON SPRINGS-cochise 
DUQUESNE-santa cruz 
EDEN-graham 
EDITH-maricopa 
EMERY -cochise 
FAIRBANK-cochise 
FITTSBURG-cochise 
FLOY-apache 
FOOLS GULCH-yavapai 
FOREPAUGH-maricopa 
FORT BOWIE-cochise 
FORT MISERY-yavapai 
FORT MOHAVE-mohave 
FORT NEWELL-cochise 
FORT ROCK-yavapai 
FORTUNA-yuma 
FOURR'S FORT -cochise 
FRANCONIA-mohave 
FRISCO-mohave 
FRITSCHE-yavapai 
GALEYVILLE-cochise 
GARCES-cochise 
GERMA-mohave 
GERONIMO -graham 
GILA CITY-yuma 
GILBERT-yavapai 
GILLETT-yavapai 
GLEESON-cochise 
GLENBAR-graham 
GLEN OAKS -yavapai 
GODDARD (s)-yavapai 
GOLCONDA-mohave 
GOLD KING-mohave 
GOLD BAR-yavapai 
GOLD BASIN-mohave 
GOLDFIELD-pinal 
GOLDFLAT-mohave 
GOLDROAD-mohave 
GOODWIN-yavapai 
GRAND GULCH-mohave 
GREATERVILLE-pima 
GREENWOOD CITY-mohave 
GUNSIGHT-pima 
GUTHRIE-greenlee 
 HACKBERRY-mohave 
HAMBURG-cochise 
HARDYVILLE-mohave 
HARQUAHALA OBSERVATORY-maricopa 
HARQUAHALA-la paz 
HARRISBURG-la paz 
HARSHAW-santa cruz 
HAWKINS-yavapai 
HELVETIA-pima 
HILLSIDE-yavapai 
HILLTOP-cochise 
HOOPER-yavapai 
HOWELLS-yavapai 
HUALAPAI MANSION-mohave 
HUMBOLDT-yavapai 
HUMBUG-yavapai 
HURON-yavapai 
HYDER-yuma 
 KING -yavapai 
JEROME-yavapai 
JEROME JUNCTION-yavapai 
JERSEY LILY-yavapai 
JOHNNY RINGO GRAVE SITE-cochise 
JOHNSON-cochise 
JUNIPER -yavapai 
KATHERINE-mohave 
KENTUCKS CABIN-yavapai 
KENTUCKY CAMP-santa cruz 
KIRBY-yavapai 
KLONDYKE-graham 
KOFA-yuma 
LA LAGUNA-yuma 
LA NORIA-santa cruz 
LA PAZ-la paz 
LAS GUIJAS -pima 
LEES FERRY -coconino 
LIVINGSTON-gila 
LOCHIEL-santa cruz 
LOST BASIN-mohave 
LOWELL-cochise 
LUTTRELL-santa cruz 
MARICOPA WELLS -pinal 
MARTINEZ -yavapai 
MARTINEZ CANYON -pinal 
MASSICKS-yavapai 
MAVERICK-apache 
 MAXTON-yavapai 
MCCABE-yavapai 
MCCRACKEN-mohave 
MCMILLENVILLE-gila 
MEESVILLE-yavapai 
METCALF-greenlee 
MIDDLEMARCH-cochise 
MIDDLETON-yavapai 
MILLVILLE-cochise 
MILLVILLE-coconino 
MINERAL HILL-pima 
MINERAL PARK-mohave 
MINNEHAHA-yavapai 
MOJAVE CITY-mohave 
MORELAND-yavapai 
MOWRY-santa cruz 
MOUNT TRUMBULL -mohave 
MULE HOOF BEND-gila 
NORTON LANDING -la paz 
NUGGET-gila 
OATMAN-mohave 
OCTAVE-yavapai 
OCOTILLO-yavapai 
OLD GLORY-santa cruz 
OLDTRAILS-mohave 
OLIVE-pima 
OLIVE CITY-la paz 
ORAIBI-navajo 
ORO BELLE-yavapai 
ORO BLANCO-santa cruz 
ORO GRANDE-yavapai 
OROVILLE-greenlee 
ORVILLE-la paz 
OWENS-mohave 
OWL STATION -yuma 
PACIFIC CITY -la paz 
PACKER-yavapai 
PALACE STATION-yavapai 
PALMERLEE-cochise 
PAMELA -yavapai 
PANTANO STATION -pima 
PARADISE-cochise 
PEARCE-cochise 
PEARCE FERRY -mohave 
PIONEER-mohave 
PICK-EM-UP -cochise 
PICKERELL-yavapai 
PIEDMONT-yavapai 
PINAL-pinal 
PIONEER-gila 
PIPE SPRINGS NM-mohave 
PLACERITA-yavapai 
PLANET-la paz/mohave 
PLOMOSA-la paz 
POLAND-yavapai 
POLARIS-yuma 
POLHAMUS LANDING-mohave 
POSTON-la paz 
POWELL-mohave 
PRATT-maricopa 
PROVIDENCE-yavapai 
PUNTENNEY-yavapai 
PYRAMID-mohave 
QUEEN-pinal 
QUIJOTOA-pima 
RAY-pinal 
RED ROVER-maricopa 
REDINGTON-pima 
REEF-cochise 
REYMERT-pinal 
RICE-gila 
RICHINBAR-yavapai 
RICHMOND-cochise 
RICHMOND BASIN-gila 
RICHVILLE-apache 
ROSEMONT-pima 
RUBY-santa cruz 
RUSSELLVILLE-cochise 
RUTHERFORD -yavapai 
RYAN-coconino 
SALERO-santa cruz 
SASCO-pinal 
SALINA-apache 
SANCHEZ-graham 
SAYERS-yavapai 
SCHULTZ-pinal 
SENATOR-yavapai 
SENECA-gila 
SEYMORE-maricopa 
SILENT-la paz 
SIGNAL-mohave 
SILVERBELL-pima 
SILVER KING-pinal 
SIMMONS -yavapai 
SKELETON CANYON -cochise 
SMITHS MILL-maricopa 
SNOWBALL-mohave 
SONORA-pinal 
SPRUCEDALE-greenlee 
STAGE STATION -pinal 
STANLEY-graham 
STANTON-gila 
STANTON-yavapai 
STARK-cochise 
STERLING-yavapai 
STOCKTON-mohave 
STODDARD-yavapai 
STORMCLOUD-yavapai 
SUNDAD-maricopa 
SUNFLOWER-maricopa 
SUNNYSIDE-cochise 
SUNSET-graham 
SUNSET -navajo 
SWANSEA-la paz 
SWILLINGS CABIN -yavapai 
TERRENATE-cochise 
TIGER-yavapai 
TIGER-pinal 
TIP TOP-yavapai 
TOLCHICO-coconino 
TOMBSTONE-cochise 
TORTILLA FLAT -maricopa 
TOTAL WRECK-pima 
TRES ALAMOS -cochise 
TROY-pinal 
TUBAC-santa cruz 
TURQUOISE-cochise 
TUWEEP -mohave 
TWIN BUTTES-pima 
TWO GUNS -coconino 
UNION-maricopa 
UNION MINE -yavapai 
VAL VERDE-yavapai 
VEKOL-pinal 
VENEZIA-yavapai 
VERNON-apache 
VIRGINIA CITY-mohave 
VIVIAN-mohave 
VULTURE-maricopa 
VULTURE CITY-maricopa 
WAGONER-yavapai 
WALKER-yavapai 
WARREN-cochise 
WATERVILLE -cochise 
WASHINGTON CAMP -santa cruz 
WEAVER-yavapai 
WEBB -cochise 
WELDON-pima 
WHITE HILLS-mohave 
WHITLOCK CIENEGA -Graham 
WINCHESTER-la paz 
WOLF HOLE -mohave 
WOODRUFF -navajo 
WORLD'S FAIR MINE-santa cruz 
YANK'S SPRING-santa cruz 
YARNELL-yavapai 
YOUNGSBERG-pinal 
YUMA CROSSING -yuma 
YUMA TERRITORIAL PRISON-yuma 
ZENIFF -navajo
                              What the lost Fort Mohave on the Colorado River once looked like
Ghost Forts in Arizona
One of my favorites is the Lost Fort Mohave. Now on the reservation near current day Fort Mohave. Where is the old Fort? It used to be on the Colorado River when it was wider before the dams. Now the remnant, the flag pole is still there (some say) is off the river bounded by still existing Infantry Road and Calvary Road. The fort was donated to the Indians and later dismantled. As mentioned also check ghost forts in Arizona 
       Fort Bowie remains from 1937, where Geronimo surrendered, in 1886
Not into ghost towns or ghost forts but interested in Arizona towns with people and not ghosts? Want to move to Arizona? Visit me for more information at Arizona Homes For Sale or Scottsdale homes for sale. I would be pleased to help you. By the way, my office is not haunted!
 Living in Scottsdale Arizona and the Phoenix Metro            
                         Information about Scottsdale area living and real estate 
Map of Scottsdale Arizona
Scottsdale is located in the Northeastern part of the Phoenix Metro and is more densely populated to the southern and older part of the city.
Other Scottsdale homes for Sale
Looking for something else? Here are more Scottsdale homes and/or land for sale:
Luxury homes for sale in Scottsdale 
Detached homes for sale in Scottsdale 
Scottsdale Pool Homes for sale 3+ Bedrooms
Condos, Townhomes, Patio Homes for sale in Scottsdale
All homes for sale in Scottsdale 
Scottsdale homes for sale with 1+ Acres 
Scottsdale homes for sale on golf course lots
Residential Lots for Sale in Scottsdale 1/2+ Acres
3+ garage homes with a pool for sale in Scottsdale 
Scottsdale ranches and horse properties for sale
Scottsdale homes with a guest house or casita for sale 
Scottsdale waterfront homes for sale   
Scottsdale homes with city light views
MLS Search for homes for sale in Scottsdale
Meet Jeff Masich, REALTOR® in Scottsdale 
For more Scottsdale homes or Arizona Homes and Land for sale just ask Jeff Masich, I would be most pleased to help you as your Buyer's real estate agent. 
Buy a home in Scottsdale Arizona
To learn more about Scottsdale living and to see homes for sale: Scottsdale and Homes For Sale or Arizona Homes For Sale.   
Here is a FREE MLS Search for homes for sale in Arizona. I, Jeff Masich would be pleased to help you and your family find Arizona Homes For Sale and the right home at the right price!
 Press FREE MLS Search to search for homes for sale in Arizona. Or, for Smaller Regional MLS Searches in Arizona