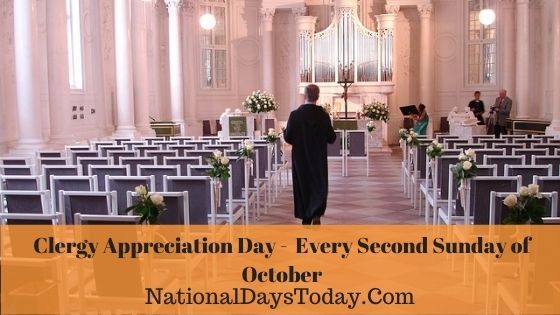 If you forgot the second Sunday in October is Clergy Appreciation Day, you can still thank a spiritual advisor for their service.
Clergy Appreciation Day is a time to recognize all of the ministers, pastors and priests serving communities in the United States.
Does your church honor its pastor? Some take up a special offering on this day to bless their pastors. As October is Clergy Appreciation Month, some use the time to bless leaders with meals, gifts and even paid vacations. Here are some ways for individuals to show appreciation.
Tell others – Tell them how much your church leader does for the congregation – and let your pastor overhear you.
Volunteer – churches offer more opportunities for volunteering than just about anywhere. Don't wait to be voluntold.
Pray for your clergy – It should probably be in the first slot, but it seemed so obvious.
Write a note – Thank your minister for being an excellent leader, for his or her compassion or even something specific.
Ask – Find out where you can help. Some clergy don't delegate enough or (see volunteer) so few people volunteer, they've taken all the burdens upon themselves.
If no one has yet mentioned anything about showing appreciation for Clergy Appreciation Day, why not initiate it? Celebrate your clergy and recognize them for their leadership, compassion, stewardship, and faith.
Hallmark Cards first started Clergy Appreciation National Day of Honor in 1992. 
Image courtesy of www.NationalDaysToday.com.
Thanks for reading "You Can Still Thank a Pastor for Clergy Appreciation Day."