One of our favorite social media marketing automation tools, Missinglettr now supports creating drip campaigns for your YouTube real estate videos.
Every time you or your team posts a new YouTube video, Missinglettr picks up the new content, creates an amazing drip social media campaign for you and upon your approval, will promote them on your behalf via your own social media channels repetitively with different content variations and automatically, a key for effective social campaigns.  All this without you lifting a finger.
These are the simple steps:
Connect your social media channels (Twitter Facebook, LinkedIn etc.)
Add your Youtube channel (see screenshot below)
Every time you publish a new real estate video on Youtube, Missinglettr will send you an email for campaign approval and within minutes, all your drips are scheduled for weeks and months to come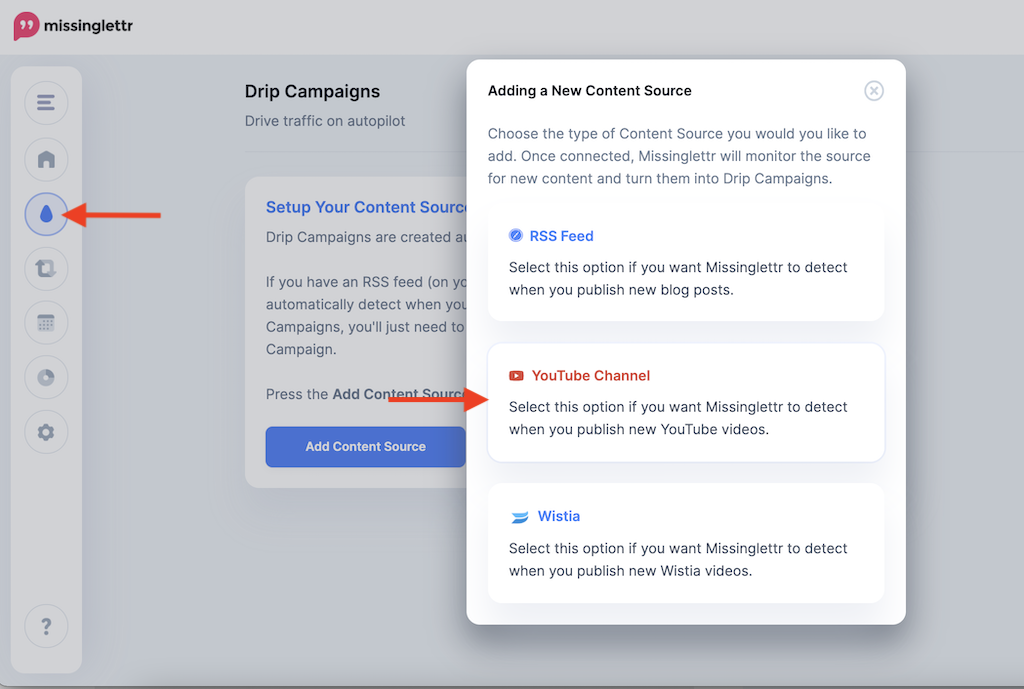 When you scale this for multiple listings that you market parallel, multiplied by the dozens of drip campaigns this handy marketing tool creates, the benefits are tremendous.
You can also use Missinglettr for various other real estate content, and you can even preset various campaign templates for various content:
Real estate listing videos via your YouTube channel - use a 14-day or 30-day campaign template with 10-20 shares per listing. Remember, you have to only set this one up once, Missinglettr automates everything for you
Real estate listing websites and landing pages via your RealBird PRO account - use a 14-day or 30-day campaign template with 10-20 shares per listing. 
Real estate evergreen content such as your blog posts or ActiveRain posts - use 365-day campaign and automatically reshare the posts over the next year
Setup is super quick, and one time and the service is very affordable with a free trial. And the scalability for your social media marketing you get is unmatched.
You will have hundreds of shares of variations of your content (listings, blog posts) via all of your social media channels resulting in thousands of new visitors. All automated for you.
Scalability like this is impossible to achieve with proper automation tool. We highly recommend you to give Missinglettr a try today.
 -- The RealBird Team