I love what my friend Andrea Bedard has done with this wonderful listing of mine. It is such a special home and a beautiful place to continue to make memories.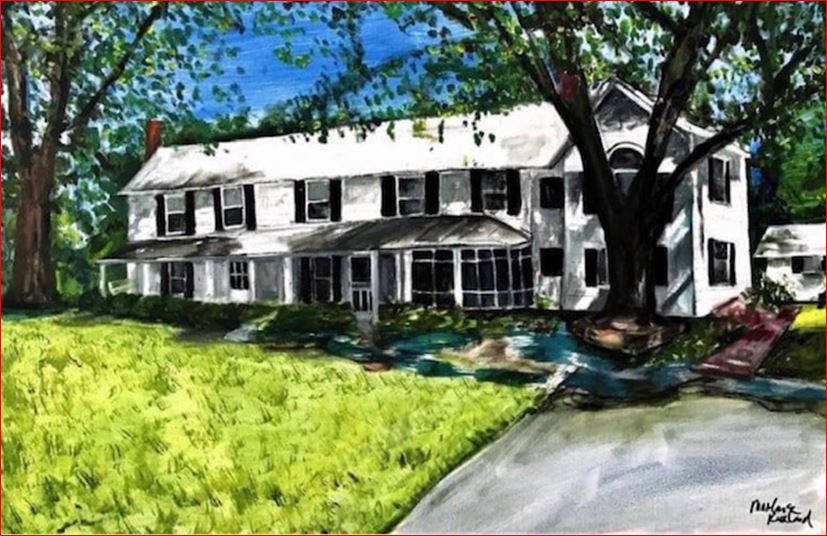 The portrait above was painted by the owner/artist Marlene Kurland
Photos of 3820 Thoroughbred Lane
3820 Thoroughbred Lane is as charming of a home as it gets! The original farmhouse was built in 1810 with parts dating back to 1736... notice the half-timbered wall in the kitchen? It's reminiscent of old German architecture and not a detail you'll find in any modern clononial. 

Two 3-story additions expanded the living space in this unique home to more than 4,000 square feet to include 2 owner's suites and 3 secondary bedrooms, an art studio and media room, adding more features (a spiral staircase) and modern amenities (walk-in closets) without taking away from its original old world character exemplified by the multiple fireplaces, hardwood floors, pocket doors, and that gorgeous kitchen wall.   

This home sits back off the road, on a private 1 acre lot with mature trees that are just about to show off their fall glory! It has so much room inside and out, and so many possibilities. I personally like the sound of retreat and would love to see it become just that for the future owner(s).

3820 Thoroughbred Lane is FOR SALE. It's listed by Margaret Rome Baltimore 410-530-2400 Home Rome Realty and shown by appointment only. 

If this property tugs on your heartstrings, too, and if it could just be the charming and unique home you've been searching for, then call for more information and to schedule a private showing.

♥ It's always been the vintage, the old house charm and the original details that I adore the most, that draw me in, make my [REALTOR®] heart flutter, and prompt me to pause to listen and retell their stories. I specialize in finding and marketing charming homes that are unique and rich in character, or history, or both. I believe in preservation, second chances, saving the pink bathrooms, and front porch living. In this series I highlight charming homes that I am either listing to find just the right buyer for, or admiring with my special clients, or that have simply caught my eye while walking or running the streets, rolling trails, and [historic] subdivisions of Maryland and beyond. Adore charming homes as much as I do? Then I'd love it if you'd follow me on Instagram @onceuponahaus is where I grow my curated collection. ♥





ANDREA BEDARD, M.A. ~ THOMPSON COMPANY, REALTORS ~ 

Thompson Company, REALTORS

16910 Oak Hill Rd, Silver Spring, MD 20905
o: (301) 384-9177 c: (240)593-2860

Andrea is a REALTOR® based in Silver Spring, MD, who has enjoyed assisting buyers and sellers in Montgomery and Howard County, MD (and beyond) for 17+ years now. She always answers the phone with a smile, is fluent in Real Estate & German, pro preservation, passion and coffee fueled. 

Ready to fall in love? Then let's get started on writing your unique Real Estate story. Happy ending guaranteed. Click here to begin!

 

 

 

All photographs are my own and I'd like to keep it that way.
Please get in touch prior to using any of my images and/or my original content. 
All information is deemed reliable but not guaranteed.