One week to go, and it's officially Thanksgiving! It is a great time to bond with the family, reconnect with other relatives and old friends, and to cherish the holiday season with warmth and love from these people. But why stop at the celebration if you can bond with your friends and family to burn the calories after the grand Thanksgiving dinner! As a person who believes that well-being is one of the most important aspects of life, I think it is great to not only make sure that you take proper diet, but exercise as well. So here's my top 5 list of the activities you can do after Thanksgiving to burn off those calories, and where you can do them in the DC Metro area!
1. Cardio on the Run
Doing cardio is one of the most effective ways of losing unnecessary carbs and that extra weight you gained over the Thanksgiving season. Do you know that a 30-minute run can help you burn by as much as 200 to 500 calories! Combine this with regular balanced diet, exercise, and hydration is sure to help you not only to lose weight, but also reduce the risk of heart diseases. I'd recommend going through the Burke Lake Park in Fairfax, VA which is a 4.7-mile loop in case you're into laps.
2. Go for the Uphill Battle
Let's take things to the next level and go for the heights! One of the best recreational activities out there is to go for trail hiking with the friends and family and enjoy what nature has to offer while burning that roasted turkey sandwich you had two days ago. One of the best places to go for hiking is the Shenandoah National Park, which I covered in this blog.
3. Cycling for Health
As the public transportation is not easily accessible this pandemic, one of the options that people are looking to more recently is the use of bicycles. It has then become more popular over time and has become a great way of transportation and a recreational activity among people. Biking alone can help a regular person burn almost 200 calories on a 30-minute ride, which helps you develop muscular and cardiovacular endurance over time. One of the best biking trails around Northern Virginia is the Gerry Connolly County Trail across Fairfax County, VA. You may visit this website to learn more about the said trail.
4. A Walk in the Park
It is said that walking helps with weight loss and a great light to moderate exercise if you just want to keep it casual. One particular event where you can take a walk with your loved ones is the winter wonderland event hosted by Six Flags located at Bowie, MD. You may visit their website here for more inquiries and plan your holiday getaway with your friends and family!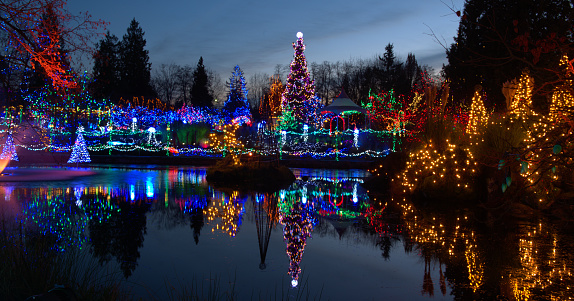 5. One with Nature
Want to come back to nature's arms for a while after the Thanksgiving celebration? I got you covered! Visit the Meadowlark Botanical Gardens in Vienna, VA for a one-with-nature experience. Explore 95 acres of unique plant collections, ornaments, and enjoy the peaceful ambiance of the garden with your loved ones! This is yet another great activity that you can do to loosen up after the heavy Thanksgiving dinner. 
I hope that you enjoy this Thanksgiving season and be blessed with all the love the world has to offer. Do you have other activities that you think is worth trying after Thanksgiving? Let me know in the comments down below!