Paint the Plow Pilot Program, Gaithersburg, Maryland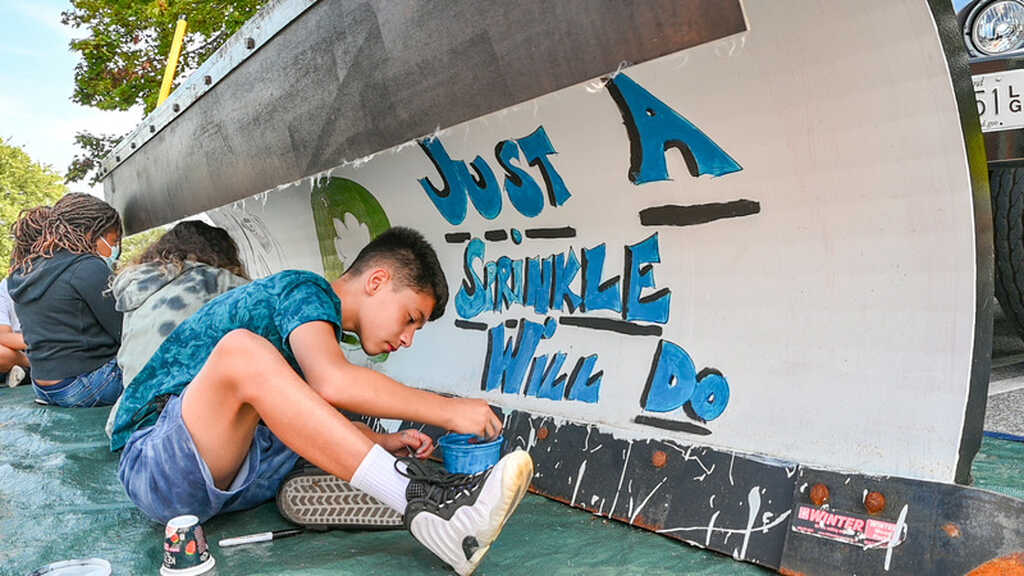 "Paint the Plow" on Display at Jingle Jubilee.
Four newly painted City of Gaithersburg snowplows will be on display at the 95th annual Jingle Jubilee and Tree Lighting celebration, taking place on Saturday, December 4, from 3:30 to 6 p.m. at the City Hall Concert Pavilion, 31 South Summit Avenue. This outdoor event is free. No reservations are required. Masks are strongly encouraged. The plows are part of Paint the Plow, a community outreach initiative of the Gaithersburg Parks, Arts & Recreation Corporation (G-PARC) and the City's Public Works and Parks, Recreation & Culture Departments (PRC). "This is our pilot year for Paint the Plow," says Shellie Williams, the City's Cultural Events & Services Division Chief. "We teamed an environmental message with an art project and asked members of our Youth Centers, the Benjamin Gaither Center, and our business partner, Starbucks of Muddy Branch, to be our initial participants. The project was a lot of fun for everyone involved and the plows look wonderful." Plows were painted with SOS (Save our Streams and Stop Over Salting) images and messages that stress the importance of limiting the use of road salt to reduce the amount of chloride entering the water system. High chloride levels impact the quality of our drinking water and have severe effects on species that live in or near our streams. Members of G-PARC, the City's Stormwater and Environmental Services teams, and the Izaak Walton League of America (IWLA) will be on hand at Jingle Jubilee with information about the damage over-salting can do to the environment and will share alternative approaches to salting during ice and snow events. G-PARC members, PRC staff and artist Astrid Adler assisted the Olde Towne Youth Center, Robertson Park Youth Center and Benjamin Gaither Center members in developing and painting original designs on three 8' plow blades. Muddy Branch Starbucks Manager Kevin Canales and his team, who have been involved in the City's outdoor programs and park clean-ups for almost a year, developed and painted a mermaid-themed design as the fourth plow design. "This is our second Art and the Environment program," says Denise Kayser, Chair of G-PARC's Alliance for Arts & Culture. "Last spring we held an art competition for designs with environmental messages that were painted on City storm drain covers. You can see the finished artworks at the Activity Center at Bohrer Park." The goal of the Art and the Environment program is to increase public awareness of environmental concerns by engaging businesses and residents in inspiring, creative projects that underscore the message while building community. Both the snowplow and storm drain projects will be expanded. Please contact gparc@gaithersburgmd.gov for more information. For more info please visit https://gburg.md/3Eg5gYs
This is a City of Gaithersburg, Maryland announcement.