2022 Real Estate Predictions - Be Brave With Your Opinion!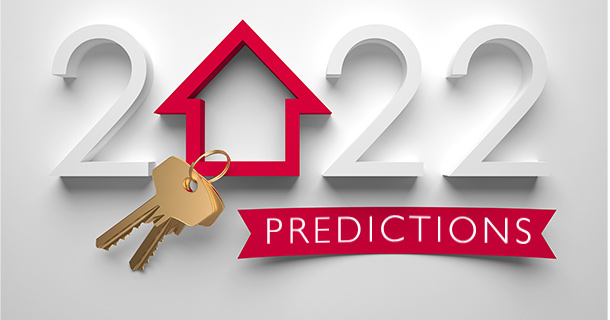 The last two years have had an unprecedented effect on the economy, on the way we interact socially, on the way we shop, on education, and of course, on the real estate market. More than ever, your clients need to hear your voice when it comes to the real estate market and what they can expect in the coming year.
Many real estate agents are not comfortable looking into the future and making predictions. However, making a prediction is nothing more than making your best guess based on the information you have at the moment. You make predictions all the time; you just may not refer to them as predictions.
For example, let's say you have a listing that is priced in the middle of your market. It gets 15 offers and the price escalates by 5%. If you have a potential buyer who is thinking about buying in the middle of the market and asks your advice, you would probably advise that they need to be prepared to compete. That is a prediction. But what if that client isn't ready to buy for six months? You would probably let them know about the demand you are seeing now, let them know about any potential challenges or changes you will be regarding inventory in the area (such as a new construction development that is going to open or rezoning), and talk a bit about interest rates and buying power. However, you might also let them know that you don't have a crystal ball and that unknown issues could arise.
That is a prediction! The only difference between talking to an individual client about what you are seeing and how they should plan versus sending that same information in a newsletter is the number of people you are sharing your prediction with.
Now, you don't need to have predictions about a vast list of housing data, but here are a few topics your clients would like to know the outlook for:
Housing inventory in your area
Housing prices in your area
Interest rates
Any new information on zoning (such as changing from single family residential to multifamily, allowing for ADUs and more)
New housing projects (such as new home developments, new condos and apartments, new townhomes, and more)
Possibly what is happening with niche markets such as land and commercial
Reading through this list, you probably have an opinion about what 2022 will bring for each. That is your prediction! Just make your prediction with a disclaimer because there is no way to know everything that could happen. Could anyone have predicted the severity of the recession or COVID? Both of those had a big impact on the housing market and we just didn't see them coming.
I am a big proponent of predictions. In fact, I have been making predictions on the real estate housing market for almost 20 years. It wasn't necessarily comfortable at first (because who wants to be wrong in the event something unforeseen happened?) but it was a muscle that I flexed and made stronger over time.
If you like the idea of making predictions but aren't sure how to get started or want some help, start with my predictions. I have two ways that I can help in that regard:
Mailer Content
Members of our Club Zebra subscription can download a Word document with a few of my 2022 real estate housing market predictions. It's all written, formatted, and ready-to-send. All you need to do is put your name and contact information on to it.
State of the Market Presentation
Our Real Estate Success Summit, on January 26 at the Lynnwood Convention Center, includes my State of the Market presentation where I will be providing a robust look at the real estate market and sharing ALL of my predictions for 2022.
Don't be afraid to let people know what you think may be coming. Your clients deserve your expert opinion AND having a strong opinion will get you more business.
---
How will you prepare your business for 2022? Start with market facts, not market fear! Commit to improving your understanding of trends in your area. And if you are able to come to Lynnwood this January 26th, start with the energy and knowledge you'll experience at our 2022 Real Estate Success Summit. I'll see you there!
The Real Estate Success Summit is a limited seating event and has sold out every year. Don't risk your seat by waiting until January to register. For more information or questions, start with our registration website at:
For additional information, visit our Facebook event page for a FAQ or call us at 360-527-8904.
By Denise Lones CSP, M.I.R.M., CDEI - The founding partner of The Lones Group, Denise Lones, brings nearly three decades of experience in the real estate industry. With agent/broker coaching, expertise in branding, lead generation, strategic marketing, business analysis, new home project planning, product development, Denise is nationally recognized as the source for all things real estate. With a passion for improvement, Denise has helped thousands of real estate agents, brokers, and managers build their business to unprecedented levels of success, while helping them maintain balance and quality of life.