In the real estate industry, user experience is a vital factor in the success of a business. That's why it is essential to ensure that you offer your clients a high-quality experience. The best way to do this is by improving your site performance and users' search experience. Keep reading to find useful information about Realtyna's Zap Search Add-On and how it can benefit your real estate business. 
Why You Need Zap Search Add-On
A great benefit of Zap Search WordPress Add-on is that it comes with many useful features that are convenient for real estate agents. The following are some of the key features that this add-on offers:
This advanced solution boosts the performance of a large number of listings. 

It also improves website performance and provides a significant speed boost. 

Furthermore, it includes standard search features such as text, select to search, etc. 

Customization options allow you to easily select preferred areas with the help of an inbuilt polygon and radius map search. 

Accurate and highly customizable location search

The installation process is quick and easy, with support from a team of hands-on designers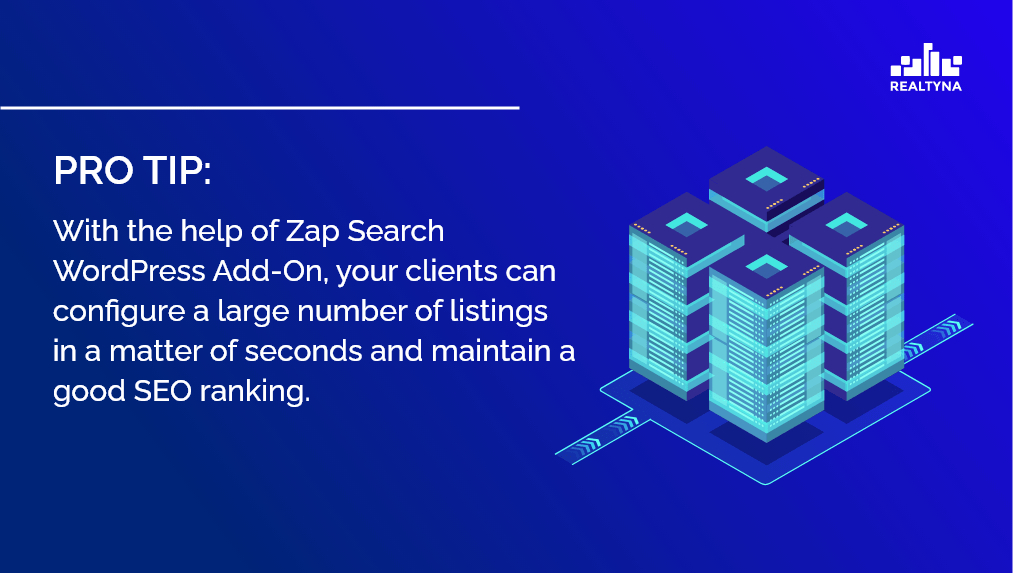 Zap Search WordPress Add-On Offers a Powerful Search Engine 
If you plan on listing a large number of properties, you will surely benefit from Zap Search Add-on. Not only does it allow you to build a powerful search engine, but it also allows users to extract meaning from your data at scale. 
What Are the Server Requirements for Realtyna's Zap Search Add-On? 
To install Zap Search Add-on, you will need;
A PHP 7.2 or higher

Terminal Access 

Pre-installed and automated elastic search
Thanks for reading! If you are interested in a free demo, make sure to request it here. 
Here are some recommended articles for you. 
Real Estate Digital Marketing Trends That Will Make it to 2022