If you're thinking of buying a home in today's housing market, you may be wondering how strong your investment will be. You might be asking yourself: if I buy a home now, will it lose value? Or will it continue to appreciate going forward? The good news is, according to the experts, home prices are not projected to decline. Here's why.
With buyers still outweighing sellers, home prices are forecast to continue climbing in 2022, just at a slower or more moderate pace. Why the continued increase? It's the simple law of supply and demand. When there are fewer items on the market than there are buyers, the competition for that item makes prices naturally rise.
And while the number of homes for sale today is expected to improve with more sellers getting ready to list their houses this winter, we're certainly not out of the inventory woods yet. Thus, the projections show continued appreciation, but at a more moderate rate than what we've seen over the past year.
Here's a look at the latest 2022 expert forecasts on home price appreciation: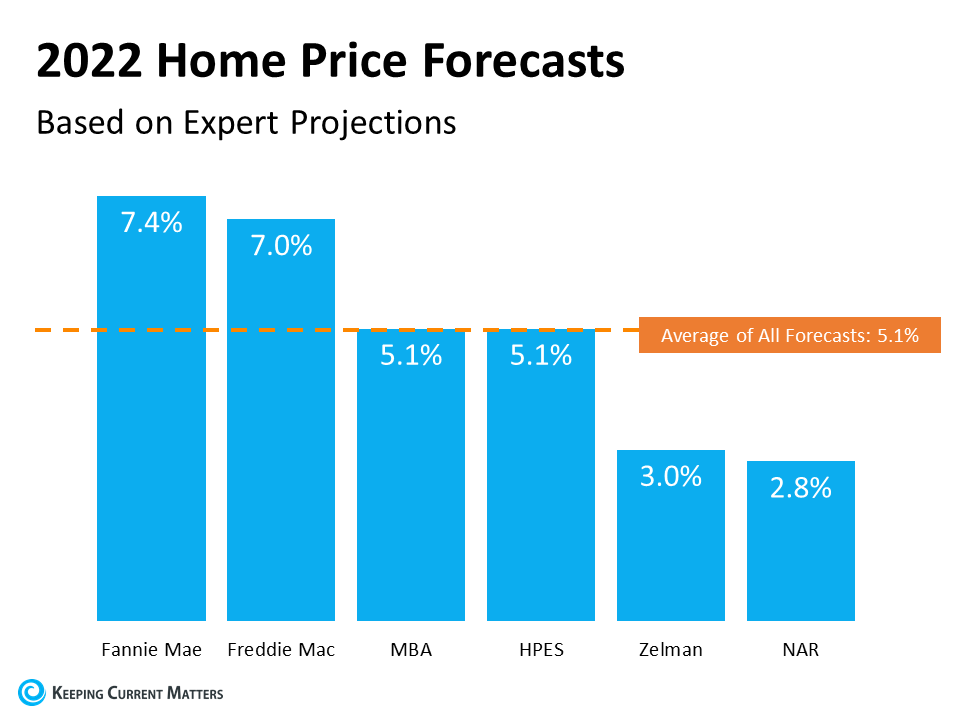 What's the biggest takeaway from this graph? None of the major experts are projecting depreciation in 2022. They're all showing an increase in home prices next year.
And here's what some of the industry's experts say about how that will play out in the housing market next year:
Brad Hunter of Hunter Housing Economics explains:
". . . the recent unsustainable rate of home price appreciation will slow sharply. . . . home prices will not decline. . . but they will simply rise at a more sustainable pace."
Danielle Hale from realtor.com agrees:
"Price growth is expected to move back toward a normal range, but this is on top of recent high prices, . . . So prices will [still] hit new highs. . . . The pace of price growth is going to slow notably . . . "
What Does This Mean for the Housing Market?
While home price appreciation is expected to continue, it isn't projected to be the record-breaking 18 to almost 20% increase the market saw over the past 12 months. Overall, it's important to note that price increases won't be as monumental as they were in 2021 – but they certainly won't decline anytime soon.
What Does That Mean for You?
With motivated buyers in the market and so few homes available to purchase, the imbalance of supply and demand will continue to put upward pressure on home prices in 2022. And when home price appreciation is in the forecast, that's a clear indication your investment in homeownership is a sound one.
Bottom Line
It's important to know that home prices are not projected to decline in the new year. Instead, they're forecast to rise, just at a more moderate pace. That's why it's mission-critical to work with a trusted advisor to make sure you're up to date on what's happening with home price appreciation in your market, so you can make an informed decision about your next move.