If you are new in Greenville, South Carolina, or you're planning to move in, and you love to play golf. Or maybe you're already in the area, and you just wanted to know the best places to play golf in the city. This article is for you. 
Here are the Top 5 Public Golf Courses in Greenville, South Carolina, in no particular order:
1.
 Legacy Pines Golf Club

Let's start with "Legacy Pines Golf Club," founded in 1960 and situated at 200 Ranch Road, Mauldin, SC 29662, one of Greenville county's most beautiful sights. The 18- hole "Legacy Pines" championship course features 6,289 yards of golf from the longest tees for a par of 72. The fairways are well manicured and always healthy Bermuda greens that provide top-notch hospitality for members and guests. Of course, they also have food and beverages options for you to recharge, relax or hang out and have a few drinks after your round. They also claimed to have the "Best Burgers in Town." So, if you love burgers and golf, you should definitely check it out.
2.
  Paris Mountain Country Club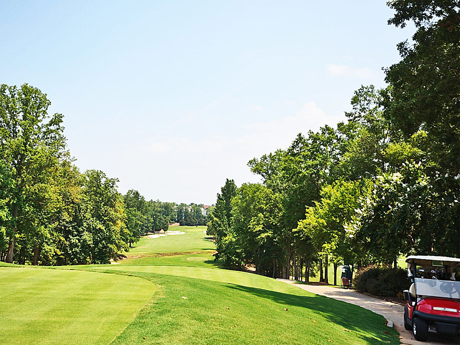 Next, we have "Paris Mountain Country Club. If you want to step your game up, you should try this place. Paris Mountain Country Club is one of the oldest golf courses in the city, founded in 1938. They have a very challenging course with 18 - holes at the foot of the Mountain. It has many elevation changes, which will cause uneven surfaces that will test your skill. Other than that, they also have a pro shop, where you can purchase your playing needs, and they also have a grill and pool where you can relax after your game.
3.
 3's Greenville Golf & Grill

Now, are you tired of hearing the word championship and challenges from the first golf course we talked about? Let's just move on to "3's Greenville Golf & Grill," formerly known as 3's Greenville, Crosswinds Gold Course, founded in 1997. I like this place because they are for everyone, whether you are a golfer or non-golfer, serious or casual. You can show up in your FootJoys and starched polo shirt, or you can show up in a T-shirt and flip-flop. Either way, you'll feel at home. They have a 12- Hole HUMPS & BUMPS PUTTING COURSE which you can enjoy three different species of grass putting greens to sharpen your skills. So golfers can practice a variety of surfaces. For non-golfers, they wouldn't get quickly tired compared to the standard 18 hole course. Golfing doesn't always have to be 18 holes on an extensive course. Walking and chatting with the family while playing is sometimes a great golf experience.
4.
Furman University Golf Club
However, if you aspire to become a pro-golfer or become the next Tiger Woods. The 18 holes, 72 Par Course in Furman University Golf Club at 400 North Hwy 25 Bypass Greenville, SC 29617 is the best place for you. It was founded in the 1950s and has earned its integrity since then. The South Carolina Golf Ratings Panel voted Furman Golf Club to be the number one Public Golf Course in Greenville. They offer club fitting for you to have the best equipment for your game. Also, they advertise the use of advanced technology like "flight scope." It is a modern and scientific way that help you improve your gameplay. You may also have a chance to get access to clinics and programs from the Professional Golfers' Association members. This Gold Club is where legends are made.
5.
 Top Golf Greenville

We know that pro and legends are astonishing, isn't it? But not everyone wants to become one, yet all of us want to have fun. If you are a non-golfer who just wants to try golf the first time or if you are a golfer who wants to hang out with your family or friends and introduce the sports to them. TOP Golf Greenville, located at 201 Clifton Court. Greenville, SC is for you. 
They have 72 practice tees, which can accommodate a lot of your friends and family. The best thing about them is that they offer lessons, and renting golf clubs is absolutely free. They offer all clubs for everyone; for men, women, ladies, left-handers, right-handers, kids, and even toddlers. You can come into Top Golf without a reservation and even play at night time before midnight if you are someone who doesn't want to play under the sun. Also, they have an outstanding food and beverage menu, climate-controlled hitting bay, and energetic music that you can enjoy most of the time.
Overall, whatever golf experience you are looking for, Greenville SC has a lot to offer. Surely, wherever you want to play golf, this city could give you an excellent experience for yourself, your family and your friends.
If you are interested in Selling or Buying Greater Greenville SC Golf Community Homes for Sale,  contact us here at PRODUCER REALTY at 864-438-5050 or visit us at www.GreenvilleRealEstateHub.com for all your real estate needs.