Included below are homes for sale and real estate in Columbai, MO. Below the listings are the top subdivisions in Columbia with videos and links to each subdivisions listing page of homes for sale.  
And, for your convenience, feel free to register for a free account to receive email alerts whenever new Columbia area listings come on the market that match your specific criteria. Discover your homes current market value with our free market valuation tool.
Columbia is beautiful, exceptionally diverse, and wildly alluring. The people are friendly, the city is cultured, and there is an adventure waiting around every winding country road. Columbia, Missouri, or CoMo to locals, is the state's fourth-largest city. Every month more and more people are choosing to move to this enchanting Mid-Missouri city. The schools are exceptional, the cost of living affordable, the food scene is phenomenal, and the residents are unequaled. Moving to Columbia, Missouri is a decision you will not soon regret.
Columbia is one of the best places to live in Missouri.
It is situated centrally between Kansas City and St. Louis. It is also a short 30-minute drive to Missouri's capital, Jefferson City. Many residents of Columbia find themselves taking frequent summer-time trips down to Lake of the Ozarks or Table Rock Lake. Lake of the Ozarks is the closest with a drive time of just a little over an hour. Table Rock Lake, and the wildly popular vacation destination of Branson, is a bit further of a drive, clocking in around 3.5 hours.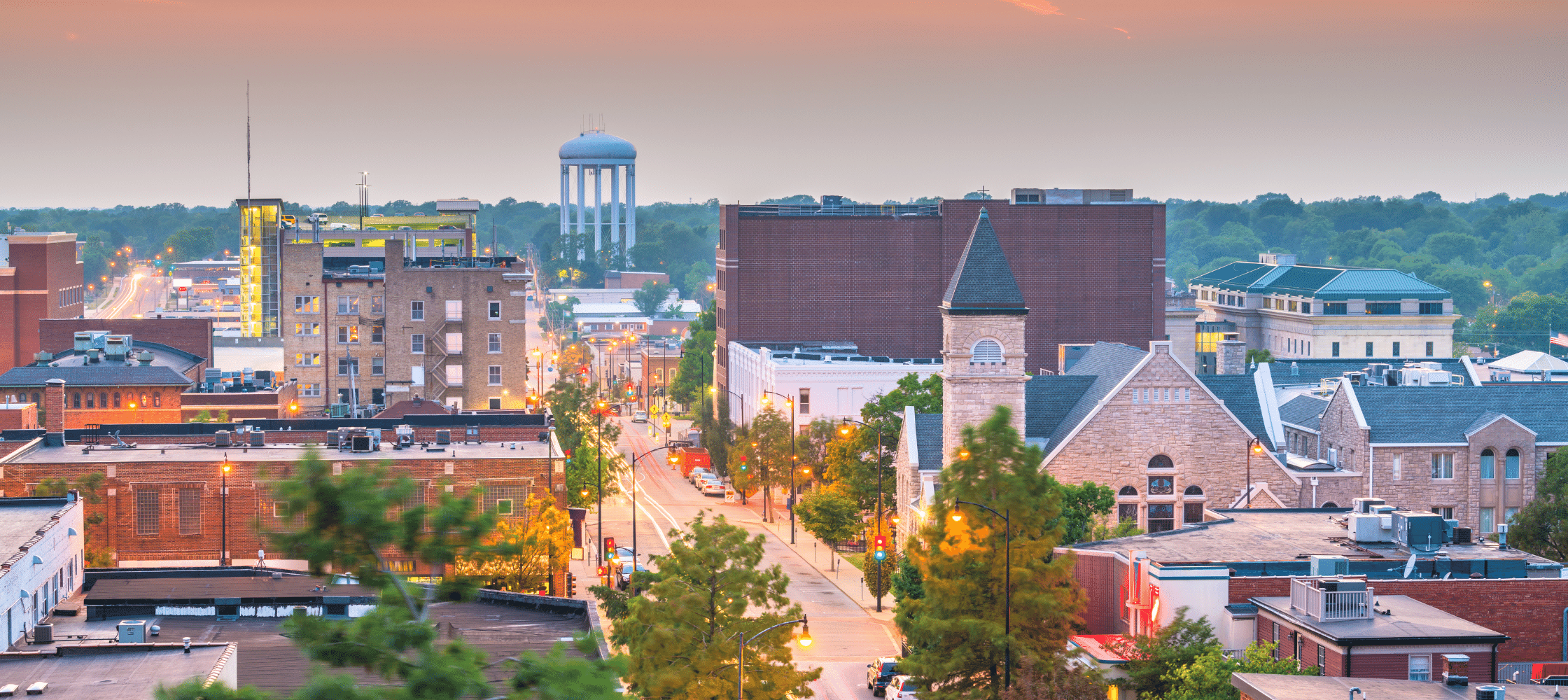 Excellence in Education
Columbia is home to a strong K-12 education system. The administration, teachers, and staff of each Columbia school (public and private) pride themselves on providing their students with the very best educational foundation.
K-12 Schools in Columbia
Coming in as the state's fifth-largest district, the Columbia Public School educates the vast majority of the city's children. If you are new to the area or considering a move to Columbia, find the Columbia Public School locator here. It is important to note that Columbia is also home to many private schools as well. Some of the private school options include Columbia Independent School (CIS), Christian Fellowship School, Christian Chapel Academy, Our Lady of Lourdes Interparish School, and Tolton Catholic High School.
Higher Education in Columbia
Columbia is also home to a variety of higher education institutions—the most popular being the University of Missouri. Mizzou takes much pride in being Missouri's most comprehensive public research university. The university offers more than 300-Degree Programs, an extensive array of Graduate Degree Programs, Online Programs, and Continuing Professional Education Programs. Mizzou is also part of the SEC Conference (Southeastern Conference). In addition to Mizzou, Columbia is also home to Stephens College and Columbia College.
Sports in Columbia
As mentioned before, Mizzou is a part of the SEC. There are many advantages to belonging to such a well-known conference. One of those advantages is the opportunity to watch some of the best college teams in the country compete athletically. Faurot Field is home to the Missouri Tigers Football Team, and in the fall people from all over the state travel to Columbia to watch their Tigers compete. The rest of the year, fans are able to cheer for the Tigers at wrestling meets, basketball, baseball, softball, and volleyball games. Additionally, Columbia is home to the annual Show-Me State Games. Furthermore, if you are looking to attend a professional sporting event, no worries! A short drive down the road will lead you to the pro-football, baseball, hockey, and soccer teams the state of Missouri is so proud of—the Kansas City Chiefs, Kansas City Royals, Sporting KC, St. Louis Cardinals, St. Louis City SC, and St. Louis Blues. If you are a sports fan, you will fit right into Missouri!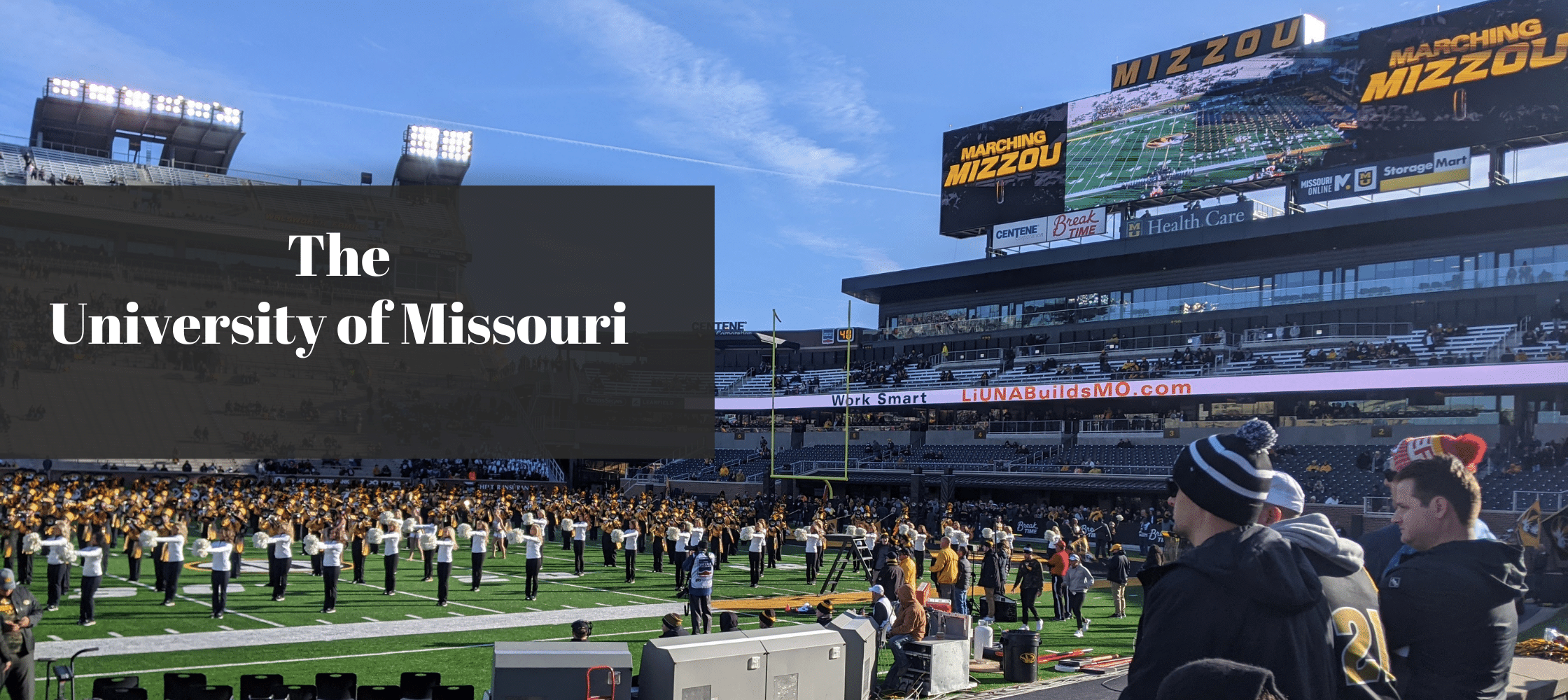 Columbia's Natural Beauty
Columbia is filled with hills, valleys, wooded areas, bluffs, rivers, and lakes. It truly is a lovely place to call home. The MKT Trail cuts straight through the heart of Columbia—as Columbia's premier multi-use trail, it is loved by all. In the 2016 USA Today's 10 Best Readers' Choice Awards, the MKT Trail ranked second as the "best Urban Trail."  The trail is extremely unique because it was built on the old railbed of the MKT railroad. It is 8.9 miles from the start of the MKT Trail to the Katy Trail. The state of Missouri's Katy Trail extends for 237 (386 km) miles from Clinton to Machens. It includes four fully restored railroad depots and 26 trailheads. The city of Columbia also has an incredible Parks & Recreation Department which manages 75 parks, 60 miles of trails, and 12 indoor recreation facilities. Rock Bridge Memorial State Park is particularly unique because it is a geological preserve that has 12 caves, a rock bridge, sinkholes, and an underground stream.
Columbia's Economic Stablility
Columbia's unemployment rate has always been able to stay fairly low. Even during the pandemic when the national unemployment average reached 14.8%, Columbia peaked at 8.7%. One of the reasons that Columbia can stay consistently economically strong is because it is home to many world-class companies and employers. A few of the top employers include Shelter Insurance, Veterans United Home Loans, Harry S. Truman Memorial Veterans' Hospital, MBS Textbook Exchange, Boone Hospital, Mizzou, MU Health Care, and MFA Oil.
Columbia's Warm & Friendly Communities
Columbia is a friendly city! Even though this may not be a huge surprise considering most mid-west towns are known for their friendliness—Columbia certainly lives up to the stereotype. Since Columbia is a college town, people move in and out of the city quite regularly. Many college students either end up staying after graduating or migrating back after a few years to raise a family. Columbians value relationships. It is a standard belief around town that the best things in life are found in family, good friends, and simple living.
That Small-Town Feel
If you are searching for that perfect mix of small-town vibes with big-city amenities, look no further, Columbia is where it's at. Columbia's population continues to grow. Sitting at a bit over 125,000 residents, Columbia is Missouri's fourth-largest populated area. Downtown Columbia is home to the North Village Arts District, a charming little corner of the city that is home to over 150 different artists. Galleries, dance studies, film companies, nightclubs, and yoga studios call the North Village home. Downtown Columbia is also home to many specialty restaurants, cafes, and coffee shops. Furthermore, located downtown is the Missouri Theatre, central Missouri's only remaining pre-Depression era movie palace, and vaudeville stage.
A Vibrant Downtown
Hands down, one of the best things about Columbia is its downtown. Also known as "The District," downtown Columbia covers 50 square blocks. Over 600 businesses and 5,000 residents call downtown home. Additionally, the city government entities, three college campuses, and two premier hotels can be found withing the 50 square blocks.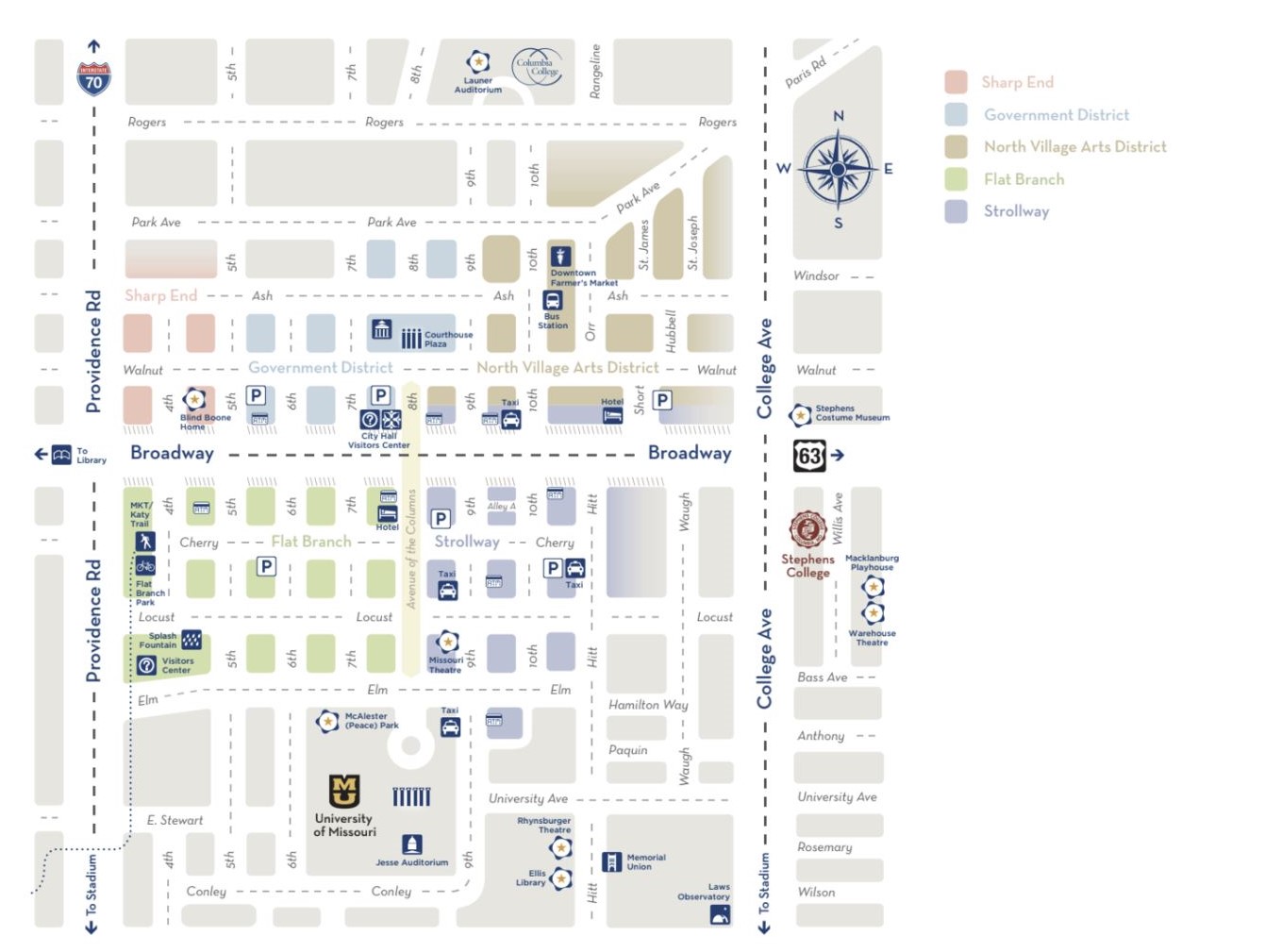 Columbia's Amazing Restaurant Scene
If you are a foodie, Columbia will not disappoint. The restaurants of Columbia are often gathering places for friends, family, and business. The community feels strongly about supporting local business, and that certainly includes Columbia's eateries—just checkout #comoeats on Instagram, it has quite a following! Some of the local favorites include CC's City Broiler, Flat Branch Pub & Brewing, Murry's, Chris McD's Restaurant & Wine Bar, D. Rowe's Restaurant & Bar, Pappo's, and Shakespeare's Pizza.
Flourishing Craft Breweries
Columbia has become quite a hub for local wineries and breweries. A growing number of local businesses specializing in crafting adult beverages have been opening around the greater Columbia area. Some of the local favorites include Flat Branch Pub & Brewing, Logboat Brewing Co., Rocheport Distilling Co., Broadway Brewery, Bur Oak Brewing Co., DogMaster Distillery, Waves Cider Co., Les Bourgeois Vineyards, and Serenity Valley Winery.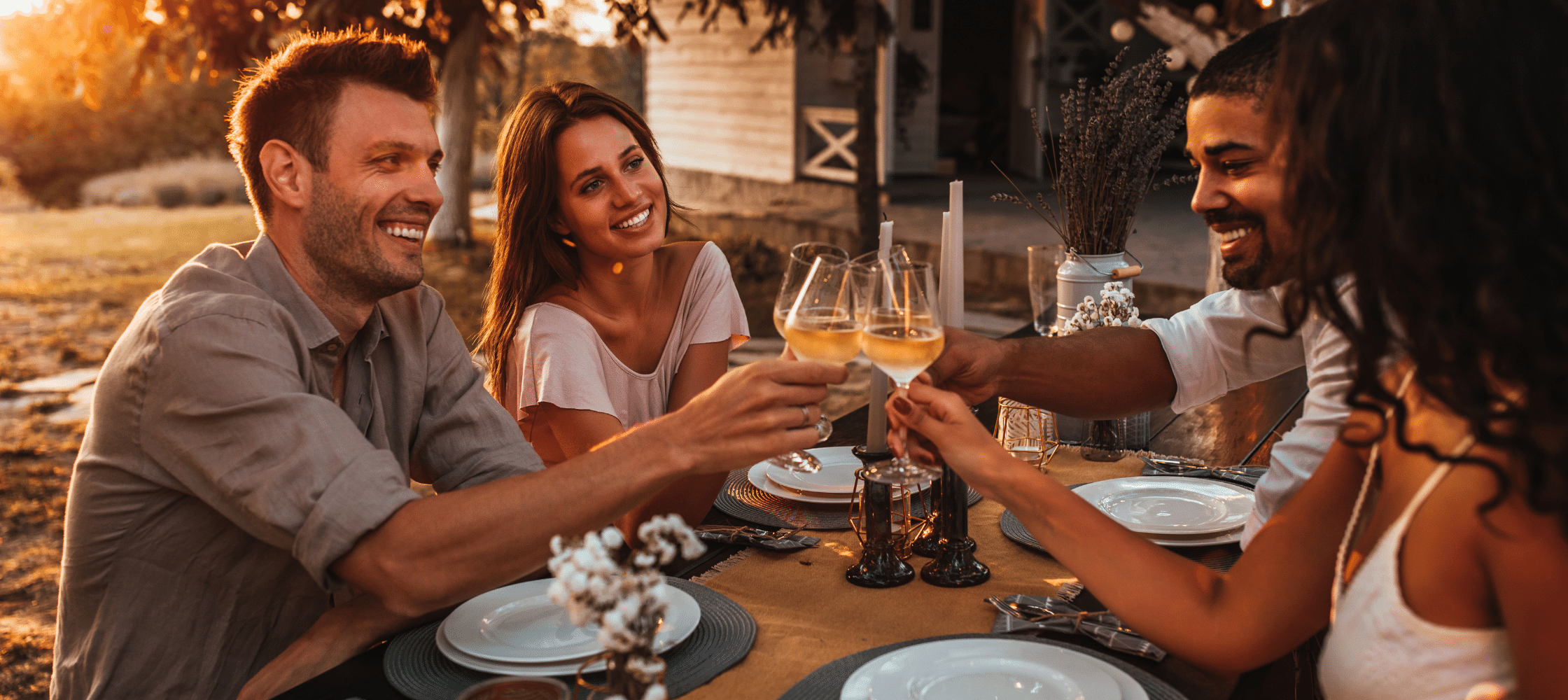 The City's Diverse Climate
One of the best things about the mid-west is the four seasons—warm springs, hot summers, crisp falls, and relatively mild winters. Columbia's climate certainly keeps things interesting. The flowering trees and warm breezes of spring in Columbia are what dreams are made of. Summertime brings baseball games, lazy pool days, boating, and Missouri float trips. Fall is the time of year that Columbia comes alive with the roar of the Mizzou football season! The energy and excitement felt in Columbia during the cooler fall months is electrifying. Wintertime in Columbia is probably the quietest time of the year, but there is still plenty of fun to be found between the restaurant scene and cheering on the Mizzou swimming and diving, basketball, wrestling, and gymnastics teams. 
A Regional Outdoorsman Paradise
Hunting and fishing are pastimes that are enjoyed by 82 million Americans and Columbia has a lot to offer the avid outdoorsmen (and women). Boone County is home to 124 rivers, lakes, and other fishing spots. One of the best things about the location of Columbia is it's convenience to the Missouri River and Lake of the Ozarks. The Missouri River is home to a wide variety of fish species—walleye, sauger, hybrid striped bass, crappie, and the occasional northern pike can be found while fishing the Missouri. Lake of the Ozarks is also a widely popular fishing destination. It ranks annually as one of Bassmaster Magazine's Top 100 Bass Lakes in the United States. The lake covers around 54,000 acres and is split into three distinct sections—the shallower upper arms, the middle lake area (or the clear), and the deeper waters on the lower end. Because the lake rarely freezes, anglers can enjoy year-round fishing. Hiring a local fishing guide is highly recommended for first-time visitors.
Hunting is another widely popular pastime that many residents of Columbia enjoy. Most people hunt deer, turkey, pheasants, ducks, and squirrels. To find more information on Missouri hunting licenses and requirements click here.
The city of Columbia has so much to offer! Whether you are looking to plant some family roots in a town full of Midwest values or you desire to be apart of an electrifying college atmosphere, Columbia is for you.
Top subdivisions in Columbia, MO. 
Copperstone subdivision 
Located on Columbia's highly desirable southwest side. Copperstone boasts of a state-of-the-art fitness center, large infinity pool, and exclusive clubhouse. Residents also get to enjoy the gorgeous pedways that wind their way through the community.
Spring Creek I, II, III subdivision
A gorgeous and tranquil community that is situated on Columbia's highly desirable southwest side. The Spring Creek community consists of roughly seventy extraordinary homes, some of which are situated on the picturesque lake. Additionally, down the road you will find phases II and III of the Subdivision.
Spring Creek I
Spring Creek II
Spring Creek III
The Brooks subdivision
Nestled in the wooded rolling hills of eastern Columbia, Missouri, The Brooks subdivision will draw you in and never let you go. If you are looking for a more secluded and tranquil community, look no further. This community boasts of both large custom homes as well as new smaller single-story homes. The Brooks is a new community that has sought to combine luxury living with outdoor serenity.
Mill Creek Manor Subdivision
Mill Creek Manor is a large subdivision located on the very coveted southwest side of Columbia, Missouri. Five miles west of Highway 63 and a couple miles south of Nifong Boulevard, you will discover this beautiful community. Mill Creek Manor is very unique because it not only has a playground for the kids, but also a picnic shelter and pond. During the summer, it is not uncommon to see neighborhood kids fishing at the pond. Situated conveniently near some of Columbia's top rated schools, amenities, and recreational activities, it is easy to see why so many people desire to live in this neighborhood. Learn more and see property listings on our Mill Creek Manor Subdivision page located here. 
Need to discover your home value? https://missourihomevalues.com
As originally posted on BuyMissouriHomes.com
Buy Missouri Homes
303 N. Stadium Blvd., 2nd Floor
Columbia, MO 65203
O: (573) 355-6371
E: Email Us
License # 2021043223