Do I REALLY NEED A Mortgage Pre-Approval To Make An Offer On A Home?
A mortgage pre-approval is the first step in your journey to purchasing a home, giving you a competitive edge when you make an offer on a house. Being intentional and competitive are musts when buying a home.  That's why pre-approval is so important today. Pre-approval from a lender is the only way to know your true price range and how much money you can borrow for your loan.    
Why Does A Mortgage Pre-approval Matter So Much Today?
Today, there are many more buyers looking for homes today than there are homes available for sale. That's creating some serious competition. According to the National Association of Realtors (NAR), the average home is getting 4.8 offers per sale. As a result, bidding wars are still common. A mortgage pre-approval gives you a leg up in these situations. That's because you know exactly what you're approved to borrow before you write your offer.
And it lets the seller know you're fully qualified to buy their home. This helps both you and the seller feel confident in what you're bringing to the table. That puts you in a better position to potentially win a bidding war. Most home sellers won't give any consideration to an offer without an accompanying mortgage pre-approval.    
VIDEO: Why A Pre-Approval Is Key
Every advantage you can gain as a home buyer is crucial in a highly competitive market that's constantly and quickly changing. Mortgage rates are rising, home prices are going up, lending institutions are regularly updating (and often tightening) their lending standards. You'll need guidance to navigate these waters. So it's important to have a team of professionals, such as a loan officer and a trusted real estate advisor, on your side. They'll help make sure you're ready to put your best foot forward.  
THE POWER OF A MORTGAGE PRE-APPROVAL: INFOGRAPHIC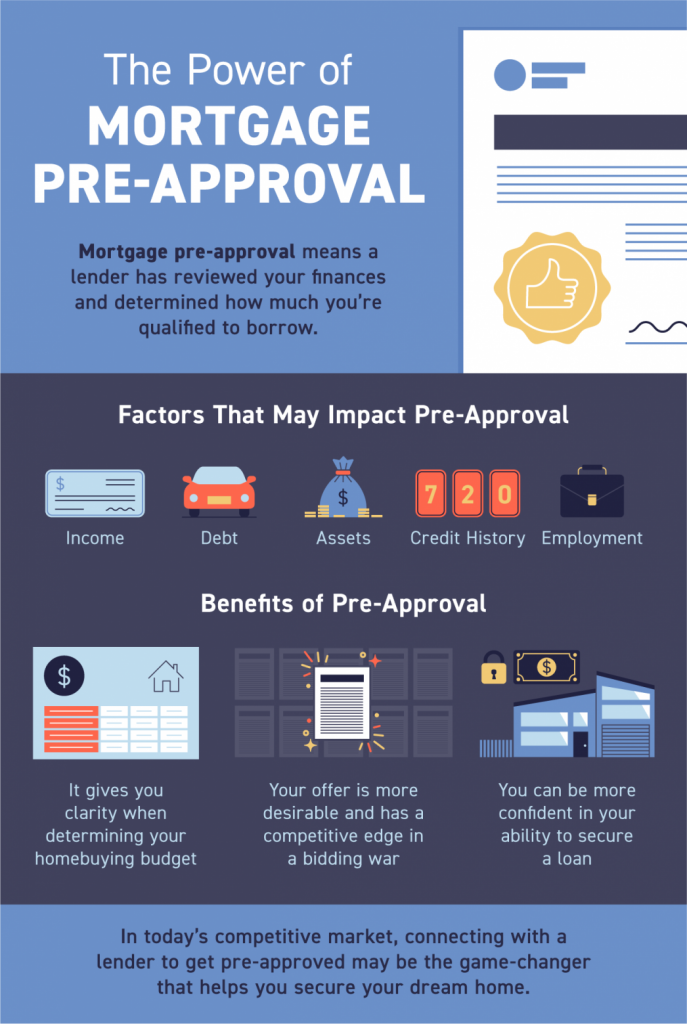 Why You Need A Mortgage Pre-Approval & Not Just a Mortgage Pre-Qualification
A mortgage pre-approval is not the same as a mortgage pre-qualification. A  mortgage pre-qualification estimates how much you might be able to borrow. It's based on a mostly informal evaluation of your finances. Often no credit check is done for a pre-qualification. That's all a pre-qualification basically is... an estimate of what you might be able to borrow.  
A mortgage pre-approval takes the loan approval process one step further with the lender verifying your credit and financial information before giving you a detailed analysis of how much you would be approved to borrow. There are also lenders who will pass on your verified credit and financial information to their underwriter for a review. Based on the underwriter's review, the lender will issue a conditional approval to lend up to a specific amount, contingent on a contract, appraisal, and no changes to your financial status.    
Documents You Will Need For A Mortgage Pre-Approval


1. Valid Form of Personal Identification
Valid forms of personal identification can include a state-issued driver's license or ID card with photo, passport or U.S. alien registration card.
2. Social Security Card/Number
3. Pay Stubs Or Electronic Copies Of Pay
If you have any other sources of income, such as child support or alimony, you will need to disclose those and provide a paper trail of same. If you're self-employed or own a business, you'll need to provide your tax returns and business returns and profit and loss statements for the past 2– 3 years. You'll also need to provide your year-to-date audited Profit and Loss statement.
4. Bank Statements For Past 3 Months
5. Tax Documents

Including two most recent W-2 forms and last two years of tax returns.


6. Investment/Savings Account Statements
7. List Of Monthly Debts For example:
Rent or mortgage

Car loans

Student loans

Credit cards

Personal loans

Home insurance

Homeowners association fees

Medical bills
When providing your list of debts, include your creditor's name and contact information, your total balance due and the required minimum monthly payment.
8. Rental Information And Landlord Reference
If you're a renter, you'll likely be required to show that you've made on-time rent payments. Typically a lender will look for a two year history of rent.
9. Credit Report
Your lender will pull the credit report once they have your permission to do so.
This information about why a mortgage pre-approval should be your first step in you home buying journey is provided   by  Nina Hollander and Carolinas Realty Partners with Coldwell Banker Realty, Greater Charlotte area residential real estate experts serving Charlotte area home buyers and sellers for 20+ years. If you need an introduction to some of Charlotte area's top mortgage lenders to get pre-approved, contact us today. We're never more than a call, text, or email away! We'll have you on the path to homeownership in no time!
If you're considering purchasing (or selling) a home in the Charlotte region, I'd love an opportunity to earn your business, to exceed your expectations, and to show you why experience matters and how:
 "The Right Broker Makes All The Difference."
Read the original at www.GreatHomesInCharlotte.com