This past month, I was privileged to take the two-day CSI safety course taught by Robert Siciliano.
The six hours of classes presented were on two separate Tuesdays.
Thanks to ActiveRain, this was set up directly from our Tuesday Zoom meetings.
And we all received the NAR  CSI certification.
This past Sunday, May 15th, Robert was a guest on my radio show. It was an honor to share the limelight with Robert, and hopefully, we will continue to spread the word about the importance of safety in our industry. 
May 15th podcast CLICK to listen.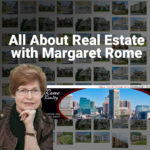 So much to learn. So much sharing. Always something new to learn and to teach. 
What classes or courses have you taken lately?
Thinking of selling a home
Call Margaret Rome