Did you know...on this date in 1974, Professor Erno Rubik of Budapest, Hungary completed the first functional prototype of a 3D puzzle that would become the bestselling toy in history — the Rubik's Cube?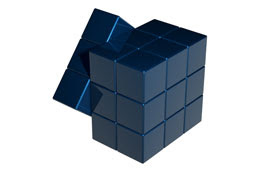 With a background in sculptural and architectural design, Rubik was fascinated by the complexities of art and spatial relationships. He loved using creative methods to teach design concepts to students, and he looked to the River Danube for inspiration when thinking about the mechanics of 3D motion. The flow of water around pebbles sparked the idea of a twisting cube that stays assembled despite being moved in multiple directions.
Using wood, paper clips, rubber bands and colored stickers, Rubik made the first prototype by hand and spent weeks trying to solve the puzzle. 

Three years later

, Politechnika sold the first commercial version as the Magic Cube. At the Nuremberg toy fair in 1979, Tom Kremer saw the toy's potential for mainstream success. He licensed it to Ideal Toy Company in New York, where it was reborn as the iconic Rubik's Cube.
The Rubik's cube has 43 quintillion permutations, challenging people around the world to use imagination and logic to crack the six-colored puzzle. This revolutionary toy has sold an estimated 350 million units and inspired movements in art, competitive sports and pop culture.
Let this special anniversary remind you to keep thinking outside the box.
Image courtesy of Joe Stumpf's "By Referral Only" coaching program.
Thank you for reading "Did You Know? May 19 is the Anniversary of Inventing the Rubik's Cube?"