We live in crazy times
I still say, 3 or so years ago we all went to bed and while sleeping we were secretly transported to Bizarro World, a world where everything we had grown accustomed to was thrown in a bag, shaken up, and tossed like dice. 
Just the other day I saw a news piece that said mortgage applications had fallen to a 22-year low. Inventory is still low and could be getting lower and interest rates are rising, BUT home prices are still appreciating.  At some point, I would think the "normal"  business cycle would bring about an easing in prices. But, I must remember that NORMAL is just a setting on your dryer. Now I've heard banter suggesting maybe we should discuss 50-year mortgages. Talk about servitude.
In the article below we see some experts' opinions on whether prices will rise or fall. Personally, my experience has been that prices go up and prices go down. 
Whatever takes place, it is beyond our control. So, get with your local Real Estate Professional to make plans to discuss your housing needs and how to approach the process in Bizarro World...lol
Over the last two years, the rate of home prices appreciated at a dramatic pace. While that led to incredible equity gains for homeowners, it's also caused some buyers to wonder if home prices will fall. It's important to know the housing market isn't a bubble about to burst, and home price growth is supported by strong market fundamentals.
To understand why price declines are unlikely, it's important to explore what caused home prices to rise so much recently, and where experts say home prices are headed. Here's what you need to know.
Home Prices Rose Significantly in Recent Years
The graph below uses the latest data from CoreLogic to illustrate the rise in home prices over the past year and a half. The gray bars represent the dramatic increase in the rate of home price appreciation in 2021. The blue bars show home prices are still rising in 2022, but not as quickly: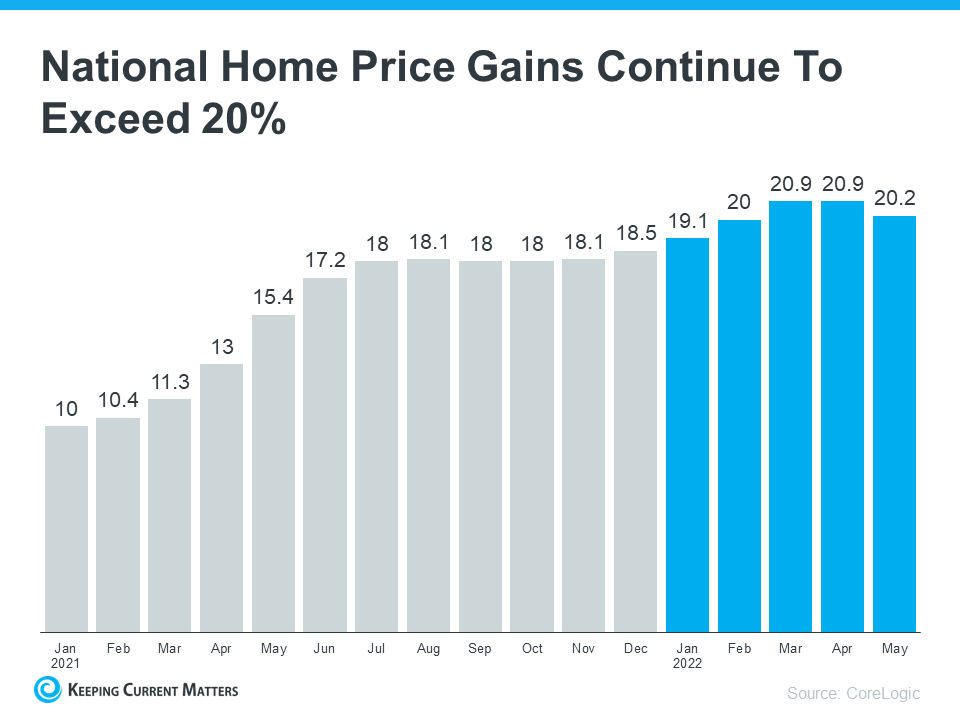 You might be asking: why did home prices climb so much last year? It's because there were more buyers than there were homes for sale. That imbalance put upward pressure on home prices because demand was extremely high, and supply was record low.
Where Experts Say Prices Will Go from Here
While housing inventory is increasing and buyer demand is softening today, there's still a shortage of homes available for sale. That's why the market is seeing ongoing price appreciation. Mark Fleming, Chief Economist at First American, explains it like this:
". . .we're still well below normal levels of inventory and that's why even with the pullback in demand, we still see house prices appreciating. While there is more inventory, it's still not enough."
As a result, experts are projecting a more moderate rate of home price appreciation this year, which means home prices will continue rising, but at a slower pace. That doesn't mean prices are going to fall. As Selma Hepp, Deputy Chief Economist at CoreLogic, says:
"The current home price growth rate is unsustainable, and higher mortgage rates coupled with more inventory will lead to slower home price growth but unlikely declines in home prices."
In other words, even with higher mortgage rates, moderating buyer demand, and more homes for sale, experts say home price appreciation will slow, but prices won't decline.
If you're planning to buy a home, that means you shouldn't wait for home prices to drop to make your purchase. Instead, buying today means you can get ahead of future price increases, and benefit from the rise in prices in the form of home equity.
Bottom Line
Home prices skyrocketed in recent years because there was more demand than supply. As the market shifts, experts aren't forecasting a drop in prices, just a slowdown in the rate of price growth. To understand what's happening with home prices in your area, connect with a local real estate professional today