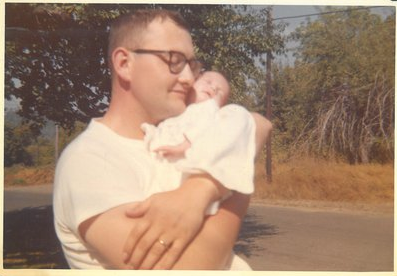 August 11 is my late father Phillip Elvin Carr's birthday. Sadly for me, he relocated from Silicon Valley up to heaven 25 years ago. I'm grateful for the memories of good times with him. He loved to tell funny stories, sing Christian hymns and share clean jokes. Children of all ages absolutely loved him.
The above photo is one of the first ones of me and my Daddy when I was about 6 weeks old. It says a lot about how poor my parents were that even as the first child, it was 6 weeks before they could afford to take photos. (And I think it may have been the grandparents who paid.) Back then, color photographs were an expensive splurge. Most of our other photos were black and white for years.
Like me, my Daddy-O (my nickname for him) was a night owl. He called me Michelle-io. We had some of our best conversations at 3:00 am. I often feel closest to him at night.  
My parents divorced during my senior year of high school. When I was 18 I stayed with him over the summer prior to my freshman year in college. One late night, we'd popped Orville Redenbacher popcorn and watched an Abbott & Costello comedy, when we began talking about the meaning of life and success. Daddy pulled a worn newspaper column from his worn wallet, from a slot behind a picture of my brother Lance and I.  
"This is how I've always defined success," he said simply. "It's a column I first read in Dear Abby that was inadvertently attributed to poets Ralph Waldo Emerson and Robert Louis Stevenson, but was actually written by a housewife named Bessie A. Stanley for a contest."  
Curious, I reached for the thinned, darkened piece of worn newsprint and read:
Success
To laugh often and love much;
to win the respect of intelligent persons and the affection of children;
to earn the approbation of honest citizens and endure the betrayal of false friends;
to appreciate beauty;
to find the best in others;
to give of one's self;
to leave the world a bit better, whether by a healthy child, a garden patch or a redeemed social condition;
to have played and laughed with enthusiasm and sung with exultation;
to know even one life has breathed easier because you have lived—this is to have succeeded.  
This poem captured my father's essence and i read it at his funeral service.  
My father was an intelligent, funny and loving man who was loyal to a fault (and stubbornly hardheaded at times, too). When IBM betrayed him and let him go after 35 years of faithful service, I believe it literally broke his heart.  
He's enjoying a blessed time in heaven now. I can picture him sharing stories, laughing, whistling and singing at the fun and never-ending family reunion in the sky with my grandparents, mother and extened family.
While he met and spent time with my children Marlene and Mo, he died while they were young. He got to meet my brother's children, nor see any of them  graduate. He would have loved getting to know Meghan and Shane, and his great-granddaughter Rayna.
I miss him and wish I'd communicated better with him as a daughter.  I'd love to enjoy one more late night of watching old movies, snacking on popcorn and listening to his stories.
When He died, the Holy Spirit led me to read Revelations 22:5, this Bible verse has comforted me for decades.
5 And there will be no night there—
no need for lamps or sun—
for the Lord God will be their light; and they shall reign forever and ever. 

 
The 

Living Bible (TLB) 

 
Today, I honor the birthday and memory of Phillip Elvin Carr by sharing his thoughts on success here, and thank Jesus Christ for making it possible for us to reunite in heaven in the future.
Happy Heavenly Birthday, Daddy-O!
Images courtesy of author's collection and may only be used with express permission of the author. 
Thanks for reading "Happy Heavenly Birthday on August 11 Daddy-O".