I realize not every real estate agent is going to be a contractor or have contracting experience, but there are things you can do when you receive a home inspection report that has scary looking or sounding material on it. This week, I was asked to review a report for another agent and give my opinion. It had a couple issues that were frightening for the buyers and they were ready to bolt. This particular issue is one I see often, and sadly, home inspectors could do a little research before inserting language that sounds life-threatening.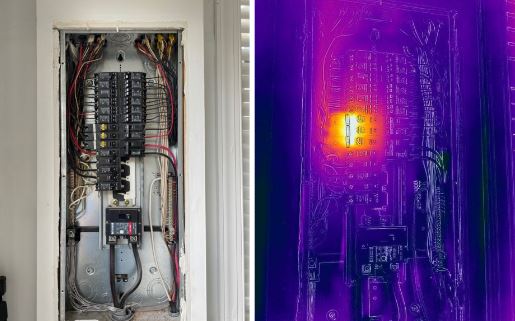 The major issue that had the buyers worried and ready to drop the contract was an overheating electrical panel. Many things electrical can be scary, but not everything electrical is scary. I've run this service call for many of my real estate colleagues this year and we've been able to save every deal so far. Why? Because the actual issue isn't always an issue, but within a flat home inspection report and a photo like this, it may seem like one. On this report the inspector used a thermal photo to show the buyers that the panel was hot in one area and overheating. One issue I have with language like "overheating" is what does overheating mean in different environments? If generating a scary looking thermal image is overheating, then every refrigerator, heat pump, air handler, water heater, phone charger, or anything that generates heat is overheating. The picture is scary and looks like it is going to burst into flames at any second. Ironically, the inspector on this one did not give an actual temperature. On a previous one with a similar photo, the inspector said the breakers that were heating up were 68 degrees and the balance of the breakers were 55 degrees. Is 13 degrees a major difference in temperature?
I sent an electrician from my electrical company to this seller's home to check the heat signature of these four arc fault breakers, and the panel breakers ranged from 84-104 degrees. That may sound hot to most people but it doesn't take into account what the heat tolerances of these breakers actually are and how a panel in a hot garage that does not have conditioned air contributes to the panel temperature. Ironically, when Jon went by, the four arc fault breakers in the photo were not the hottest ones in the panel. One thing you need to understand about arc fault breakers is that they are naturally hotter than most breakers. They have sophisticated electronics in them that help them trip when they sense a fault. Most other breakers (barring GFCI breakers) are more mechanical and have a different trip tolerance. 
The day Jon checked the panel the two piggy-back breakers in another section of the panel were hotter. Were they in danger of catching fire? Not at all. They have two circuits pulling on one breaker with two trip handles. If you can think about it in these terms, it could be two different areas of a house on the same breaker, but not on the same trip handle or circuit. They are actually two completely separate breakers molded into one casing that have the capacity to provide power to two circuits. It's a common use breaker in a full panel. And, most panels have a level of acceptance of these breakers and there is a label inside nearly every panel that tells us if it accepts piggy-back breakers or not.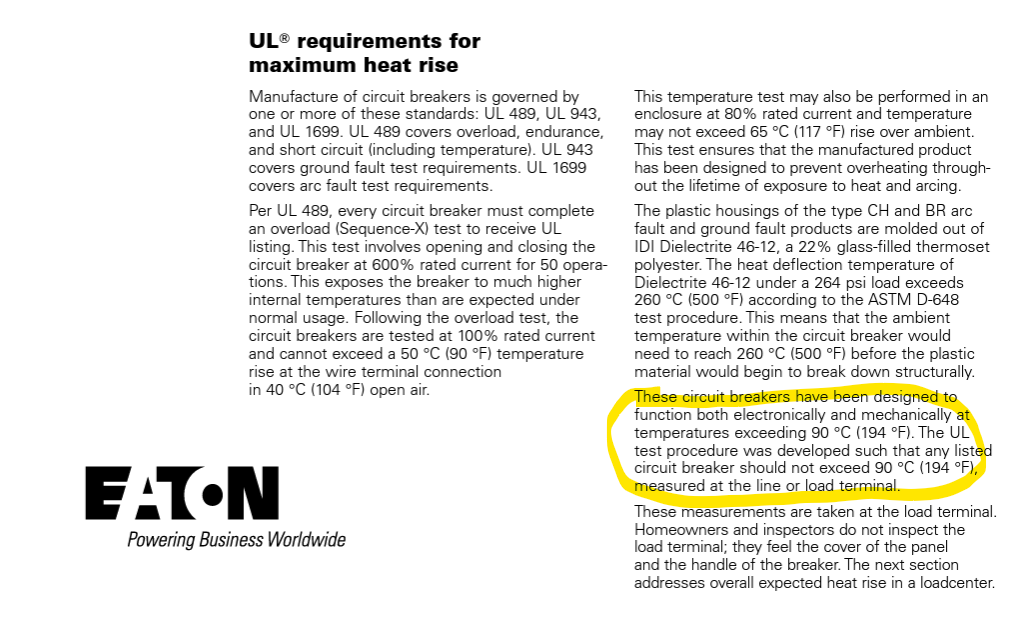 I'm not a fan of the thermal images used by many home inspectors. It can be grossly misleading for home-buyers who are ignorant of what they actually mean. I would prefer an inspector simply put the temperature rating of breakers in question and leave the thermal theatrics to the military and law enforcement who are chasing bad guys in the dark. I always look at the manufactures website to find what their heat tolerances are for their equipment. All companies provide that information within a few clicks on the Internet. Not providing that is simply laziness when a thermal photo is used. The panel in question has a high end tolerance of 194 degrees. The 84 degrees and 104 degrees are not 194 degrees. Is the panel overheating? Not at all.
On the most recent call prior to this one, I was the one who checked the panel. The inspector used a scary looking thermal image and told the buyers that the panel was ready to catch fire at any minute. They bolted. I checked the temperature of the breakers in question. They were 68 degrees. The balance of the panel was 55 degrees. The manufacturer listed those breakers as operating normally at nearly 200 degrees. Were they overheating? Not at all. The buyers did come back to the deal and live there today. 
Always be ready to do a little research to find out if what is said is actually true. On this one inspection report it was not true. It has never been true on any of the dozens of reports I've reviewed but I assume it's a CYA for inspectors. If it's not a problem, let's not label it as one. The inspector on this report was wrong 66% on the electrical portion of the report. Home inspections are important for home-buyers, but always make sure whoever you use has had construction experience and is not prone to hyperbole when simple language would do.