Here are today's homes for sale in Carefree Arizona for August 15, 2022 and this ALWAYS UP TO DATE list of Carefree homes for sale on the actual MLS. Live the "Carefree Lifestyle"...read on
Latest homes for sale Carefree Arizona on MLS which is next to Scottsdale & Cave Creek
Homes for sale in Carefree see ALWAYS UP TO DATE link for a FULL PAGE view and sign up for your FREE MLS SEARCH Portal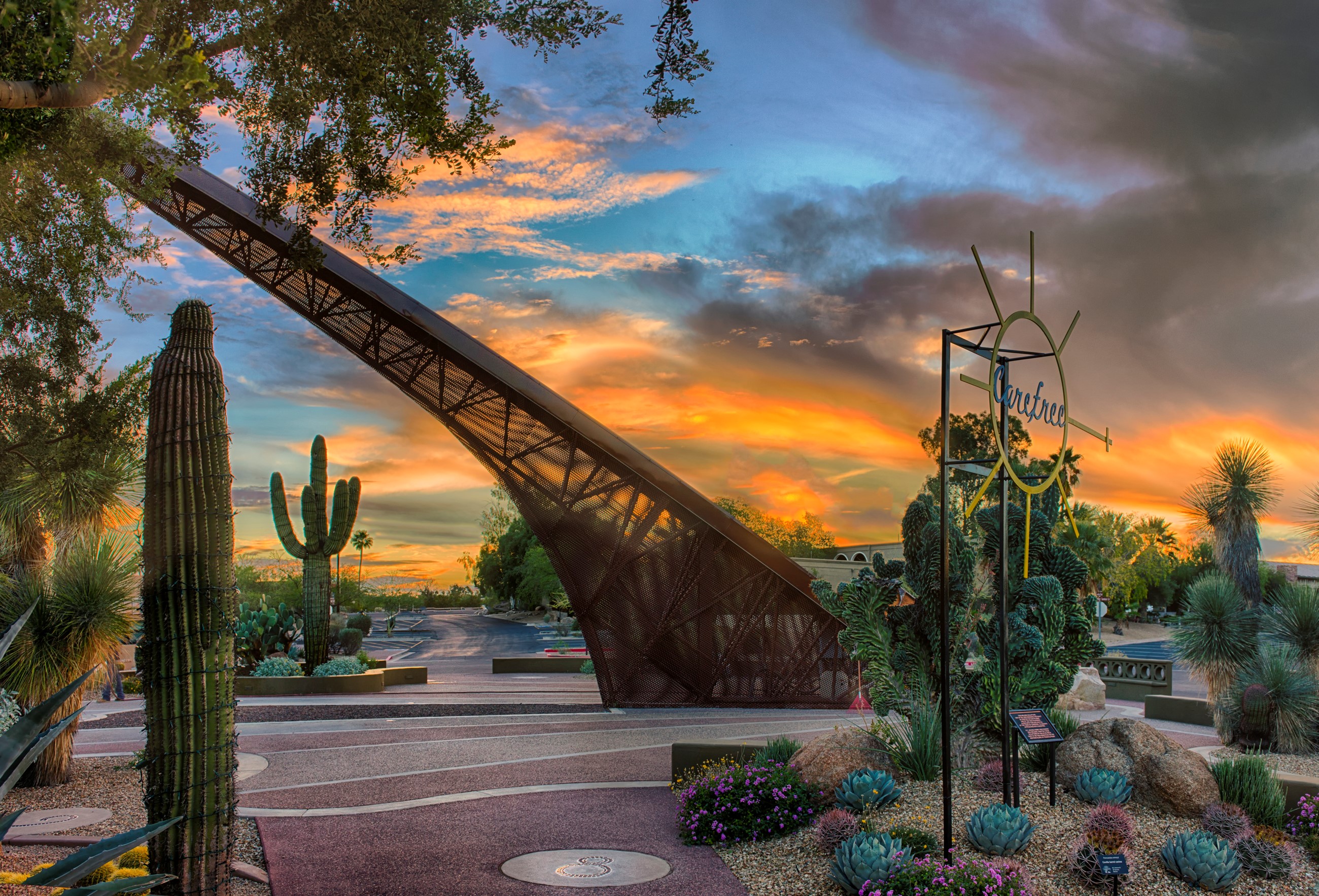 Carefree Arizona Sun Dial (Photo from Town of Carefree  
Carefree is a cool and laid back town with a great name and wonderful street names and beautiful desert vistas. How about "Meander Way, This Is It Place, Tranquil Way, Whileaway Rd" and many more? Read on...
Looking to move to Carefree, Arizona? A town with great street names like Ho-Hum Road and  Easy Street and awesome views and vistas. See homes for sale in Carefree.
Bordering Carefree is Scottsdale, Arizona which is constantly selected by independent reviews as one of the best cities to live in the US. Characterized by great weather, sunsets, mountain views, "foodie" city, resort hotels, golf, shopping, sports and entertainment, excellent schools, bike paths, desert hikes and more, Carefree and Scottsdale is the place to raise your family or retire!

Carefree Arizona homes for sale and beautiful vistas (FULL PAGE) and create your own free Arizona MLS Portal  
Bordering Carefree is Scottsdale. To learn more about single family Detached homes for sale in Scottsdale with pictures, prices and maps. Are you looking for a new place to call home? Relax at your own Scottsdale home with the great Arizona weather, restaurants, golf courses and shopping nearby. Ask about  Scottsdale waterfront homes or Scottsdale golf course homes for sale. 
Scottsdale, Arizona is ranked as one of the top 10 cities to live, "foodie" cities and safest cities in the US by independent national studies! For a video on Scottsdale and Arizona living and lifestyle                 
Carefree and Scottsdale Living
Information from Jeff Masich about the Phoenix metro, Carefree & Scottsdale area living and real estate
Looking for something else? Here are nearby Scottsdale homes and/or land for sale:
Luxury homes for sale in Scottsdale 
Detached homes for sale in Scottsdale 
MLS Search for homes for sale in Scottsdale
Meet Jeff Masich REALTOR®
Meet Jeff Masich, REALTOR® and ask about real estate for sale in Carefree, Scottsdale, Phoenix metro or Arizona
If you are looking to move to Phoenix including Scottsdale or to buy a home in Arizona or sell a home in Arizona, contact Jeffrey Masich, Associate Broker and Realtor. I would be pleased to help you and look out for your best interests while finding you the right home at the right price!

Press FREE MLS Search to search for Arizona Homes and Land