Shenandoah Valley Virginia Real Estate Report - July 2022
Many media outlets are buzzing about changes in the real estate market throughout the USA. Is it still hot? Is it slowing down? Has it flipped from a seller's market to a buyer's market? The Shenandoah Valley, Virginia real estate report for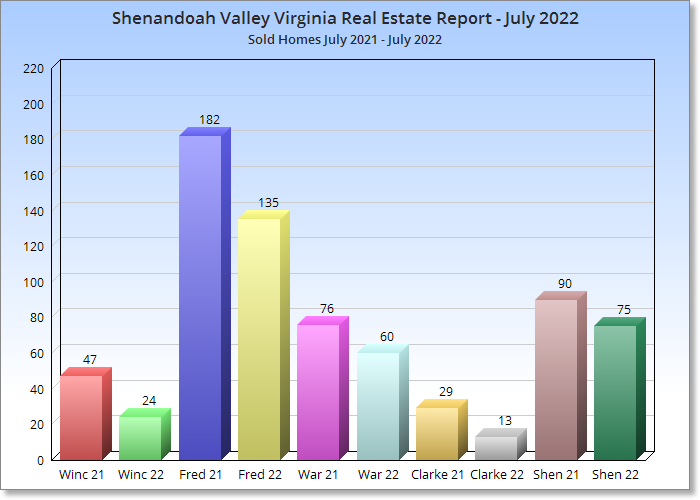 July 2022 has a lot of evidence that everything is changing. For instance, year over year sales are down  in Winchester City (-49%), Frederick County (-26), Warren County (-21%), Clarke County (-55%) and Shenandoah County (-17%). None of the five markets in the Shenandoah Valley are up on sold properties in July 2022.
The same trend happened with available listings in all five markets in July 2022. Clarke County had the lowest number of July listings at 16, down -47% from July 2021. That was followed by Winchester City which had 38 available homes in July equaling a -7% drop in listings. Shenandoah County had 74 listing available in July, down -21%. Warren County was also down to 101 July listings, a reduction of -7% and Frederick County had 208 listings, down -4%. 
Not all news is negative for July 2022. Median sales price increased in 2 of five localities. Warren Co., Clarke Co. and Winchester City saw a drop is median sales price.  Clarke County was down -4% at $485000, Winchester City was down -3% at $300000 and Warren County was down -2.5% at 317500. Frederick County, VA had the highest increase in median sales price at $379000 an increase of 10.5% over July 2021. Shenandoah County rose 2% to $280000. 
Another telling statistic in the local real estate market is pending sales. Three of five localities are down more than 10%. Winchester City dropped -39% in pending sales while Frederick County dropped -30%. Clarke County is the third drop at -13%. Ironically, Shenandoah County increased pending sales year over year 25%. Warren County also saw an increase in pending sales of 8%.
One final statistic that should be considered is days on the market. Days on the market is a challenge when using it as a determining factor of market health. A property can sit on the market for an extended period of time for a myriad of reason. A barking dog next door, a homeowner who junk cars in the driveway, the condition of the house, the functionality of the house, and a host of other things. But in the current market, days on the market may be an indicator of a market shift. 
Winchester City had no change in DOM for July 2022 compared to July 2021. Beyond Winchester City, every locality saw more days on the market for July 2022 than for July 2021. Frederick County had a 90% increase in days on the market. That was closely followed by Warren County with an increase of 87%. Clarke and Shenandoah Counties increased 29% and 25% respectively. Buyers are taking more time to find the perfect home than they did just five short months ago. Contingencies and home inspections are finding their way back into offers. Buyers are expecting sellers to honor home inspection repair requests and home appraisals are becoming the bottom line rather than buyers paying over appraisals. 
In the wrong context, these numbers may seem negative, but are they really? Could it be that the market is finding its way back to a more balanced market. As the market moves in this direction, buyers are having opportunities to negotiate where negotiations were taboo just months ago. Sellers are still get good prices for their homes, but they are having to wait longer, negotiate more and potentially drop their prices to meet the newly empowered buyer's offers. Inflation worries and higher interest rates are causing buyers to be more selective when they make offers. As the months move forward, we may see a balanced market rather than a lopsided market.