Lake Havasu City sits roughly an hour and a half drive from Laughlin and a two-and-a-half-hour drive from Las Vegas. If you really have an itch to gamble, Havasu Landing is located on the California side of the lake. But we love it most when you put gambling together with our love of the water. In the spring, it's the Desert Storm Poker Run. But Fall brings us the Monster Storm Poker Run 2022.
What: Monster Storm Poker Run 2022
Start/Finish Line: London Bridge Resort (1477 Queens Bay)
When: September 30th to October 2nd
Cost: FREE for Spectators
Contact: Storm Poker Runs, Christina (623-238-1330 or via email) & Jimmy (602-739-4739 or via email)
Monster Storm Poker Run 2022
Unfortunately, they already filled up all of the spots for this year's Monster Storm. But that does not mean that you should stay away. Meet some of the "big wigs" in the boating industry. Dress up in your favorite Halloween costumes for the awards ceremony and after-party at the London Bridge Resort. And make sure to stop by vendor row for some fab merchandise, memorabilia, and more.
Watching from the Lake
I get it. You love spending time out on the lake. Who doesn't? You are allowed to be out on the lake while the poker run is in full effect. However, you need to keep a watchful eye out for participants. Stay out of the designated racing area. Follow all laws of the lake and please listen to any Storm staff that may approach you. We all can respect the rules of the lake and still have a great time. Just stay vigilant.
FEATURED LAKE HAVASU PROPERTY FOR SALE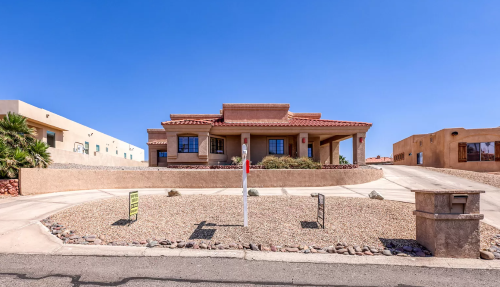 Visit any of my Lake Havasu real estate sites below for more information on the Havasu market:
Homes for Sale in Havasu
Havasu Area Homes
Just Call Liz
Originally posted on my Lake Havasu area real estate blog here: https://havasuareahomes.com/monster-storm-poker-run-2022/.