The numbers on everyone's mind these days - what does inventory look like, how are prices fairing, what are these rate hikes doing to the market... In short, pretty much exactly what they're designed to do...

Inventory crept up over the summer and August was certainly a crescendo of inventory levels. Where only a few months ago, homes sat on the market for 12 days, Austin is now looking at almost a month to sell...

What does that mean for Buyers and Sellers as we officially enter the 🍂 Fall Market 🍂?

✨ 1 - No market lasts forever... for better or worse. The key is finding the unique opportunities that each market brings and aligning those with your real estate goals. Market adjustments the last 3 years have been swift and quick to pivot.

✨ 2 - Buyers, we're lookin' at you 👀! Yes, interest rates are increasing. We feel your pain, especially the Buyers who who struggled to compete the last 2 years... our best tip is to embrace it. There are many financing options, don't be afraid to get creative here. We're talking ARMs, seller credits to closing, and buy downs. Your purchase price is permanent, rates adjust and could present refi opportunities down the road.

✨ 3 - If you bought 3+ years ago, more than likely you're still sitting on significant equity. Median price in Austin was approx $400,000 August 2019 (compared to $555,000 last month). Maybe you sell for less than what the Spring months supported, but there could be savings on that move-up home.

✨ 4 - Set your home up for success by conducting seasonal maintenance and addressing lingering repairs you've put off. I've honed a list of maintenance that specializes in market ready prep. Check out our Seller's Checklist HERE!

👉👉 5 - Coming off an unprecedented seller's market, the waters might feel a little rough as we find our way. At the end of the day, I still believe Austin is positioned well economically and the sky is NOT FALLING.
Let's take a look at some of the data behind these takeaways...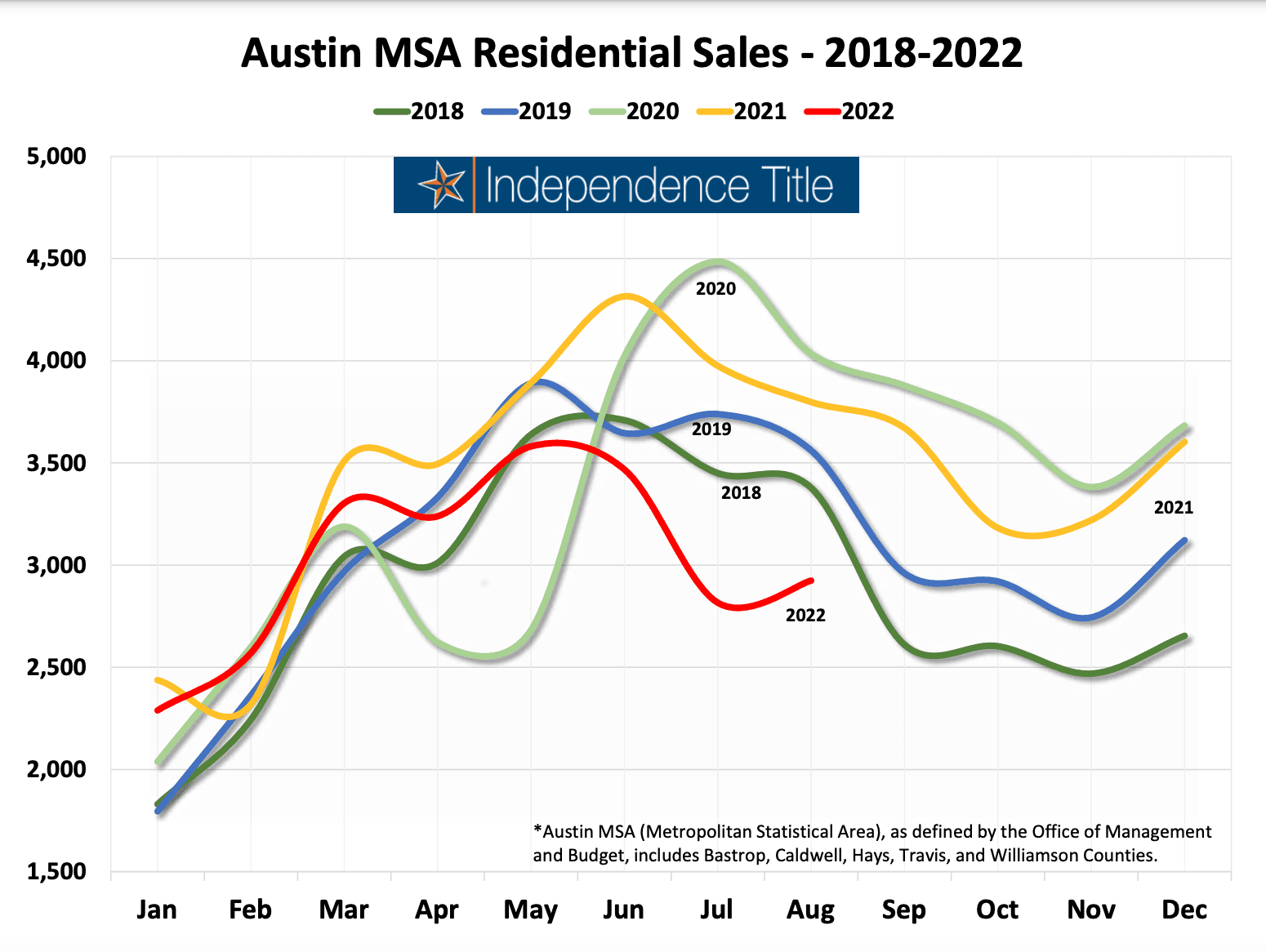 It's undeniable, the unofficial end to the pandemic lead to long overdue travel and the reemergence of events and festivals. These pandemic related effects combined with excruciating temps and increased mortgage rates are contributors for the quick dip in sales starting in June (right when school let out...see how this all ties together?). Let's see if the red line follows our 2018/2019 pre pandemic trends.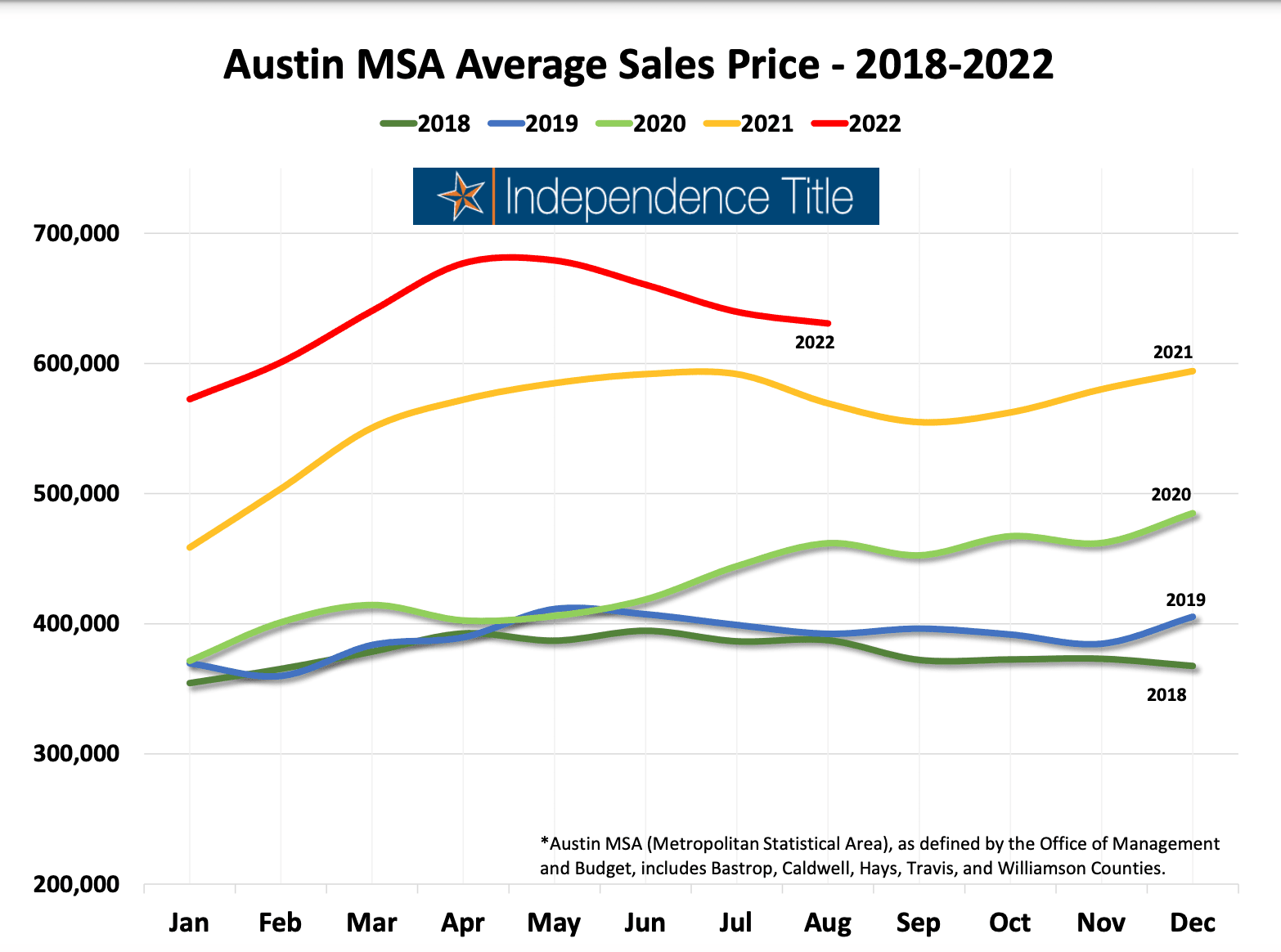 The last point I made in this month's market recap is that the sky is NOT falling.  Prices go up and they come down. We need to take a beat anytime they appear to be reversing, and look closer at what's happening. Have values tempered and retracted over the past two months, yes. But the delta between 2020, much less 2019 and where sales values landed last month creates a pretty healthy spread. We appear to be trending towards a stable value, something not uncommon and, in fact, quite characteristic of the fall market. 
Everyone's situation is different, so there is no simple answer to, "Should I buy now?" or "Should I wait till the Spring to sell?" If you're buying to owner occupy and stay for the foreseeable future, you have leverage right now.  Prices might slide more over the next few months till rates temper, or even reverse course, and then we have more certainty in the market and values start to climb at a more normal pace.
If there is one thing I do feel confident about, the Austin market will weather whatever rough waters we are experiencing right now better than most of the country. It's tough to look out over the horizon during times of transition, but we always seem to bounce back healthier and stronger each time here in Texas.