The Real Estate market has been crazy for the last couple of years and first-time buyers are wondering if they're being priced out of the market. I can't blame them for having that viewpoint. But listen up! There are things you may want to do or look into before you give up the search or lose all hope. 
The infographic below is rudimentary but helpful. The first thing to do is hook up with a Real Estate Professional. They will be able to guide you through the waters and suggest some things you may not know about, such as first-time buyer assistance through State programs. Here in Massachusetts, we have a First Time Home Buyer program
https://www.mass.gov/service-details/first-time-home-buyer-fthb
MASS HOUSING is another agency/program
You could get (for example only) $35,000 to $50,000 to help with a down payment.
The next thing to do is find a banker/mortgage broker since they will be able to help you with finding the right mortgage for you. If you're a Veteran there is the VA Mortgage, 100% financing. Or, if you live in an area designated as rural by the USDA you may qualify for a 100% mortgage. 
Also important is your credit score. Do your best to clean up that score. Payoff some or all debt if possible. You may even need to cut down on expenses just to sock away a little more money toward a home purchase. Sometimes parents or relatives may be willing to assist with a gift. 
Being willing to consider all options. Have a 1st, 2nd, and 3rd destination community you would live in. Maybe a smaller-than-desired home as a 1st house. You can always move up later. Maybe even a condo, but, be very aware of the condo fees. Remember, markets go up and markets go down. The same with interest rates.
Most of all, be patient and do hire a Professional Realtor®. Good luck and happy house hunting.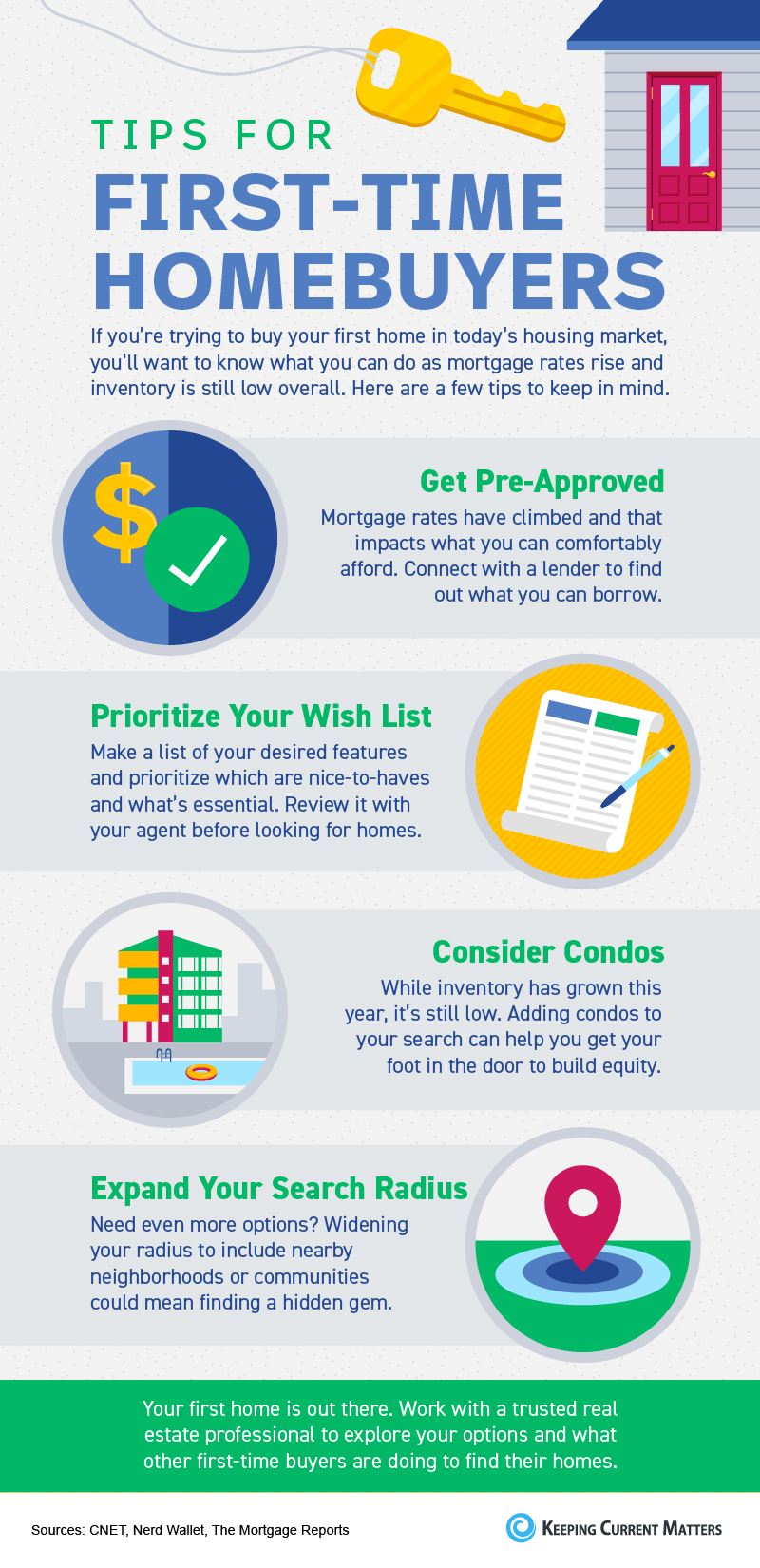 Some Highlights
If you're trying to buy your first home in today's housing market, you'll want to know what you can do as mortgage rates rise and inventory stays low overall.
Connect with a lender to get pre-approved, prioritize your wish list, consider condos, and expand your search radius.
Your first home is out there. Work with a trusted real estate professional to explore your options and what other first-time buyers are doing to find their homes.