Thanksgiving is just around the corner and if you are planning to have a houseful of kids at your celebration, you may want to prepare some fun crafts for them to do to keep them busy until the feast is ready. If they are busy creating fun Thanksgiving crafts, you won't have to worry about them being underfoot while preparing your meal. It's an especially good idea if the weather is not nice and they can't get outside to play and burn off energy. Plus, kids love to feel like they are helping, so let them make placemats, place cards and decorations for your table. 
Check out these fun, simple crafts:
THANKSGIVING PLACEMATS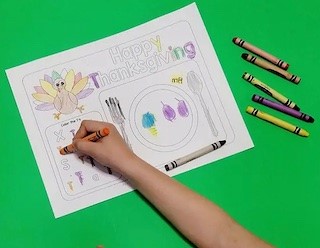 This easy craft can be done by kids of all ages. Simply use these Fun Printable Thanksgiving Placemats and provide crayons, colored pencils, watercolor paints, or markers. Print them on nice, thick art paper so that they will lie flat on the table. If the kids use paints, make sure they start early to give them plenty of time to dry. And if there is an older child or adult with time on their hands, you can even purchase laminating paper so that the placemats can be preserved and used again next year!
TURKEY FINGER PUPPET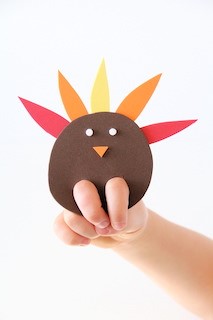 Little ones be delighted by these precious little DIY TURKEY FINGER PUPPETS. All you need are foam sheets, scissors, glue, and a hole punch. If there are older kids, they can help by doing the cutting. Otherwise, an adult should prepare the materials by pre-cutting them and then the little ones can do the gluing. When they are done, they will have a terrific turkey friend top play with all day!
THANKFUL TREE

The whole family can take part in this activity that helps to teach little ones about the true meaning of Thanksgiving. Use a large piece of butcher paper to draw a leafless tree (or have an older child do it). Hang the butcher paper on the wall with sticky putty. Provide templates for different shaped leaves. The kids can trace and cut out the leaves and write what they are thankful for on them. They can also cut out leaves for all the adults and let them write what they are thankful for as well. Then everyone can put their leaves on the tree with sticky putty or glue and you will have a beautiful, colorful Thanksgiving Tree!
HANDPRINT TURKEY PLACE HOLDER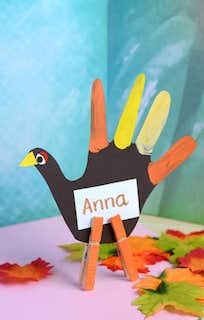 You will have to plan ahead for this craft so that you have the materials you need on hand. But the result will be these precious place card holders literally made from your little ones' hands!  You will need brown construction paper, natural wood clothespins, paints in fall colors, stick-on googly eyes, paintbrushes, scissors, glue, pencils, and white cardstock.  Depending on the age of the children, they may need help writing the names on the cards. Allow them to help set the table by putting their homemade place cards at each setting.
MILK BOTTLE THANKSGIVING CENTERPIECE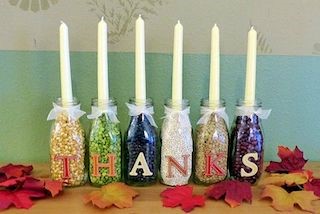 You may not know this, but young children LOVE to pour. It sounds so simple…and it is, but they get great joy out of it! So why not let them add to your lovely  table by making this Easy DIY Thanksgiving Centerpiece! You will need six empty glass containers like milk bottles or mason jars, various colors of dried beans and corn, six taper candles, and some ribbon and letters to spell out "thanks". You can let older kids cut the letters out of construction paper, or you can purchase chipboard letters in the scrapbooking section of the craft store.
So, keep those kids busy Thanksgiving Day with these fun crafts and be thankful for their wonderful contributions to this special holiday!  Happy Thanksgiving!
If you are in the market to buy or sell a home (or both), let me, Sandra Nickel, and my Hat Team of Professionals assist you with all your real estate needs! Call us today at 334-834-1500 and check out https://www.homesforsaleinmontgomeryalabama.com for more information.
Photo Credits: thekindergartenconnection.com, handmaidcharlotte.com, thecraftycrow.net, easypeasyandfun.com, thesprucecrafts.com