What do San Jose, Atari's Game Pong and Space Astronaut Chimp Enos have what in common?"
All three share an important anniversary on November 29th.
Read on to find out about these and other interesting tales that happened in history on November 29th.
800 – Emperor Charlemagne arrives at Rome to investigate the alleged crimes of Pope Leo III.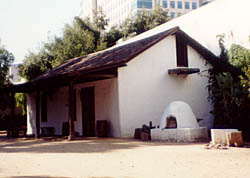 1777 – San Jose, California, is founded as Pueblo de San José de Guadalupe. It is the first civilian settlement, or pueblo, in Alta California.
1877 – Thomas Edison demonstrates his phonograph for the first time.
1929 – U.S. Admiral Richard E. Byrd leads the first expedition to fly over the South Pole.
1961 – Mercury-Atlas 5 Mission – Enos, a space astronaut chimpanzee, is launched into space. The spacecraft orbits the Earth twice and splashes down off the coast of Puerto Rico.
1963 – U.S. President Lyndon B. Johnson establishes the Warren Commission to investigate the assassination of President John F. Kennedy.
1972 – Atari announces the release of Pong, the first commercially successful video game. Developed by engineer Allen Alcom as a training exercise, the game initiated the home electronic games craze.
While these interesting facts about San Jose, Atari's Pong and Space Astronaut Chimp Enos on November 29th have nothing to do with my real estate business selling Silicon Valley homes to families in San Jose, Cupertino and Saratoga in Santa Clara County, Calif., they add fun and entertainment to life.
For more fun facts and information on Silicon Valley real estate, homes and careers, subscribe for free to Michelle Cherie Carr Crowe's blog at http://www.activerain.com/results.
Images courtesy of Michelle Cherie Carr Crowe's private collection, the public domain, the U.S. government or www.freedigitalphotos.net.
Thanks for reading "San Jose, Pong, Space Chimp Enos Share What?".