Here are FREE MLS Paradise Valley Arizona homes for sale UPDATED DAILY on the day that you read this although written in December 2022. Luxurious Paradise Valley is the most expensive place to live in Arizona, the Grand Canyon State. Give me a call/text 480-242-6500 as your Buyer's Realtor if you wish to know more and have me help you find the right home at the right price. There is no cost to you to have me represent you and your best interests for homes listed on the MLS. (Photo: Panorama of Paradise Valley from town website)
FREE MLS Paradise Valley Estates For Sale- ALWAYS UP TO DATE
Paradise Valley Arizona homes for sale on MLS. See link for a FULL PAGE view and create your own FREE MLS Search Portal and filter your own search, ALWAYS UP TO DATE with homes that I as your Buyer's Realtor can show to you.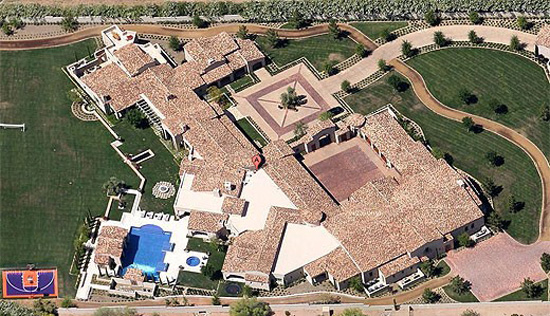 Are you looking for the latest Paradise Valley Arizona estates for sale?
Map of Paradise Valley to Tucked in just to the West of Scottsdale
Paradise Valley, on average price/sf has the most expensive homes and estates in Arizona and there is reason why with some truly magnificent homes. Take a look at the latest and always up to date Paradise Valley luxury homes for sale priced from $1 million to $30 million or all Paradise Valley Arizona homes for sale. Most PV homes have 1+ acre lots, nestled from Camelback Mountain to the north immediately west of Scottsdale.
Some of the homes have a territorial feel while many have been built or remodeled more recently into Tuscan styled mansions. Beautiful views on elevated lots look out over the Valley on Scottsdale or downtown Phoenix. Homes that have a view of Camelback Mountain are also sought after.
Paradise Valley Arizona next to Scottsdale has some of highest priced homes in the State
Paradise Valley also has Arizona's highest per capita income and is immediately adjacent to Scottsdale, Arizona known for resort hotels, fine dining and the arts. Centrally located, Paradise Valley is also close to downtown Phoenix bordered by Mountains with views of Camelback Mountain, Mummy Mountan and the entire McDowell Mountain range from homes with elevated view lots.
Scottsdale and other Arizona cities also have very expensive luxury homes but on average, Paradise Valley has the highest. Scottsdale has luxury and a mixture of newer and older communities and homes mixed in with patio homes, townhomes, condos and apartments mixed together for a more varied community.
Meet Jeff Masich, REALTOR® for Paradise Valley...ask Jeff for PV Seller May Carry Opportunities
Jeff Masich, HomeSmart Associate Broker would be pleased to show you homes in Paradise Valley
Buy a home in Paradise Valley or Scottsdale Arizona
To learn more about Paradise Valley and/or Scottsdale living and to see homes for sale: Meet Jeffrey Masich, REALTOR® for Paradise Valley homes for sale  or Scottsdale Homes For Sale or Arizona Homes For Sale or at http://ArizonaHomesLand.com.
Here is a FREE MLS Search for homes for sale in Arizona. I, Jeff Masich would be pleased to help you find Arizona Homes For Sale and the right home at the right price!
Press FREE MLS Search to search for homes for sale in Arizona