Why are so many people moving to North Carolina? The St. Germain Group is here to guide you all about the Tar Heel State.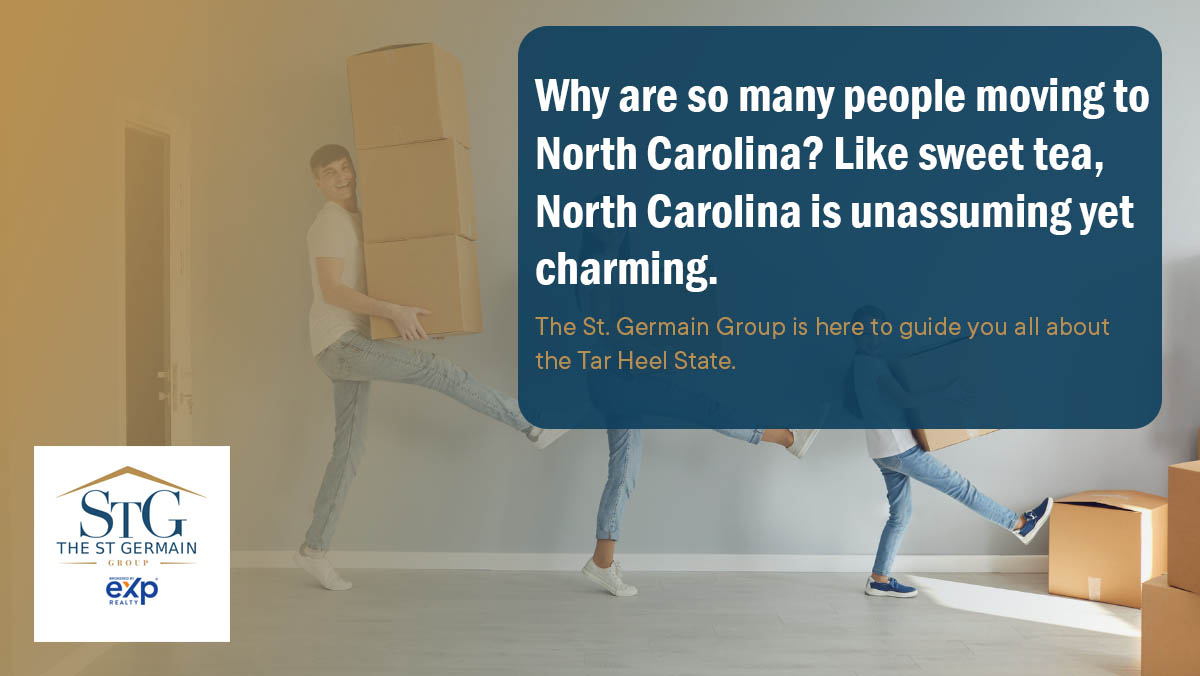 Like sweet tea, North Carolina is unassuming yet charming. 
Here are 11 reasons why you should move to North Carolina. 
1. The Cost of Living is Affordable in North Carolina
It's been more than two years since the ongoing pandemic affected everyone. Like every American citizen, you may still feel the pandemic's effects. Plus, the dreaded inflation comes into view.
You may also rebuild your life by hustling more to make ends meet. You don't want to feel like you're always catching your breath. Amidst this crisis, we all deserve a break.
North Carolina topped the list of the most moved-to states in 2021. It earned the fourth spot on the list. Meanwhile, California topped the most moved-away-from list. Rest assured that North Carolina wouldn't leave you breathless forever. Please leave it to NC's beautiful mountains!
North Carolina's cost of living index is 5% lower than the national average. This data is according to the 2022 Council for Community & Economic Research. It's wise to move to North Carolina right now. 
FYI, your cost of living index is 39.7% higher than the national average if you're from California. That's a huge gap! Imagine what a relief it would be if you moved to North Carolina.
Good news! Groceries, utilities, and transportation are affordable. All three are lower than the national average for the first quarter of this year. 
You can also learn more about how to increase your home value by checking our blog post here.
2. North Carolina is Home to Prestigious Higher Education Institutions
North Carolina is the best option if you see yourself pursuing higher education. It is home to the best schools in the nation. If you're looking for a mix of high-quality education and low cost, you are in the right place. 
In case you don't know, The US News & World Report released its 2022 Best National Universities list. Duke University ranked ninth among the best colleges and universities in the nation. It also ranked 13th among colleges and universities that offer low-cost quality education.
North Carolina also prides itself on top-notch public school education.
Did you know that The University of North Carolina at Chapel Hill is also known as a Public Ivy? This university is that good, according to a Yale University admissions officer! It can match Ivy League schools when it comes to providing quality education. 
3. North Carolina Possesses a Promising Economy
You'll find it impressive how North Carolina stays on top despite the ongoing crisis. North Carolina is the 20th fastest-recovering state from the pandemic's effects. The state's employment levels recovered in total in 2021. 
And if you're planning to move to NC's metropolitan regions, there's good news for you. Greenville, Jacksonville, Durham-Chapel Hill, Wilmington, and Hickory have restored their pre-pandemic employment level.
It looks like no one's stopping North Carolina from picking itself up. Dr. Michael Walden, an NC economist, gave an upbeat assessment. He said North Carolina's economy was 3% larger than its pre-pandemic standing.  
There's so much in store for you because North Carolina keeps winning. CNBC named North Carolina number 1 in America's Top States for Business this year. It's a feat to be America's paradise for thriving businesses. 
North Carolina gained 24,000 new jobs and more than $10.1 billion in investments in 2021. These numbers are the tip of the iceberg. They only refer to fields like biotechnology, electric vehicles, and computers.
4. North Carolina Has Progressive Cities that Champion LGBTQIA+ Rights

Like any place in the world, North Carolina has a long way to go in its fight for gender equality. When you're looking for a place to call home, you want to make sure it creates a safe space for everyone. You would like to be in an area that welcomes everyone regardless of gender. 
Great news for you! North Carolina is one of the states that has long been taking baby steps to promote inclusivity. Asheville City has earned a reputation as one of the most LGBTQIA+-friendly cities in the nation. The Advocate, the oldest and largest LGBTQIA+ publication, even recognized it. The publication named Asheville the 12th Gayest City in America.
When you tour the city, you'll see how Asheville promotes a culture of representation. You'll find LGBTQIA+-owned shops, restaurants, and businesses throughout the city. In Asheville, you'd feel safer walking along the city's streets.
Did you know that Durham is home to the historic NC Pride march? This statewide pride march gave birth to many other pride festivals in other cities. Like Asheville, Durham is a runner-up in the continuous fight for queer rights.
You can also find several gay bars and clubs in cities like Greensboro, Raleigh, and Charlotte. 
5. North Carolina's Sports Scene Will Add Balance to Your Lifestyle
North Carolina's sporty reputation says a lot about the kind of lifestyle it offers. All the more, it also reflects the kind of people North Carolinians are. You will find a fun-loving community of sports enthusiasts when you get here. North Carolina is not your typical all-work and no-play state. 
College basketball is synonymous with North Carolina. The state has produced basketball legends from its college basketball programs. Because of the legendary Michael Jordan, you'll be proud to be a North Carolinian. He began his career as a Tar Heels player in NC.
You'll understand how serious North Carolinians are with college basketball. The country singer Eric Church even canceled his show to watch college basketball. He wanted to witness the match between the longstanding college rivalry in the state. You can't blame him, either! 
College basketball is one of a kind because the passion among fans and players is all out. Even professional league players can't equal this. Hardcore North Carolinian basketball fans know the feeling.
It looks like the love for adrenaline runs in every North Carolinian's blood. You will also see their creative and resourceful side. When it comes to the love for stock car racing, North Carolinians lead the game. It's popular entertainment in Wilkes County.
It goes back to the time when North Carolinians were practicing moonshining. They had to improvise by modifying their cars' engines to evade highway patrols. This practice gave birth to what you may now recognize as NASCAR. 
You may have heard of the famous NASCAR driver Junior Johnson. He's also a North Carolinian who developed his racing skills through bootlegging. He grew up attending to his family's business of selling alcohol during Prohibition.
6. North Carolina Continues to Strive for Diversity 

Isn't it nice to live in a place that does not condone hate based on your race and ethnicity? There is no perfect place, and North Carolina's push for diversity is also a work in progress. Rest assured that the state is at one with you on the commitment to upholding diversity.
The recent data shows North Carolina's growing diversity. The state's biggest cities take the lead. Between 2010-2018, Charlotte became 3.8% more diverse, while Raleigh became 1.1% more diverse.
For Charlotte, there was a significant change. In 2018, there's a 69.2% chance that two people picked at random differed in race and ethnicity than in 2010 (66.6%).
Raleigh's growth was modest. But, researchers said demographic change tends to move at a slow pace. In 2018, there's a 63.1% chance that two people picked at random differed in race and ethnicity than in 2010 (62.4%).
In the education sector, you can count on the task force DRIVE. It also stands for Developing a Representative & Inclusive Vision for Education. A diverse K-12 public educator pool scene awaits you in North Carolina.
7. North Carolina's Food is a Blend of the Familiar But Distinctive

When you're moving into a new place, the unfamiliar feeling that comes with it could make you feel lonely. Never underestimate the power of food to make you feel better, no matter the situation.
It's good that North Carolinian food will help you feel at home once you get here. Why? The state is famous for its excellent beer, pork barbecue, and donuts. These are every American's comfort food. 
So if you're feeling sad, North Carolina has your back if you're craving your favorite comfort food back home. You may say, "But we also have donuts, barbecue, and beer back home." Here's the catch. You'll get to experience the North Carolinian twist.
You have to try our Lexington-style barbecue and Eastern barbecue. There is nothing like this in the country. In case you don't know, we're also home to your favorite Krispy Kreme donuts. 
And around the state, you can find many stores selling tasty North Carolinian donuts. Don't miss out on North Carolina's great-tasting beer. Asheville earned the first Beer City USA title in 2009. 
8. There are Unlimited Things to Do in North Carolina's Mountain Region for People of All Ages

Western North Carolina, known as the Mountain Region, is every thrill-seeker's dream. You don't need to travel far when taking a day off work. You can have a restful vacation with friends and family within North Carolina.
You don't always need to hike. The magnificent Western North Carolina landscapes are a healing treat themselves. But if you want to go the other way and catch some endorphins, the Mountain Region is waiting for you.
Are you more of an adventurous type? Head to Transylvania County, also known as "The Land of Waterfalls." This county has over 250 waterfalls. You can experience the thrill of rappelling on a waterfall. Sliding Rock, located in Pisgah National Forest, is also a crowd favorite that you should try. 
There are so many other things to do when you're in the Mountain Region. You can go hiking, camping, biking, rock climbing, zip-lining, and more. You can also ski during the winter. 
9. North Carolina is a Coastal State, So Expect Great Beaches
One thing that North Carolinians love about the state is its varied landscapes. Apart from NC's cityscapes, it boasts of its beautiful mountains. On top of this, North Carolina is the country's best beach destination. Imagine all the things you can do out of North Carolina's 300 mile-coast. 
You can find some of the best beaches in the famed Outer Banks. The US News named it one of the Best Beaches in the US. Unlike other highly-commercialized beaches, you can expect a serene vibe in North Carolina. There's plenty of space to collect your thoughts on NC's beaches as you bask in the sun and listen to the rustle of waves. This advantage keeps tourists and North Carolinians coming back.
You will also love how each of the beaches in the area possesses character. You can find a flourishing blue marlin population on Hatteras Island. Here you can enjoy fishing and sailing activities. 
If you like to step foot on a historic site, head to Kitty Hawk. The Wright brothers resided in Kitty Hawk to conduct their first few experiments. 
You'll also find endless water sports activities on North Carolina's beaches.
10. North Carolina's Arts & Music Scene is Alive Throughout the State

Before moving, one factor that you may consider is a place's culture. Yes, you can live with food and water. But to feel completely alive, you also need to nourish your soul. You can experience varied arts and music scenes in the state to feed your mind and soul.
The progressive city of Asheville has earned the title of artsy city. But what makes Asheville stand out is its River Arts District. It's not your typical art museum where you can walk and observe art. Here, you can see art in motion, take part in workshops, and talk to artists.
Pottery enthusiasts should visit the Handmade Pottery Capital of the US in Seagrove. You'll love this small town of 200 people who are also local potters. 
When you're looking for the live music scene, count on Raleigh. Rolling Stone magazine named it a "hotbed of independent music." And yes, what is North Carolina without bluegrass music? 
Bluegrass musicians of the present are preserving the legacy of this tradition. You can find a thriving bluegrass music scene in Western North Carolina.
11. Major East Coast Cities are Accessible from North Carolina

It is inevitable to travel outside of the state on some occasions. You may have business trips to attend to in neighboring states. Or you may have plans for occasional leisure trips to other states.
It's understandable to take a break and long for a change of scenery from time to time. If you live in North Carolina, you'll have easy access to major metropolitan areas on the East Coast. 
You can reach New York by plane in an hour and a half. You can also get to Washington, DC, and Atlanta by plane for an hour. Meanwhile, it only takes two hours to get to Miami by plane. 
If you want to opt-out of traveling by plane, you can still access these cities by car. You can drive to New York in about eight hours. It will take four and a half hours to go to DC and six hours to Atlanta. 
Final Thoughts 
Ready to move to North Carolina? We at thestgermaingroup.net/ can help you find your dream North Carolina home. Call 704-247-4076 today!
In case you can not view this video here, please click the link below to view 11 Reasons Why You Should Move to North Carolina on my YouTube channel: https://www.youtube.com/watch?v=WJZYRVf-ADM