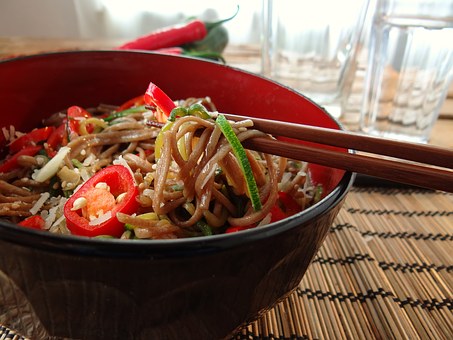 During Chinese New Year festivities, one may be honored to participate in a meal where everyone uses chopsticks. If a person is unfamiliar with how to use chopsticks, this guide can help one avoid making an etiquette error that could embarrass the guest or host.
First, practice using chopsticks at home. To learn, one may need "training wheels".
To make "training wheels" for chopsticks, attach the back (non-pointed) ends of the two chopsticks together with a rubber band or hair elastic. This will help you to focus on actually manipulating food with the utensils without the chopsticks separating and causing food spills.
Be sure to bring a rubber band or hair elastic to the meal if "training wheels" are still needed. 
Here are things not to do with chopsticks:
Don't place chopsticks straight up into your meal and leave them there-it is in poor taste. In better restaurants there are usually small rectangular "holders" to rest chopsticks in. Otherwise keep them in your hand.
Don't suck or chew on the ends of your chopsticks.
Don't point at people with chopsticks.
Don't drum or otherwise "play" with chopsticks.

On the other hand, it is okay to stab a piece of food (but not one's table neighbor) with a chopstick.
Images courtesy of www.pixabay.com. 
Thanks for reading "Chopsticks Tips for Chopsticks Day February 6".