Shenandoah Valley, VA 4th Quarter Real Estate Report - 2022
The Shenandoah Valley, VA 4th quarter real estate report for 2022 may be a good indicator of where the real estate market is heading in 2023. If there is one constant question I receive from real estate interested parties, it would be "What's going to happen to the real estate market this year?" I wish I had a crystal ball that could answer that. I do not. But I can give you data that will give some insight into the market as it closed out 2022. There was a definite cooling off in the 2022 market for the Shenandoah Valley in the mid-year point of 2022. Houses were still selling, but things were shifting. Interest rates continued to climb then and they continue to climb today. That one fact pushes a lot of first-time buyers and lower price point buyers out of the buying market. 
Inventory was low entering 2022 and it continued to recede through the fourth quarter. Of the five localities that make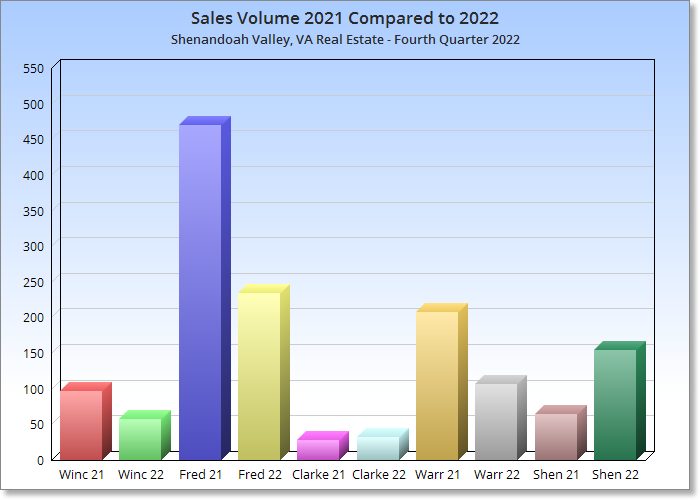 up the Northern Shenandoah Valley real estate market, all five saw fewer available listings in the fourth quarter. Winchester City ended the fourth quarter with -24% fewer listings than in the same period of 2021. Warren County suffered the greatest drop in available listings with -46.8% available in the fourth quarter. Frederick County was the second biggest loss of available listings with -29.25% fewer listings in the fourth quarter, and Shenandoah County followed close behind with -26% fewer listings. Clarke County had the best number, but it was still lower than 2021, with -9.3% fewer listings. With inventory still low, housing prices have been able to stay elevated though there is downward pressure in the forecast for the 2023 housing market. Forbes magazine wrote, "Even though home prices remain high year-over-year (YOY), they're not as eye-popping as they were in early 2022. How far home prices dip in 2023 will likely depend on where mortgage rates go."
Housing sales are already showing a slight challenge to the "eye-popping" prices of the previous years even though the fourth quarter had four out of five with higher sale averages. The Winchester City average sales price was $381000 in the fourth quarter of 2022. That was the largest increase in the five localities with the exception of Clarke County which saw an average of $777000, up 89%. Clarke County is difficult to include in valley numbers because it is more of a real estate island rather than a typical market contributor. One large sale in a market like Clarke County can skew the numbers for all five localities. With fewer sales and more expensive sales, Clarke tends to buck the trend of a lot of market indicators. The Winchester City average sales price was up 19% over the fourth quarter of 2021, which was $319000. Frederick County, VA saw a 12% increase to $425000 over the 2021 average sales price of $380000. Shenandoah County was up 4% to an average sales price of $304000 in contrast to 2021 fourth quarter average sales price of $292000. The only drop in the sales price took place in Warren County with a -4.5% drop from $359000 in 2021 to $343000 in the fourth quarter of 2022. 
Another statistic that gives some insight into a market's health and direction is days on the market (DOM). Days on the market can be tricky because there are variables that can easily cause the numbers to give an incorrect interpretation. For instance, a house has been on the market for 75 days, but a similar style house two blocks away sold in three days. Does that mean there is something wrong with the 75 day house? Not necessarily. The house could be near perfect. But, the 75 day house may have a neighbor with an aggressive dog. He may have junk cars strewn around the property, or he could just be a cranky neighbor who is loud. Many things can cause that number to be misinterpreted. 
When looking at DOM for an entire market it can be easier to come to better understanding as to what the numbers are telling you. For instance, in the Winchester City market for the fourth quarter of 2022, 61% of the houses listed sold in 0-30 days and they sold at 98% of the list price. That sounds pretty good if you're a seller, but what those numbers do not tell you is that the DOM and percentage of list price shifted from 2021. In 2021, 75% of the houses listed sold in 0-30 days and they sold at 99.65% of the list price. So, the seller in 2022 gained -1.65% less money on the sale than the seller of 2021. That is a market indicator. Houses are selling slower and for less than one year ago. Is -1.65% a substantial amount? Only the seller knows that for sure.
In the four other market areas, the Shenandoah County market saw the least amount of change. The 0-30 day sales were 77% of the listed properties in both 2021 and 2022. The Shenandoah County market also had the tightest sale price to list price percentages. In 2021, houses in the 0-30 day sales range sold at 99.66% of list price and in the 2022 0-30 sales range houses sold at 99.82% of list. That was a slight improvement over 2021. Frederick County saw the biggest distance between number of sales in the 0-30 day sales range when comparing 2021 and 2022. The 2021 market 83% of homes sold in 0-30 days, but that number drops to 64% in the fourth quarter of 2022. In 2021, the sales price to list price was 100.6% in Frederick County, but here again, that dropped to 99.28%. Is that a big difference? Not really, but what it does show is that things are shifting. Houses are not selling at 100%+ list price and they are not selling as fast. Warren County saw a 3% drop in 0-30 day sales range from 2021 to 2022. That number may be off because the volume of houses sold in the fourth quarter of 2022 was down -52% in 2022 compared to 2021. Another statistic in the Warren County sales is the percentage of list price to sales price. The 2021 the percentage was 100.7% of list and the 2022 was 98.69% of list. Buyers are getting a discount and sellers are receiving less. 
The final number to consider when looking at the local market is volume of sales year over year (YOY). Three of the localities had fewer sales when comparing sales of the fourth quarter of 2021. Winchester City saw -41% fewer sales than in 2021. Frederick County saw -50% fewer sales in the fourth quarter of 2022 compared to the same period of 2021, and Warren County saw -48% fewer sales in those same period. Clarke County saw an increase of 14% and Shenandoah County saw an increase of 141% in the fourth quarter of 2022 compared to the same period in 2021. 
The mixture of positive and negative numbers are starting to bend toward the negative. Sellers often ask me, "Did I miss the market highs?" and my answer is "More than likely." Does that mean that they are not going to sell their home for what they want. That all depends. If they are honestly looking at the current market without looking at it through the lens of the previous market, they can still sell. Will it be like the spring of 2021? Probably not. How about the spring of 2022? Here again, probably not. But the reality is that the house will determine what the buyer is willing to pay. That is one concept sellers have a hard time accepting. The market determines the price a house will sell for. That number can vary vastly year to year. If the house is in its best condition and is move-in ready, it has a better chance at selling quickly and at a good price. The critical thing to remember when selling in the current market is to remember this is not the market of year ago. It is today's market. When you are ready to sell, give Cornerstone a call and let us help you prepare your home for the best and quickest sale possible.