Market Reports: Champlin Real Estate Update February 2023
Courtesy of Heidi Herda ~ 612.807.4858 -eXp Realty
37 Homes are currently listed for sale - 5 of them are "Coming Soon":
11460 Elmwood Ave N - Champlin
11338 Florida Ave N - Champlin
11011 Wisconsin Ave N - Champlin
6 of them are contingent on inspection. The average price of our Champlin's newest listings is $$511,923 (which includes new construction), 49.9 days averaging for market time - down from 62 days from last month. Despite rate changes, it's already looking like we're going to have another profitable Spring market!
Without the new construction, with 19 homes for sale - 7 are already sold on a contingency compared to just 2 from last month -  our average price is $391,416 with 61 average days on the market. We're showing roughly $172.12 per sqft.
Pending Champlin Homes - we have 11 homes for sale currently in pending status. The average price for the pending homes is $395,064 with 62 average days on the market and a similar price per sqft.
Champlin Sold & Closed Homes - 14 Champlin homes sold and closed in the last 30 days. With an average price of $351,050, which shows our market correcting, the average days on market for sold Champlin homes is 47 days, and increase in price per sqft to $186.59.
You can always look at market statistics for Champlin anytime.
Check out the latest living local monthly newsletter below. If you would like to be added to our email or mailing list please ~ SUBSCRIBE! Living Local - Champlin News and Events!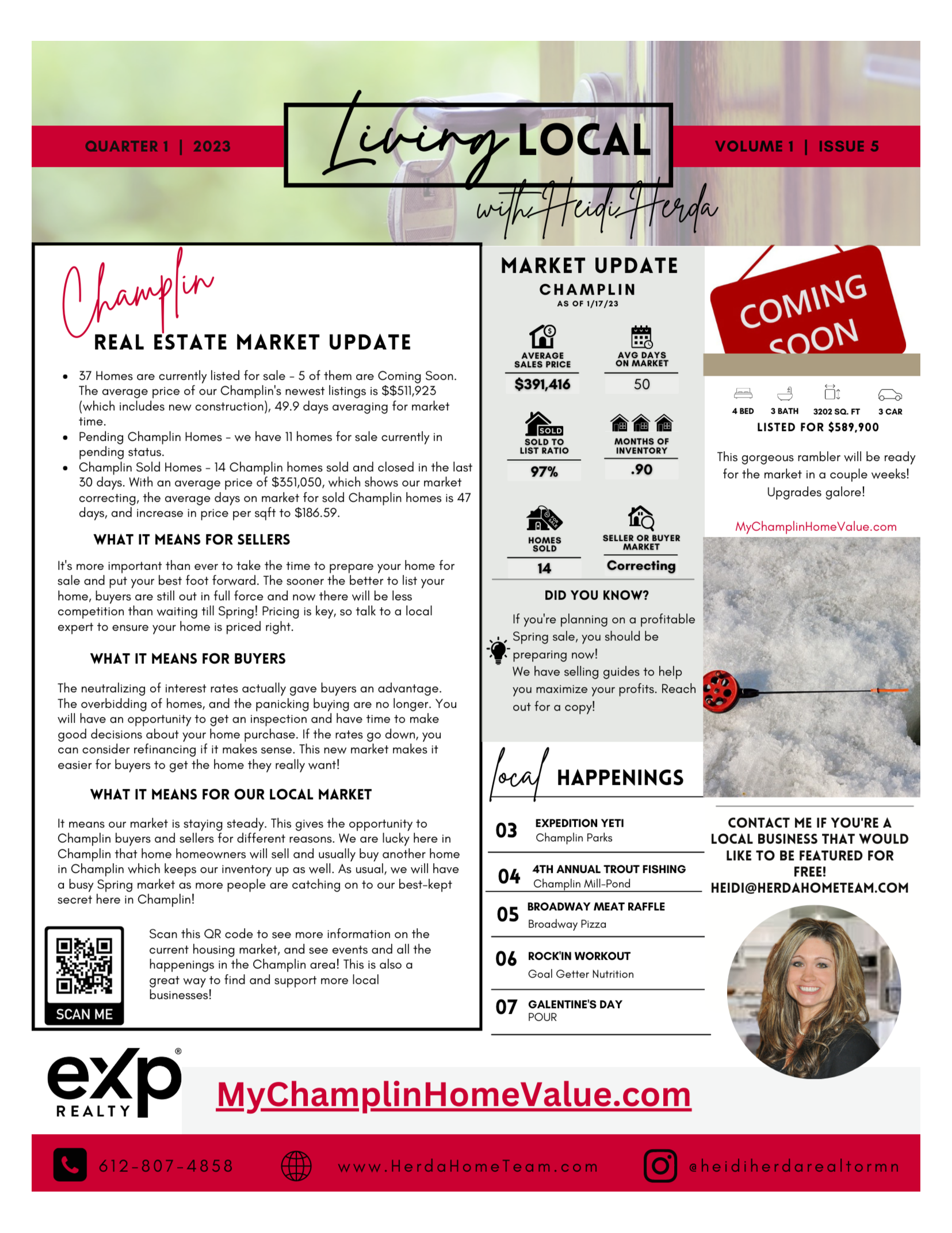 There are also a few Bauer Farm New Construction homes of Champlin for sale that are under construction. For details on building or pricing, please call our team and we would be happy to schedule a tour.
If you're wondering when the best time to sell is... it's NOW, low inventory still means homes are selling quickly and for top dollar. Selling in the winter also means that buyers are serious and motivated. They will not bundle up and head over to your home if they're not really interested in purchasing it.
If you're planning for a Spring sale, you should be preparing NOW!
If you're looking for the BEST time to sell your Champlin home, contact me directly, or schedule a seller consultation. No obligation!
What Does This Mean for Sellers?
It's more important than ever to take the time to prepare your home for sale and put your best foot forward. The sooner the better to list your home, buyers are still out in full force and now there will be less competition than waiting till Spring! Pricing is key, so talk to a local expert to ensure your home is priced right. Do you want to make the most money possible? Check out our seller's guide - FREE!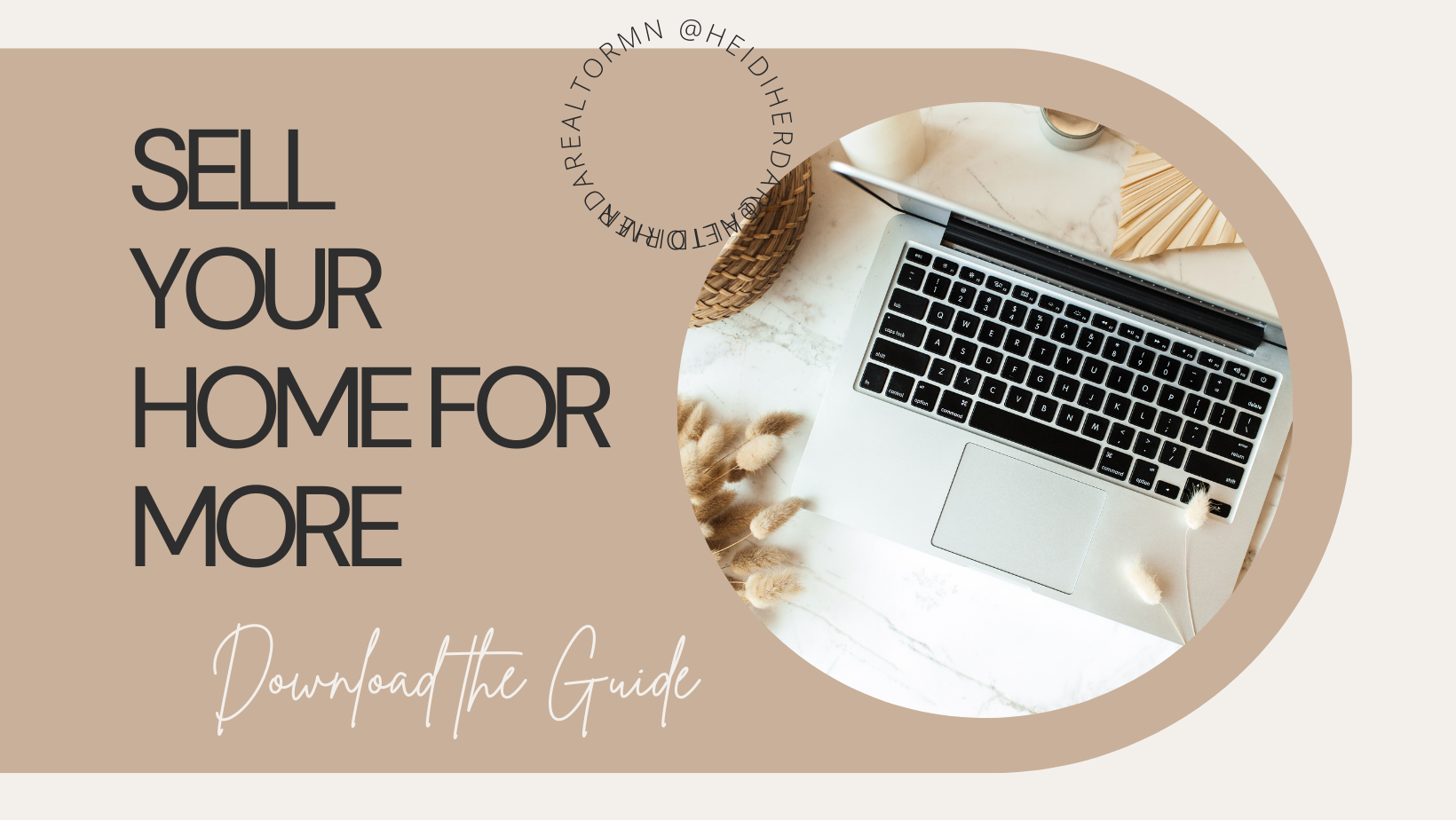 What Does This Mean for Buyers?
The neutralizing of interest rates actually gave buyers an advantage. The overbidding of homes, and the panicking buying are no longer. You will have an opportunity to get an inspection and have time to make good decisions about your home purchase. If the rates go down, you can consider refinancing if it makes sense. This new market makes it easier for buyers to get the home they really want! Be prepared, get our Free Comprehensive Home Buyer Guide!
What Does This Mean for Champlin 55316?
It means our market is staying steady. This gives the opportunity to Champlin buyers and sellers for different reasons. We are lucky here in Champlin that home homeowners will sell and usually buy another home in Champlin which keeps our inventory up as well. As usual, we will have a busy Spring market as more people are catching on to our best-kept secret here in Champlin!
If you haven't seen Living Local Champlin yet, check out one of our local businesses! If you're interested in adding your information to the Champlin business directory or doing an interview with your business, fill out this form to schedule, we would love to hear from you!!
If I can help answer any of your real estate questions, always feel free to reach out!
Planning to buy, sell or invest soon?! Heidi is a Homes for Heroes affiliate! See below for benefits for our Heroes!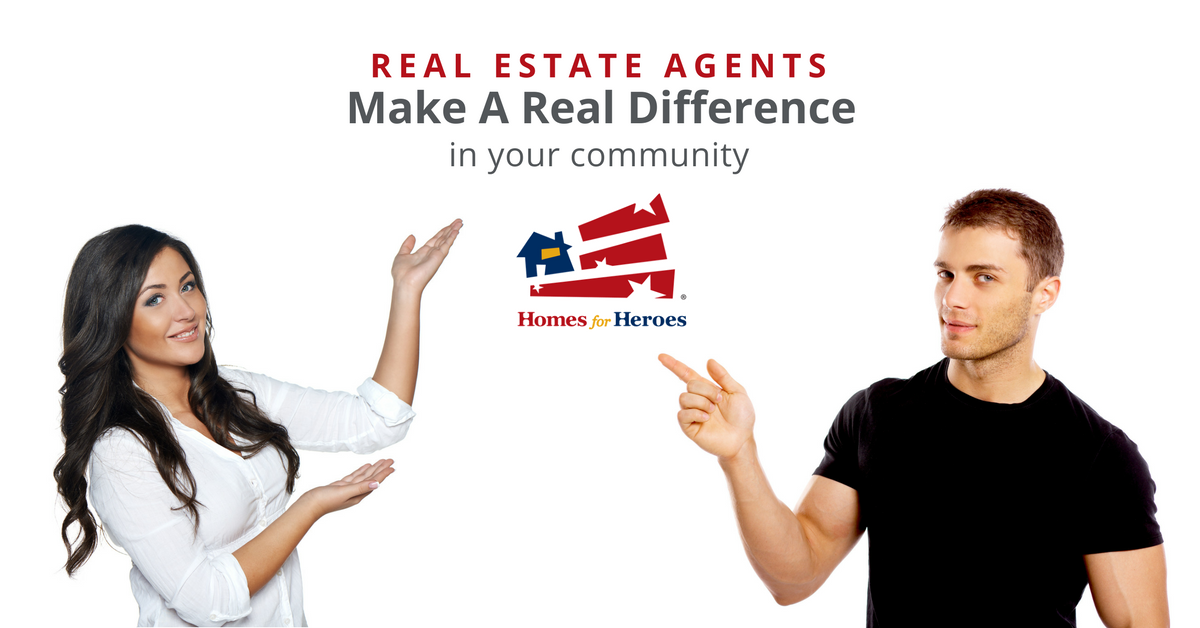 The Hero program is easy! Visit my Homes for Heroes website, register and you're done! ~ your benefits can be used to buy, or sell real estate, even refinance when you work through a preferred Homes for Heroes Lender. 
Home purchases made in these amounts will receive this about in a benefits check 2 weeks after closing, sellers will receive these benefits in the amount of a discounted commission when they sell their home. Please help me to "Thank all the Heroes"! These benefits never expire and can be combined if you plan to BUY and SELL!! On average my buy/sell clients have saved roughly $4,000-$6,000!! Call me today if you're interested in the program at 612.807.4858 or visit HeidisHeroRewards.com to learn more!
Curious how this affects YOUR Champlin Home value?
When we see successful closings in Champlin we are creating comparables that will support your home's value. When we see multiple offers, low inventory, and high demand we're creating supply and demand. Fortunately, Champlin is a high-demand area with desirable homes, parks, trails, and resources. We have great Schools both private and public and we have lower taxes than our neighbors in Brooklyn Park and Maple Grove. The Elm Creek Park Reserve and community feel keep pulling new homeowners in as well as most of my business here in Champlin is a move within the city.
Each time a home sells we are creating a new record of value for your neighborhood. Being a resident also of Champlin and a local Realtor it's important for me to have YOUR home sell for top dollar. When your home sells for top dollar everyone's values go up! That's why I have created a market system to sell your home faster and for MORE Money!

Curious how these sales affect your home value? Check the pending homes near you, or visit MyChamplinHomeValue.com to get a free home value estimate!! 
What does this mean for Champlin buyers?
Plan ahead! Make sure you have an experienced Realtor® that knows how to navigate a neutralizing market! Be ready! Get preapproved! Do not wait to talk with a banker/lender till you find the home you love... because it may sell before you're ready.
Have a plan and be prepared. If you need help finding your next home, let me know! My team and I are prepared to negotiate the best deal for you!
Need to get preapproved?! Start here on a safe and secure application! 
Why Do People Live in Champlin?
Champlin is snugly situated near the Mississippi River and offers a ton of fun for all! New developments in the river area will soon offer more restaurants and riverside dining.
Champlin has more than a handful of parks which include Andrew's Park Splash Pad, a Skate Park, a Lifetime Fitness, an ice rink, and expanded outdoor viewing at Champlin movie theater. Champlin also offers easy commuting access to Highway 169 and Highway 610. Plus 252 is a quick way into downtown Minneapolis (Search all Champlin Community has to offer).
Champlin also offers restaurants, grocery stores, and coffee shops with three small strip malls with ice cream shops, Chinese restaurants Fast Food locations, Wells Fargo and Target. All the conveniences and a little smaller community feel than the neighboring Brooklyn Park and Maple Grove areas. 
What Schools will the Kids Attend?
If you buy a home for sale near Andrews Park it's likely that your kids will attend Oxbow Creek Elementary, serving grades K-5 (see all homes for sale near Oxbow Creek Elementary), Jackson Middle School, serving grades 6th-8th grade, (see all homes for sale near Jackson Middle School), Champlin Park High School services grades 9th-12th grade, (see all homes for sale near Champlin Park High School). If you're looking for specific specialty programs, Champlin offers access to magnet schools and unique school opportunities for elementary, middle school, and high school students through Northwest Suburban Integration School District (www.nws.k12.mn.us). This is a great opportunity for children that excel in engineering, mathematics, and science. See more Champlin School information according to GreatSchools.org.
Local preparatory Schools also include Parnassus Preparatory School, Maple Grove (see homes for sale near Parnassus Preparatory School), and Athlos Leadership Academy, Brooklyn Park (see homes for sale near Athlos Leadership Academy).
See more Champlin School information according to Schooldigger.com.
Now You Really Want to Find a home for sale in Champlin?

If you are interested in Champlin's current list of homes available in Champlin click on the link. Our 'for sale' property information is a direct feed from the Northstar MLS and is updated multiple times per day. Set your search by creating a personal Champlin Homes alert, subscribe to the Champlin living locally so you're up-to-date on the current inventory, pricing, and sales in Champlin. Otherwise, you may search all Champlin Homes for sale by price: 
Champlin Single Family Homes between $200,000-$300,000
Champlin Single Family Homes $300,000 to $400,000
Champlin Single Family Homes $400,000 to $500,000
Champlin Single Family Homes $500,000 to $600,000
Champlin Condos & Townhomes for Sale
Heidi@HerdaHomeTeam.com for any Real Estate questions contact The Herda Home Team powered by eXp Realty at 612-807-4858 or visit the HerdaHomeTeam.com for more blogs and buying and selling tips!
Thank you for reading Heidi Herda Real Estate ~ Champlin Realtor & Residents, blog, "Market Reports: Champlin Real Estate Update February 2023" Don't forget to like my Heidi Herda Champlin Real Estate Facebook Page
#markettrends #champlin #tipsforbuyers #tipsforsellers #herdahometeam #marketreports #minnesota #realestate  #sellinginchamplinmn #homesforheroes #benefitsforteachers #benefitsforhealthcareworkers #benefitsforpoliceofficers #exprealty #tipsforsellers #tipsforbuyers #buyerresources #herdahometeam