A Quick Dinner: Trader Joe's Cheese Filled Fiocchetti with Pink Sauce
Chef Dolores is still using a walker as she recovers from her hip replacement surgery. So, her time in the kitchen is limited. Her selection for dinner was the Trader Joe's Cheese Filled Fiocchetti with Pink Sauce and we enjoyed it. You may wish to give it a try if you shop at Trader Joe's. Click on the link to learn more.
Originally named for their resemblance to tassels of bundled thread (as a diminutive of fiocco, for bow or knot), we rather like to think of Fiocchetti as little bundles of cheesy joy. That's certainly what you'll get with Trader Joe's Cheese Filled Fiocchetti with Pink Sauce, an all-in-one frozen pasta entrée that takes pouches of egg pasta, fills them with three kinds of Italian cheese, then smothers them in a luxurious, cream-and-tomato pink sauce. They're brought to us by a trusted Italian supplier who has a particular knack for scrumptious stuffed pasta, and you can see their dedication to the craft in each delicately bundled Fiocchetto. More importantly, you can taste their dedication to tradition with every saucy, savory, exquisitely zesty bite.
Preparation couldn't be simpler: with either a microwave and a microwave safe dish, or a bit of water, olive oil, and a pan on the stovetop, you can go from frozen to fresh, steamy pasta in mere minutes. All that's left to do after that is garnish it with some Parmesan, perhaps a few freshly-torn basil leaves, and pair it with a chilled glass of Pinot Grigio.
You will definitely like the dessert selection, Mint Moose Tracks Ice Cream.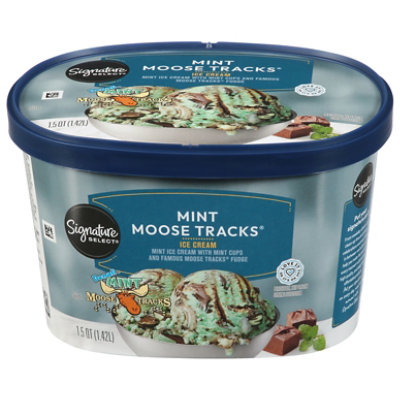 Mint ice cream with mint cups and famous Moose Tracks fudge.
Water Lily, Longwood Gardens, Kennett Square, Pennsylvania USA IMG 7793  
Canon PowerShot G11 Camera
Photograph by Roy Kelley
Roy and Dolores Kelley Photographs