With the rainy, windy weather this Wednesday, I'm reminded of the animated Disney film, "Winnie the Pooh and the Blustery Day".
Released in 1968, I first recall seeing the movie with my family while at Disneyland in the 1970's. Based on several chapters from two different Winnie-the-Pooh, it featured the humorous adventures of (primarily) Pooh and Piglet on the blustery "Winds-Day" that turned into a stormy, rainy flood.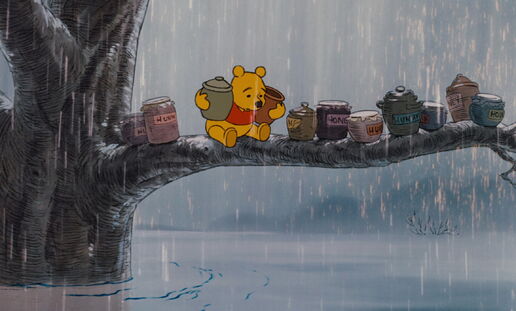 Notably, it was the last animated featurette overseen by Walt Disney. It was also nominated for-and won-an Academy Award in 1968 for Best Animated Short Film, which was awarded to Walt Disney posthumously.
So if you, like me, are hearing...
"The rain, rain, rain came down, down, down,
in rushing, rising rivulets,
And the river crept out of its bed,
and crept right into Piglet's..." 
I wish you a "Happy Winds-Day" and Hope you enjoy this Blustery Day.
Thanks for reading "Happy Wednesday, Pooh! Enjoy a Blustery Day!"