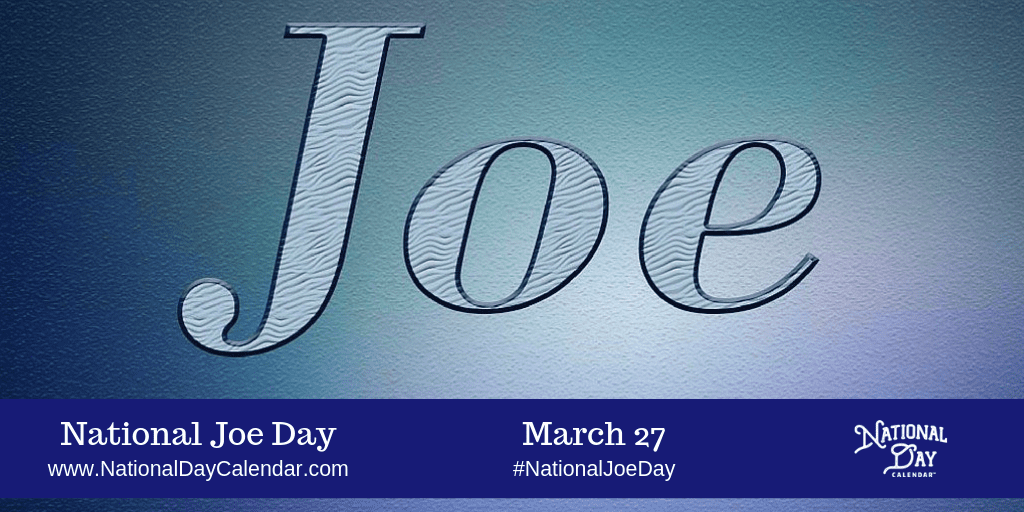 Did You Know March 27 is NATIONAL JOE DAY?
It's a great day to enjoy a cup of "joe" with all of your friends named Joe, Jolene, Jo, Josephine, Joette, Joey, Joan, Joseph, Josephine, Josie, Johanna, Joann, Jodie, Joanna, or any other Joe you know today on March 27th, National Joe Day.
The Social Security Administration reports the name Joseph remains perennially popular, ranking No. 6 from 1893 to 1899 behind John, William, James, George, and Charles.  In 1910, it moved to No. 5.  From 1911 to 2005 it was ranked No. 12 or lower, yet most people know and love at least one Joe.
There are many famous people named Joe, such as Joe Montana (Coach, American football player.); Joey Ramone (Songwriter, Musician Singer-songwriter) and Joe DiMaggio (Baseball player, actor).
Five of my favorite Joe's are:
my coach Joe Stumpf of By Referral Only
my Home Church prayer team member Joel Hahn
my cousin Joe Bruner
my nephew Joe Shein
my dear client Joseprakash (Jose) Vincent. So let's toast all our favorite Joes with a cup of joe and celebrate National Joe Day on March 27th. 
While www.NationalDayCalendar.com was unable to locate the origin or creator of National Joe Day, I have a strong feeling the person's first name may be Joe.
Thanks for reading "Happy Joe Day on March 27."
#Joe #JoeDay #NationalJoeDay #JoeStumpf #NationalJoeDayMarch27