With spring's arrival and summer just around the corner, many people enjoy spending time outdoors to savor the warmer weather. Unfortunately, there are some not-so-pleasant aspects of spending time outside such as bugs, rain, and hot, humid days.

Whether you have a deck, patio, or balcony (any outdoor space will do!), the following tips will help make the time you spend outside more comfortable in any situation:
Yuck. Whether you are hosting an alfresco dinner party or simply trying to relax with a good book on your deck, nothing will send you running back inside faster than nasty, annoying bugs. If mosquitoes are a problem in your area, dealing with them is imperative if you want to be able to enjoy the outdoors. Screening in a porch is an ideal way to be able to feel like you are outside without all the awful bug bites.
Other ways to keep insects away:
Do not keep any standing water on your property. Even a single forgotten flowerpot full of rainwater can become a mosquito breeding ground.

Make water features running rather than standing, or treat them with Mosquito Dunks.

Install ceiling fans on porches - flies and mosquitoes do not like moving air.


 
USE OUTDOOR FABRICS IN EXPOSED AREAS
If your porch is covered, you may be able to get away with using more delicate furniture and cushions not specifically made for outdoor use. But if your seating area is exposed to the elements, you will want to invest in fabrics and furniture made for outside use. They will likely be more expensive, but they won't fade in the sun, will resist stains and are water resistant. The cushions are stuffed with material that sheds water easily so that they won't stay waterlogged if they get wet.
While outdoor cushions are designed to stand up to repeated soakings, they will still be wet for a while directly after a rainstorm. You can avoid having to sit on damp cushions by keeping them in a covered storage bench when you know there is a chance of rain. If they won't fit in a storage bench, lean your larger cushions against the wall of the house. Do the same with any lightweight folding chairs.
MASK SOUNDS WITH RUNNING WATER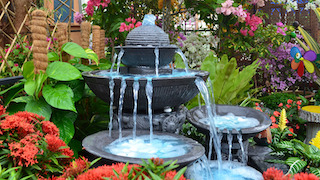 If noise is an issue that prevents you from indulging in a peaceful outdoor experience, try using a water feature to drown out the distraction. Water is a great way to gently camouflage sounds from close neighbors. Try installing a small fountain near your seating area for a more tranquil atmosphere.
If the water feature doesn't appeal to you, soft music playing in the background can be just as effective at masking sounds. With wireless speakers, you don't even need an outlet to play your music.
Even when you are craving the warmth of the sun, sitting outside without any shade on a hot, sunny day will send you running for the AC before too long. There are a lot of options for adding shade to your yard. Try freestanding umbrellas, a cloth overhang, lattices, a shade tree, or a pergola.
PUT TOGETHER AN OUTDOOR DINING KIT
Dining alfresco will be easier if you have a kit ready and waiting. Put your frequently used outdoor items in a basket or on a big tray with handles so you can just grab it and go.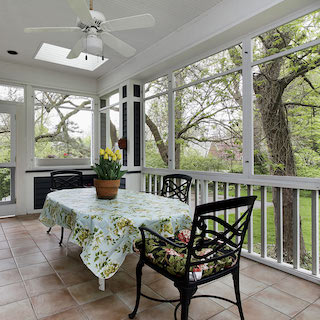 Here are some things to include:
Unbreakable wineglasses and plates

A carafe for water, wine, or tea

Big napkins

Candles and matches or a lighter

A wicker or mesh dome-shaped cover to keep flies off the food

Unbreakable outdoor serving pieces

A bottle opener



 
HAVE BLANKETS FOR CHILLY EVENINGS
Keep some blankets nearby. Old wool camp-style blankets, light weight Kantha Quilts, or fringed throws work well. Your guests will thank you on chilly evenings in the garden!
HAVE ADEQUATE NIGHTTIME LIGHTING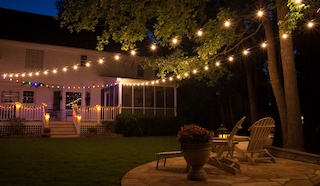 Your outdoor space will really come alive at night with the right lighting. Try placing lighting under a bench seat for subtle illumination, make a ring of lanterns on the grass around your dining table or hang strings of lights overhead. Landscape lighting will add to the ambiance as well.
If you are in the market to buy or sell a home (or both), let me Sandra Nickel, and my Hat Team of Professionals assist you with all your real estate needs! Call us today at 334-834-1500 and check out https://www.homesforsaleinmontgomeryalabama.com for more information.
Photo credits: mountainliving.com, homedepot.com, housedigest.com, yardenvy.com