Because there are so few homes for sale, the housing market is still a seller's market even though it has slowed from the frenzied "unicorn" years. What does that actually imply for you, though? And why are the market conditions for selling a home so favorable right now? 
Housing supply is still incredibly low, according to the National Association of Realtors' (NAR) most recent Existing Home Sales Report. The quantity of available homes on the market is used to calculate housing inventory. The amount of time it would take to sell all those available homes based on current demand is also measured in months' supply. There is typically a six-month supply in a market that is balanced. At the current sales rate, there are only about three months' worth of available homes today (see graph below):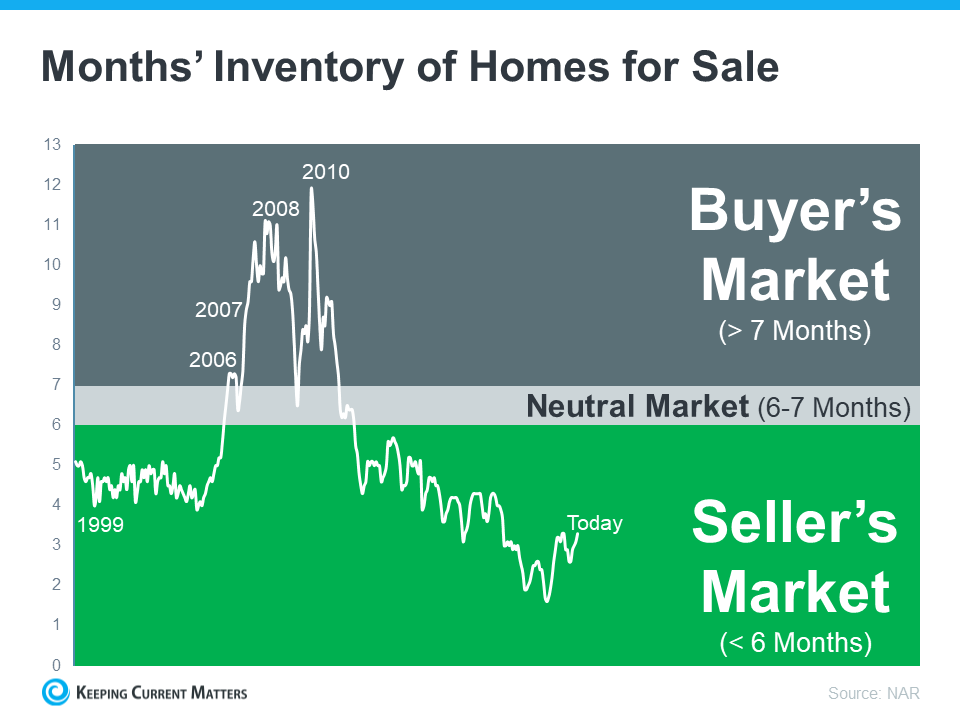 We're far from having a market that is balanced right now. In actuality, the supply for the upcoming months is only half of what is typical in a normal market. That indicates that, given current buyer demand, there simply aren't enough homes to go around.
According to NAR Chief Economist Lawrence Yun:
"There are simply not enough homes for sale. The market can easily absorb a doubling of inventory."
What Are the Benefits of Being in a Seller's Market?
Sellers, you really have an advantage with these conditions. There are buyers out there right now who are able, willing, and prepared to buy a house. Additionally, the few homes that do come on the market act as magnets for those buyers due to the lack of available housing.
Your home might draw a lot of interest if you list it now, in good condition, and at the right price, working with a local real estate agent. You might even receive several offers in the end.
To sum up
You have a significant advantage in the current seller's market when selling your home. Your home will be in the spotlight for motivated buyers who are hankering for more options because supply is so low. As you prepare to enter the market, speak with a local real estate agent so you can learn more about what's going on in your neighborhood.
by KCM.com
IMPORTANT. the content of this email and any attachments are confidential. They are intended for the named recipient(s) only. if you have received this email by mistake, please notify the sender immediately and do not disclose the content to anyone or make copies thereof.