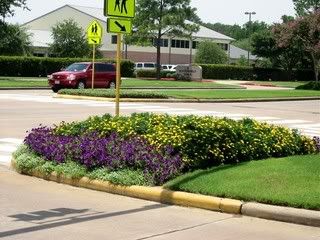 Driving south to my office on Westheimer Pkwy, I exit the Grand Pkwy turning left into Cinco Ranch. As soon as I exit the Grand Pkwy traveling east there is the most spectacular flower bed full of purple petunias and golden marigolds! I adore this flowerbed; it's my college colors purple and gold. Yes, it appears to honor my glorious LSU Tigers, National Champs once again. Yep, National Champs twice in five years!
Other purple and gold flowerbeds occur throughout Cinco Ranch; pictured above is the one across from the Katy YMCA. Do you think that the landscaper also went to LSU? I have to wonder.
I've been driving through Cinco Ranch looking for orange marigolds and white petunias or begonias. Horns, I can't find you anywhere. Please help me undertake this search; let me know if you can find your school colors. I will take a photo and feature your floral display in my blog. Any neighborhood will qualify as long as the blooms are orange and white.
The same sad situation exists for the Aggies. I can't find your flowers anywhere and I've been searching. Where are the Aggie colors? There's a strain of maroon begonias that would qualify beautifully. Again, white petunias could complete the traditional display or, even better, white begonias would be perfect. Like the challenge to the UT graduates, Aggies please let me know where you find your colors. I will happily feature them in my blog.
Until then, dear friends, the Tigers rock!