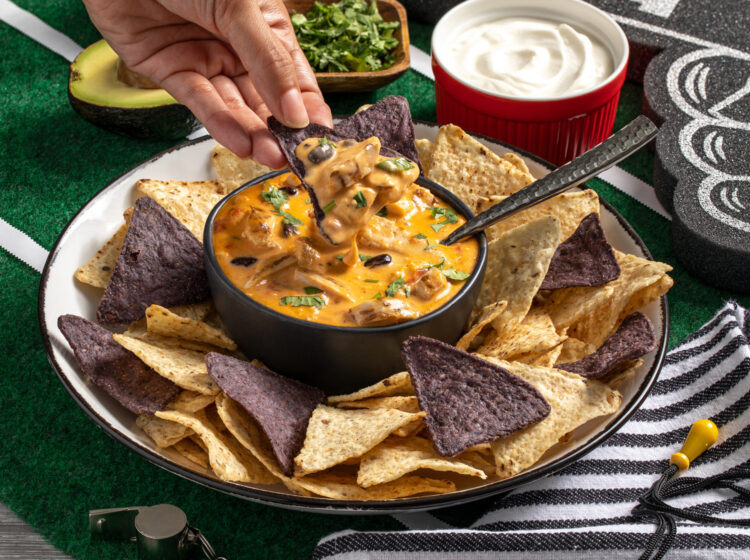 SERVES: 12
PREP TIME: 10 MINUTES
COOK TIME: 270 MINUTES
INGREDIENTS
1 1/2 lb  Fresh Chicken Tenders or 16 oz. of Fully Cooked Grilled Diced  Chicken Breast Pieces
1 lb Shredded cheddar cheese, or favorite cheese blend
1 (14 oz) can Fire-roasted tomatoes, drained
2/3 cup Sour cream
5 Green onions, chopped
1 1/2 TB Taco seasoning
1 Large Jalapeno, minced
1 cup Black beans, rinsed and drained
2 Avocados, halved, pitted, chopped
1/4 cup Fresh cilantro, chopped
1 (12 oz) bag Tortilla chips
Sour cream, for serving
PREPARATION
Place chicken, cheddar cheese, tomatoes, sour cream, green onions, taco seasoning and jalapeno in a 6-quart slow cooker. Stir to cover chicken. Cover and cook on high for 3 to 4 hours, until chicken is cooked and cheese is fully melted. Stir in beans, and cook until fully heated through, about 30 minutes. Top with avocado and cilantro. Serve with tortilla chips and additional sour cream.
Speed Step
Replace the 1 1/2 lb Bell & Evans Fresh Chicken Tenders with 16 oz. of Fully Cooked Grilled Diced  Chicken Breast Pieces and heat in a cast iron skillet.
Add remaining ingredients and heat through.