Your home is up for sale and you want it looking its best when prospective buyers come to visit. Yet numerous repairs are pending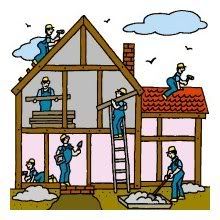 and you do not want to spend a whole lot on them at this time.



The good news is that you can fix your home effectively without spending a fortune on it! A recent survey of real estate agents shows that just by removing clutter and cleaning up your home you could boost its value by a few thousand dollars.



Here are Five inexpensive Tips that you could use to take care of your home repairs:
Clean up your front yard by trimming bushes and trees and mowing the lawn. This will give your home a pleasing appearance as well as make it visible from the street.

Add a fresh coat of paint to the exterior doors and windows to avoid repainting the whole house.

Torn screens and damaged storm windows should be removed.

While cleaning, pay extra attention to bathrooms and kitchens as these will be of prime importance to prospective buyers.

You can spruce up the interior by simply washing out your carpets, polishing floors and replacing broken linoleum.
You need not remodel your home but attention to a few details can go a long way to making it appealing to others.