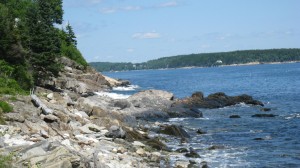 One of the special things about living in New Hampshire is the abundance of choices for vacation destinations and quick get aways. With the price of fuel being on every ones mind and affecting everything we do, it's nice to know that somethings don't have to break the bank to enjoy. The nice thing about living here is that it is a paradise for "close to home" vacations. Whether you stay in a hotel or prefer to camp you won't be disappointed.
Recently Jay and I spent the long 4th of July weekend up in Boothbay Harbor Maine. From our home in Southern NH it is a 2.5 to 3 hour ride and is just a great place to enjoy quality time. Plus being connected as we are, we were able to work, negotiate contracts and keep in touch with our clients all while enjoy a great long weekend away.
It's like being in a different world up there and once we entered the town of Wiscasset and crossed the bridge we knew we had arrived.
The smell of the sea hung heavy in the air and we felt so happy to be back! As usual while in Boothbay we enjoyed fresh lobster bought right off the pier at an off the beaten path Lobster haven called Little River Lobster. His prices are the best around and we were able to buy select hard shell for only $7.25 per pound.
We drove and walked along Boothbay Shores on the Damariscotta River side of East Boothbay and along Ocean Point. Ocean Point fronts the Atlantic Ocean and Linekin Bay and offers some of the most incredible views around.
These spots are our favorites and to my surprise few people who visit the Boothbay Harbor region even know they exist. While the Harbor itself is a quaint place to visit and enjoy...East Boothbay is just extra special. I wish someone up there would adopt me!
This year we also took a boat cruise with The Cap'n Fish crew up along the Kennebec River. It was spectacular even in the fog! Along with taking literately hundreds of photos I shot some short videos. I think I'm getting better at taking videos and I hope you enjoy them and that they give you a feel for what the region is like.
Wiscasset Maine from monika mcgillicuddy on Vimeo. Little River Lobster East Boothbay Maine from monika mcgillicuddy on Vimeo. A walk Along Boothbay Shores from monika mcgillicuddy on Vimeo. Ride along Ocean Point Road East Boothbay Harbor Maine from monika mcgillicuddy on Vimeo.
Monika McGillicuddy Real Estate Training
NewHampshireRealEstateBlog.com
Follow me on Twitter.com @monimcg