'Raw foodism' or 'rawism' is a lifestyle which promotes the consumption of uncooked and unprocessed foods as a large percentage of a person's diet (usually 75%). This can sometimes mean raw foodists do not eat eggs and milk but others eat meat and fish (if it's raw). It depends on the lifestyle and results desired. Raw food is considered in the raw when it is not brought up to any temperature past 116 degrees Fahrenheit.
Why eat raw food? It has been scientifically proven that cooking not only destroys nutrition, enzymes, vitamins, but chemically changes foods from the substances needed for health into free-radicals and poisons that destroy your health! When a food is not cooked it retains enzymes and valuable nutrients that help in breaking down and absorbing food and nutrients.
Some of the benefits are raw food are: stronger immune system making you more resistant to disease and allergies, more energy & strength, helps to heal chronic diseases such as diabetes, fibromyalgia, asthma, high blood pressure, etc., great for losing weight (you're not eating oreos and fried foods!) and maintaining your natural, healthy weight, clearer skin, and you look healthier!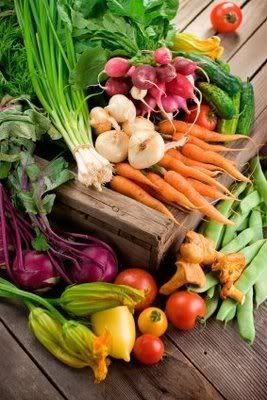 Now that you know the health benefits go ahead and try out some of the following tasty recipes!:
Cream of Asparagus Soup
1 bunch of asparagus
3 stalks celery
1/2 small onion
1 1/2-2 avocados
1 cup water
6 sprigs organic parsley
2 tsp. tomatillo powder
kelp or Nori to taste
Blend until creamy. If not creamy enough, add 1/2 small avocado and blend.
"Spaghetti" and Tomato Sauce
To make sauce, blend in blender or Vita-Mix:
6 medium totmatoes
3-4 Tbs. tomato powder or all-purpose seasoning
2 tsp. jicama powder (optional)
1 tsp. beet powder (optional)
Italian seasoning
Onion and/or garlic or kelp to taste
To make "spaghetti":
Grate gold zucchini or butternut squash lengthwise. pour sauce (ingredients above) over "spaghetti" and mix together. Minced, grated cauliflower can be added to give a taste and feel of grated cheese.
Dreamsicle Smoothie
Milk and meat of young Thai coconut
2 frozen bananas
3 dates
juice of a ripe navel orange (just hand squeezed straight from orange into blender)
1 Tbl honey
1 tsp vanilla
icePlace all ingredients, except ice, in blender and blend til smooth! Add ice cubes gradually until desired consistency reached.
Pesto Stuffed Mushrooms
14+ Button Mushrooms (washed and stemmed)
Stuffing:
1 cup walnuts
1/2 cup pine nuts
2 cups basil
1/2 cup olive oil
3 cloves garlic
1/2 teaspoon sea salt
Place mushroom caps top side down on a plate
Blend all stuffing ingredients in a food processor until smooth.
Scoop a small amount of stuffing into each mushroom cap.
Dehydrate at 105 degrees for 5-6 hours, or until soft.
For additional information on a raw food lifestyle & recipes: