Thursday, August 7th, is an election day in Knox County and Knoxville, Tennessee.
There are actually several elections combined into one. We electing county officers, city officers, and there's a federal primary election for Congressmen and Senators as well as some local charter issue, and a statewide judicial retention vote.
Early voting closed last week with a record 21, 211 ballots cast.
This Thursday I'm volunteering to work at the polls during the election; I've been assigned as a machine operator at Bearden High School so if you vote there I may be the guy that directs you to a voting machine to cast your ballot.
Here's some tips to make your trip to the polls go smoother:
Make sure you have your voter registration card. It makes the process of looking you up go much faster and smoother. At minimum have some sort of ID with you in order to verify you're who you say you are.
Study the ballot before you get to the polls. This is a fairly long ballot so standing in front of the voting machine is not the best place to ponder the merits of one candiate over another. You can study a sample ballot at the Knox County Election Commission's excellent website.
Don't ask the poll workers who to vote for; we can't make any comments and are directed to tell you that "the ballot speaks for itself".

Make sure you go to the right polling place. Unlike early voting where you could vote anywhere in Knox County; in the regular election you must vote in the precinct you're assigned to. Here's a link you can put your address in to find your polling place.
Using Knox County's eSlate voting machines is very simple. Even though they're basically small computers, no computer skills are need to vote with them. You simply turn a little wheel at the bottom, select who or what you want to vote for, and push the button, it's that easy. Don't worry if you make a mistake, you can go back and change your vote or your mind up until you push that final. "CAST BALLOT" button. Here's a good tutorial that explains it.

Once you see the Amerivan Flag waving on your screen after pushing the cast ballot button, you're done until the next election.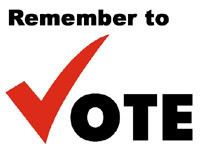 Don't forget to vote this August 7th; it's your right and your responsibility as an American and a citizen of your state, county, and city.
See you at the polls.