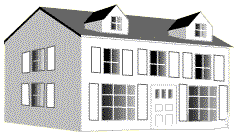 Most of the time I list property and other times I show other agents properties.
My last post was my reaction to a listing agents lack of response and how I've been trying to show their property so now I'll talk about the other side of the coin.
When I call for showing instructions the listing agent will also ask me to leave my card...shut off the lights and lock the doors. In my 12.5 years in the business I don't remember if I ever left a light on or lock a door when I leave. We all make mistakes but denying it ain't gonna work..just admit it and we can be friends.
Other Realtors® are calling me for showing instructions and I'm more than happy to oblige their request. But I also have a request and that's to leave their card...shut off the lights and lock up before they leave.
This past week has been a bit difficult and I really didn't need anymore hassles when I'm trying to run a business. This has happened twice just this week. A few agents who showed my listings apparently don't listen to my requests. I usually go over to my vacant properties once a week or once every two weeks depending on how much time I have in between everything else...but I get there eventually. This week two of my listings were shown and both of them had all of the lights on and one door that was left unlocked and a jar open. When I called the agents back...they both denied it yet they were the only agents on record of showing the properties and since they were both on supra...I had the proof logged in.
I understand there re lots of properties to show our clients but it still doesn't mean you can't have some consideration for the homeowners. What would happen if there was a fire or someone went in and burglarized the property. We don't need to run up their electric bill either.
I'm really puzzled at the lack of respect and the way these agents are acting. Why don't you just get out of the business and let the real professionals service our clients the way it should be.
No wonder some consumers give our industry a bad name. I don't blame them but they should separate the bad apples from the good.
For more information please contact Neal The Real Deal Bloom
-Realtor® /Remax Premier Assoc.
2500 Weston Road ,Suite 103
Weston FL 33331
(954)608-5556 Direct
(954)212-0257 Fax