In a recent blog on Inspirada Homes, I mentioned a new resort that will be opening next year. The $1 billion M Resort on St. Rose Pkwy. at Las Vegas Blvd south is 2 months ahead of schedule and opens March 2009. The project is a partnership of Anthony Marnell III, son of construction contractor Anthony Marnell of Marnell Construction and former Rio Las Vegas owner/ builder fame, and MGM Mirage.
CLICK FOR LARGER IMAGE

<<< UPDATE >>>
For Jan 2009 M Resort Pictures and More - Click Here
Seeing unusual lights and objects in the skies over and around Las Vegas isn't out of the ordinary. Surrounded by federal lands and top secret test sites, this can be expected. KLAS TV Investigative Reporter George Knapp's Area 51 reports have aired for years. So this is a heads up so you won't call George with a sighting.

A few months ago, Anthony announced that he would be bringing in a 'Lightship' to advertise his new property. The 178' long, internally lit helium filled blimp is set to debut on Wednesday, September 3. In addition to the logo on one side, the other has a 70' x 30' superbright LED TV screen on the other, making it a floating video billboard. It takes a crew of 16 to operate the Lightship, produced by Lightships Group of Florida. It's also expected to visit southern California to not only advertise for the resort, but hiring employees. For more details and pictures of the Lightship, check out Las Vegas International Journalist Steve Friess' 'Vegas Happens Here'.
UPDATE: I heard yesterday that there will be a delay of the launch for a few weeks. The final LED panels had a delivery delay and will have to be installed once they arrive.
CLICK FOR LARGER IMAGE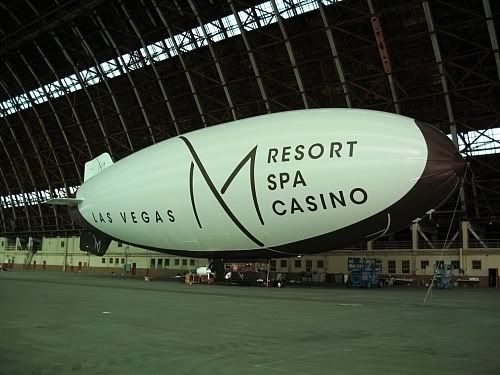 Of course this isn't the highest 'high rise' proposed for Las Vegas. Tucked away in North Las Vegas is Bigelow Aerospace, founded by Budget Suites of America owner Robert Bigelow. He's spent in excess of $100 million of his own funds and has had 2 successful launches of his space technology. What is Robert testing? This successful entrepreneur is working on an inflatable space station that could be used for.....what else? A space hotel for suborbital tourism.

From the recently opened and color changing Eastside Cannery, to the soon to open Aliante Station, then all the Strip projects with Wynn Encore, City Center, Fontainebleau, and so much more, there's still more to come. Las Vegas will continue to push the envelope that has spawned it's tremendous growth this far. It's a can-do city that makes it a one of a kind, always trying something new to reinvent itself, drawing new investment and leaving new jobs and opportunity in it's wake.
If you are interested in relocating to Las Vegas or would like information on Las Vegas real estate, please email me roberta@search4lasvegashomes.com or call me at 702-354-8988. I look forward to hearing from you!