Coach Skip Holtz celebrates HUGE WIN over WVA

(8) West Virginia 3,

East Carolina 24
Proud to be a PIRATE! Our group tailgates each and every game and have attended every home game since 2000. Last weekend in Charlotte in front of 75,000 fans, we upset # 17 Virginia Tech (Hokies) and today we dominated #8 West Virginia in our home opener with an attendance over 43,600 - the 4th largest at Dowdy Ficklen Stadium.. I am SO proud to be a PIRATE..
"Where it is a First Down, Pirates!" ..Arrrrrrrrrrrrrrrrrggggggghhh
Story follows: ______________________________________________________________________________________
GREENVILLE, N.C. -- Skip Holtz followed his biggest coaching victory at East Carolina with an even more impressive one.
Jonathan Williams had two short touchdown runs, quarterback Patrick Pinkney was nearly perfect and the Pirates routed No. 8 West Virginia 24-3 on Saturday for their third straight win over a ranked team.
Pinkney was 22-of-28 for 236 yards with a touchdown for East Carolina (2-0), which opened the season with a last-minute upset of then-No. 17 Virginia Tech.
This one was decided much earlier. The Pirates never trailed, kept Pat White in check, outgained West Virginia 386-251 and were in control from start to finish.
They cruised to their first upset of a top-10 team since the Steve Logan-led team stunned then-No. 9 Miami 27-23 on Sept. 23, 1999, in a game played 90 miles west in Raleigh because of Hurricane Floyd-related damage.
These Pirates may have done something even more remarkable -- they followed last season's Hawaii Bowl victory over then-No. 22 Boise State by taking care of the two toughest teams on this year's schedule. Those wins could propel them back into the Top 25 for the first time since '99 while keeping them in the conversation for an at-large BCS berth.
White rushed for 97 yards on 20 carries and finished 11-of-18 for 72 yards for the Mountaineers (1-1), who for the second time in four games as a top-10 team were stunned by an unranked team dating back to a loss to Pittsburgh last December that kept them out of the national championship game.
Pat McAfee kicked a 26-yard field goal midway through the second quarter for West Virginia's only points. The Mountaineers were held without a touchdown for the first time since a 45-3 loss at Miami in 2001.
East Carolina entered just 2-17 against West Virginia with seven straight losses in the series, but claimed a surprisingly easy victory by keeping the ball away from WVU's high-powered offense and wearing down an inexperienced defense.
The Pirates had three scoring drives of 11 or more plays and went longer than six minutes, and Williams capped two of them with scoring runs of 5 and 1 yards. His second score came on East Carolina's first possession of the second half, closed a 12-play drive that included three third-down conversions and sent the crowd into delirium.
Williams, one of the committee of running backs Holtz is counting on to replace Tennessee Titans first-round draft pick Chris Johnson, led East Carolina with 69 yards on 17 carries.
He started the scoring with a 5-yard run that capped the Pirates' 11-play opening drive and came two plays after Pinkney's 35-yard completion to Jamar Bryant on third-and-9.
Ben Ryan added a 42-yard field goal midway through the second to make it 10-0, and the Pirates pushed their lead to 14 by turning West Virginia's second turnover into a touchdown. Marcus Hands recovered Jock Sanders' fumble at the Mountaineers' 35, and four plays later Pinkney's lofted a 13-yard pass to Taylor over cornerback Brandon Hogan to make it 17-3 with 47 seconds before halftime.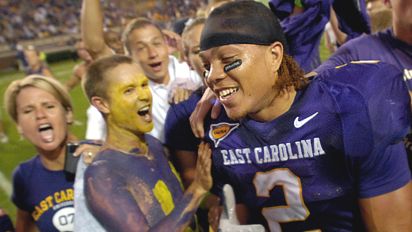 Jonathan Williams, Pirates running back ran for 2 touchdowns!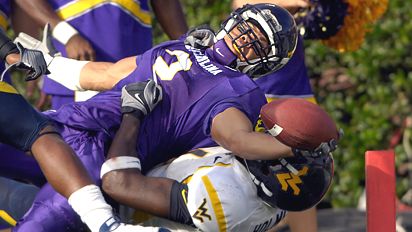 Pirates Ahoy - No trouble for ranked teams!